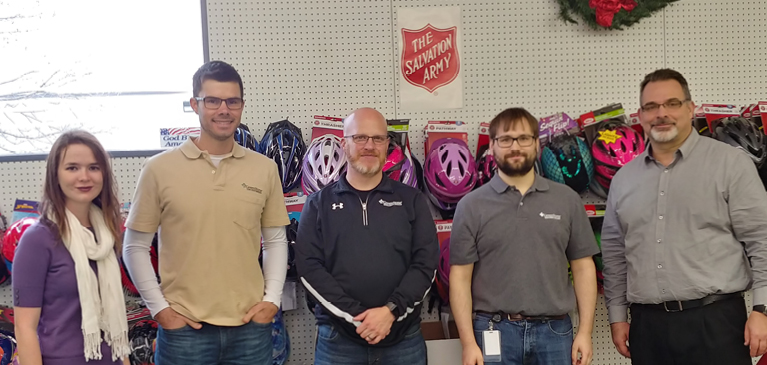 Salvation Army and Toys for Tots are spreading holiday cheer for families throughout local communities and providing presents under the trees for thousands of children this Christmas. Toys donated through Toys for Tots are organized and arranged in preparation of Salvation Army's Annual Toy Shop. The toy shop gives parents the opportunity to pick out toys for their children and this year, GreenStone employees from the East Lansing office were on hand to ensure the toy shop was a success.
On Wednesday, December 12, five GreenStone employees, Paolo DiLernia, Paul Engler, Jeff Maitland, Jeff Mills and Megan VanLuven, helped brighten up the holidays for local families by volunteering their time to organize donated toys and set up tables for the toy shop.
"We were able to see what happens behind the scenes and the operating side of the toy shop," says Jeff Maitland, GreenStone's associate business systems analyst. "It takes a lot of planning to make sure every parent has the same opportunity of gift selection, regardless of what day they come."
Megan, Paul and Paolo returned to walk parents through the toy shop and help them pick out toys for their children. Hundreds of families visited the toy shop each day to find the perfect toy for their child. With continued support from volunteers and donations from the community, the Salvation Army's Annual Toy Shop provides parents with the help they need to make sure their children have toys under the tree for years to come
.