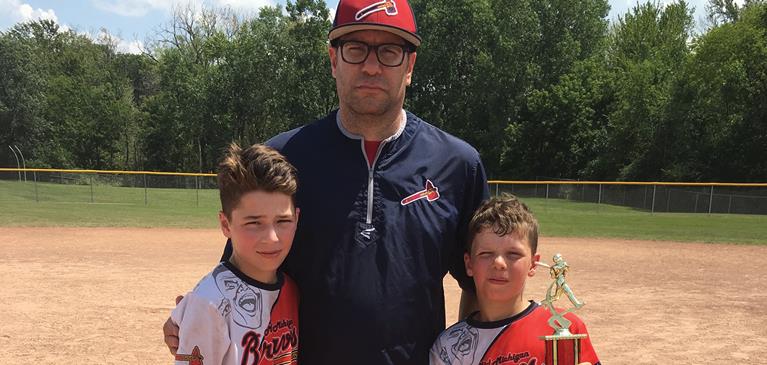 As a member of the cooperative, you may not connect our GreenStone employees to the Little League teams that your children join to play baseball. However, our employees give back to their communities in a variety of ways. Brand Manager Jim Kosmerick has devoted years to youth development through organized sports.

What started as hobby his freshman year of college has since transitioned through multiple programs. Jim is now the general manager for the Michigan Braves, the program his sons' Ivan and Roland are both members of. The volunteer-based organization prides itself on developing well-rounded athletes, training young men to be their best, more than only focusing on winning trophies.

At GreenStone we find it important for our employees to get involved in local community service activities, because the areas where we work are often the areas where both our staff and our customers live. Getting involved in the community and interacting with neighbors, friends, colleagues and customers is an important part of GreenStone's four core values:

Customer First • Deliver Quality • Get Involved • Do the Right Thing

Jim pulls these core four values together through coaching baseball, by getting involved and always doing the right thing. He has had an impact on numerous players lives.

"The youth that I work with are thirsty for the game of baseball, and for having fun. By getting involved, I am ensuring they get that opportunity," says Jim. "As a general manager of the program, I work tirelessly to do the right thing for our players. With the help of the community, we keep costs down so that travel baseball is available to everyone at an affordable price. I strive to provide a sanctuary to youth; practice is a place where they can focus on baseball and have fun while improving skills."

"One of my favorite things about coaching is that I practice servant leadership as a coach, along with other coaches and the players in the program. I put the players first, and help them develop to their greatest potential," adds James. "I use these same skills professionally, at GreenStone as a manager in the marketing department."

Thank you Jim for exemplifying GreenStone's four core values!

Find more information about the Michigan Braves baseball program here.