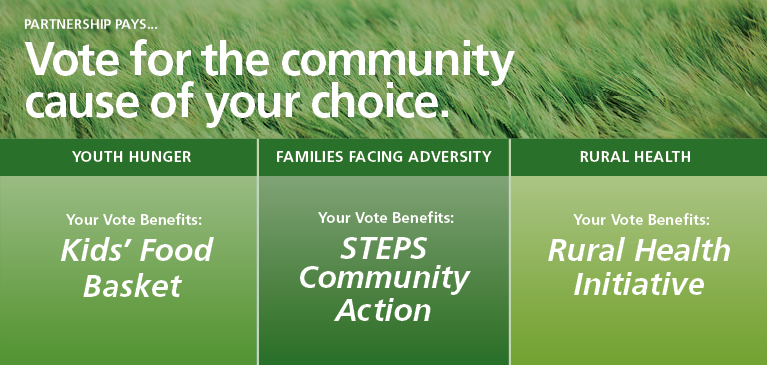 "Nourishing kids to be their best, in school and in life."

To celebrate GreenStone's milestone of returning $100 million dollars to members on Patronage Day, $20,000 will also be donated to organizations through the cooperative's Member Grown Outreach program. Each year the program provides members the opportunity to get involved and help GreenStone select a cause to support through voting. This year, organizations representing Youth Hunger, Families Facing Diversity and Rural Health were selected based on staff nominations for members to vote on. From Patronage Day, March 11 to March 31, members will be able to vote online or in their local branch for one of three organizations that best represents the cause they would like to see GreenStone support. The $20,000 will be divided based on votes received; first place will get $10,000, second place will get $6,000 and third place will get $4,000.

One of the three organizations members will have the opportunity to vote on is Kids' Food Basket located in West Michigan. For 18 years, Kids' Food Basket has worked with elementary schools, nourishing children to reach their full potential. The schools served have a high percentage of students qualified to receive free or reduced-cost breakfast and lunch at school during the day. Kids' Food Basket ensures students are nourished beyond the last school bell with a nutritious evening meal, called a Sack Supper.

What started in 2002 as a direct service to fill a critical need for 125 kids each weekday at two schools, has grown into a Good Food movement nourishing 8,800 kids daily at 52 schools across four West Michigan counties: Kent, Muskegon, Ottawa and Allegan. Each meal is packed with a protein, fresh fruit, fresh vegetable and healthy snack.

"I have volunteered periodically through my professional career at Kids' Food Basket, as feeding children is something that is very near and dear to my heart," says Stacy Dawe, a senior credit analyst at GreenStone. Stacy nominated the organization after GreenStone's west region adopted Kids' Food Basket for the month of December.

"It was heartwarming to work alongside people from all walks of life, focused on feeding children to better the future of our community."

As a community of volunteers and donors, Kids' Food Basket promises to NOURISH children's bodies and minds daily with healthy food; GROW and distribute chemical-free produce to serve to children in Sack Suppers; empower kids to LEARN the benefits of healthy food and how to grow it through hands-on experiences; and ENGAGE a diverse community of youth and adults at their farm and facilities to solve childhood hunger.

Kids' Food Basket is doing great work nourishing 8,800 children; however, they have not eliminated food insufficiency for children in the region.

"More than 92,000 West Michigan students qualify for free or reduced cost meals at school and currently we have 30 schools on our immediate wait list," says Elizabeth Washington, Kids' Food Basket grants manager. "Although the Sack Supper Program has grown exponentially over the years, we are only meeting 9.6% of the need."

Kids' Food Basket has approved a strategic plan to better align their work and resources to help build a more food-secure community. In 2016, Kids' Food Basket turned ten acres of dormant farmland in the city of Grand Rapids into a center of urban agriculture -- allowing the organization to scale the programming from 'Seed to Sack Supper' to create broader access to Good Food and a better understanding of why it matters.

Through an Urban Growing and Experiential Learning Program that teaches nutrition and agriculture education, Kids' Food Basket is fostering hands-on learning for the next generation of farmers and healthy eaters.

"This work is not simple or straightforward," adds Elizabeth. "We believe hunger is a symptom of the deeper problems of poverty, and food is our tool for changing lives. "As chief hosts of this important work, we cannot thank GreenStone enough for joining us on this journey."

Get involved with Kids' Food Basket!

Check back in the coming weeks for information on the other two organizations represented in the Patronage Day voting process, and stop into your local branch on March 11 to support your favorite cause!