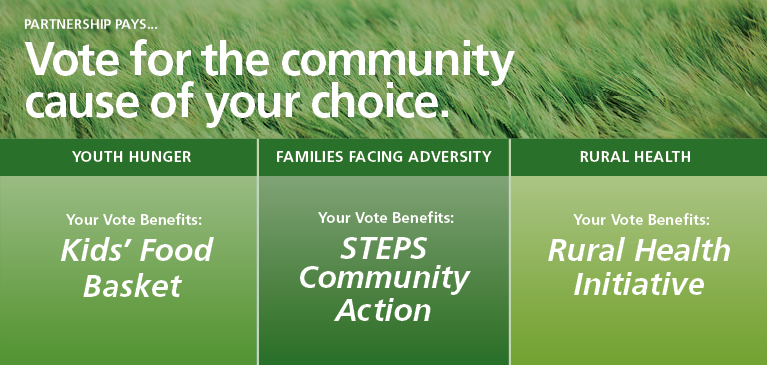 A Bridge to Improve and Sustain the Health and Safety of Farm Families

To celebrate GreenStone's milestone of returning $100 million dollars to members on Patronage Day, $20,000 will also be donated to organizations through the cooperative's Member Grown Outreach program. Each year the program provides members the opportunity to get involved and help GreenStone select a cause to support through voting. This year, organizations representing Youth Hunger, Families Facing Diversity and Rural Health were selected based on staff nominations for members to vote on.


From Patronage Day (March 11) to March 31, members will be able to vote online or in their local branch for one of three organizations that best represents the cause they would like to see GreenStone support. The $20,000 will be divided based on votes received; first place will be awarded $10,000, second place, $6,000, and third place, $4,000.


Rural Health Initiative (RHI), based out of Northeast Wisconsin, focuses on keeping local farmers, their family members and agricultural workers healthy and safe. The organization was formed when health care professionals in Shawano county in rural Wisconsin noticed farmers were not partaking in preventative healthcare. Healthcare providers frequently didn't see local farmers until an emergency occurred, such as a stroke or heart attack, both of which could be prevented through a simple health screening.


"In order to serve the farmers, you are going to have come to the farm," said a farm wife when told her husband needed to see a doctor on a regular basis. It was that statement that got the ball rolling for Rural Health Initiative.


In 2004, Rural Health Initiative was formed, and Rhonda Strebel was hired as the organization's first health care professional. She began traveling to farms and conducting complimentary Kitchen Wellness visits almost immediately. The need for rural healthcare was very apparent: in the first five years the Rural Initiative staff was able to reach 40 percent of the agricultural community in Shawano county. Through the health screenings, Rhonda and Outreach Health Coordinator Dawn Dingeldein, RN, found 52 percent of participants had health issues that required follow-up care with a local physician.


"Three out of the top four preventable diseases can be detected with simple screenings," says Rhonda. "Cardiovascular issues, strokes, and diabetes can all be detected through a simple, 15-minute home visit."


"We serve anyone, within our service area, who contributes to agriculture."

Word of the professionally trained healthcare staff performing complimentary home visits in Shawano county quickly spread through word-of-mouth. RHI not only serves small farmers, but a large population of Latino workers from the consolidated dairy farms in the area. The healthcare providers have teamed up with language interpreters to educate farm employees about their health, and about farm safety. It also became apparent through the home visits that people in the agriculture community needed more than just physical care. Conversations often revealed that the stresses of farming caused issues with emotional well-being. Rural Health Initiative quickly became a bridge between the rural community and much-needed mental health resources.


"Through the last sixteen years, Rural Health Initiative has expanded quickly, as we serve anyone that touches agriculture," says Rhonda. "We saw a need in surrounding areas and have extended outreach to Outagamie and Waupaca counties."

Rural Health Initiative has grown as far as possible while maintaining the small-town, local feel, and staff has recently begun consulting with other counties to get new programs started. Even though they do not plan on extending outside of the three counties they currently serve, through education Rhonda and her team will be able to serve thousands more rural Americans in farming communities.


"A farmer will put himself second to the farm and tend to their own needs last," Strebel adds. "Rural Health Initiative works to bring healthcare to those farmers in the comfort of their kitchens."


Get involved with Rural Health Initiative!

Check back in the coming week for information on the other two organizations represented in the Member Grown Outreach program, and stop into your local branch on Patronage Day, March 11, to vote in support of your favorite cause!