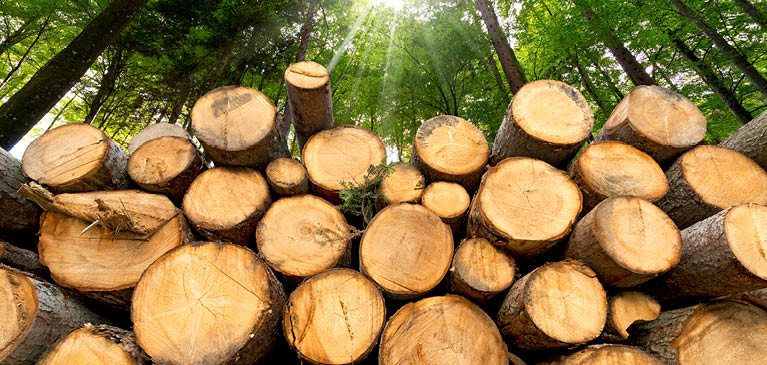 Michigan and Wisconsin have history rooted in their vast forested lands. By 1869 Michigan was producing more lumber than any other state, a distinction it continued to hold for 30 years. While Michigan no longer holds that title – Georgia is ranked as the top forestry state in the nation – it has maintained a healthy timber industry, as has Wisconsin.
As the coronavirus pandemic continues to impact the economy, sectors involving the forestry industry are no exception. According to Shane Prichard, who as vice president of capital markets manages the GreenStone Farm Credit Service's timber and forest products portfolio, capital spending has been reduced across the board, by over 50-60% for some companies in the lumber and specialty buildings products space. He says that level of capital spending implies that businesses are spending for maintenance purposes only, not growth.
On the sawmill side, many shutdowns began occurring in mid-March, and have yet to reopen. "Lumber pricing was strong through most of the first quarter, which led to inventory buildups, but the current environment has forced producers to cease operations at facilities and now they are exhausting those inventories in an effort to boost liquidity wherever possible," Prichard explains.
The entire spectrum, from sawmills through to specialty building and paper product manufacturers, has recently budgeted massive reductions to revenues on account of demand decreases that are expected to be in line with the Great Recession years of 2008-2010 during the housing crisis.
The anticipated fall-off in construction and home buying goes against what some experts had initially predicted at the beginning of the year. Before the pandemic, Prichard says, forecasts for housing starts were anticipated to increase 6% in 2020.
"Segments and producers with stronger ties to new construction are likely to be the most affected, while producers in the repair and rebuild market appear to be more insulated," Prichard adds. "Although most projections were quite aggressive, data coming in from April (particularly the second half of April) lead us to believe that, by and large, the companies that we've been monitoring will have adequate liquidity, astute management, and strong cost controls to be able to weather the current demand disruption."
Growth is Happening
In recent years, Michigan's forest products industry generated record amounts of revenue, growing from $14.7 billion five years ago to more $20 billion today, according to the Michigan Department of Natural Resources (MDNR).
Even so, Michigan's forests are growing considerably faster than they are being harvested. Each year 2.7 times more wood is grown than harvested--exponentially increasing Michigan's forestland, according to Michigan Forest Products Council Foundation.
Wisconsin is the top state in the U.S. in paper production and wood furniture manufacturing. Statewide, the forest industry in Wisconsin provides more than 64,000 jobs and has an output of $24.7 billion, according to the Wisconsin Department of Natural Resources (WDNR). All of this occurs as Wisconsin's forests continue to add a net 185 million cubic feet of saw timber annually—or enough to frame about 139,000 homes.
Last year was a tough year for many in the forest products industry due to wet conditions and poor lumber prices. Reduced markets, both nationally and internationally, only added to the downturn.
"Timber, like traditional farming, is cyclical," says Corey Fanslau, vice president of lending for GreenStone Farm Credit Services in Wisconsin. Fanslau serves forestry customers in northeast Wisconsin and Michigan's Upper Peninsula.
The ongoing trade dispute and tariffs have played a large part in the 2019 drop in hardwood exports.
All global markets, including the U.S., Canada, most of Europe, Japan, China and much of Asia, were oversupplied throughout 2019. However, there is some optimism, as a recent Reuters poll found most analysts expect housing starts to improve during 2020 – but this was pre-COVID-19.
According to MDNR, Michigan's forest lands support a diverse industry and some of the best hard maple and red oak timber in the world. Michigan's forest products industry has:
• Over 800 logging and trucking firms
• About 300 primary manufacturers – sawmills, veneer mills, pulp and paper mills, and engineered board manufacturers.
• More than 1,000 secondary manufacturers – companies that use lumber or products made by a primary manufacturer to make finished goods
In Wisconsin, with 1,292 companies in primary and secondary forest products businesses, the forest products industry touches every corner of the state, according to WDNR.
Obstacles to growing the Wisconsin and Michigan forestry industries include a shortage of truck drivers and stalled legislation to allow trucking on interstates, currently not allowed. The bill is sponsored by U.S. Rep. Mike Gallagher, a Green Bay Republican.
Proponents of the "Safe Routes Act of 2019," a bill that would allow covered log trucks weighing up to 98,000 pounds on interstates, say it's necessary because outdated rules push heavy log trucks onto state and county roads, creating a safety risk.
"It would also speed up delivery," says Fanslau, who adds that GreenStone supports the legislation. Another challenge, according Fanslau, is recruiting new interest in the industry.
"Just like traditional farming, there's a growing cross section of baby boomers who are, or will soon be, exiting the work force," Fanslau adds. "There's a need to recruit the younger generations. But, it is a capital intensive industry."
One timber processor can cost upward of $750,000, while a forwarder, which takes the harvested logs to a staging area to be loaded on trucks, can run upwards of $500,000.
The timber industry is a leading segment of business for GreenStone, along with crop and livestock farming. "I have the utmost respect for these industries, which put food on the table and provide paper, wood and other products," Fanslau adds. "They really don't receive the credit they deserve."
Logging Expo, Sept. 10-12
The Great Lakes Logging and Heavy Equipment Expo is a 3-day event that takes place in September throughout the Lake States region. Over 200 indoor and outdoor exhibitors attend each year to showcase the 'best of the best' when it comes to log splitters, portable sawmills, compact tractors and logging equipment, chainsaw carving, wood/pellet stove dealers and much, much more. The event is currently scheduled for Sept. 10-12, 2020 at the Michigan U.P. State Fairgrounds in Escanaba.