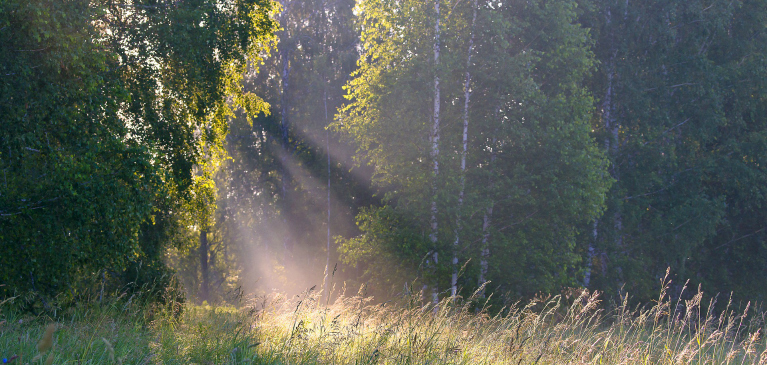 Jared Hautamaki currently serves as an attorney in the Office of Enforcement and Compliance Assurance for the United States Environmental Protection Agency. He also is a reserve appellate judge for the Sault Ste. Marie tribe of Chippewa Indians. Outside of work, Jared is engrossed in reforesting his family farm in Alger, Michigan, which reminds him of his Midwestern roots and keeps him connected to his family.
The farm has been in Jared's family for about 100 years, passed down every generation. Farm ownership is split up throughout the family, and Jared possesses 40 acres. "When my parents decided to sell a portion of the farm to me, I wanted to make it an active farm," says Jared, who is fully devoted to reforesting two large fields that his grandfather carved out of the former dairy farm.
Jared knew that the first step to his reforesting goal was to create a forest management plan. While creating his plan, Jared ran into some roadblocks and realized he needed some expert guidance and help with finances. In 2018, while browsing GreenStone's quarterly Partners magazine, Jared discovered a significant resource to assist the reforesting as an entity: GreenStone's Grow Forward Grant Program.
Since 2018, GreenStone has annually awarded up to a total of $40,000 in grants to assist young, beginning, and small farmers (YBSF). To quality for up to $1,000, applicants must be between the ages of 18 and 35; or farming for less than 10 years; or sustain annual gross sales from agricultural production of less than $250,000; and be an eligible member of the GreenStone cooperative (non-members may receive up to $500). Jared fit the qualifications, and successfully utilized his $1,000 grant for a forest stewardship plan at VanOss Forestry Services, LLC.
VanOss Forestry Services, LLC assisted Jared with creating a practical document that he follows and looks to for direction while carrying out the reforestation. Jared completed an inventory of the land, recording the categories and volume of trees, wildlife present, resources that must be protected, and other analyzations. Next, VanOss Forestry Services, LLC provided recommendations to Jared, suggesting the best possible steps to follow to reforest the previous dairy farm.
Two years later, Jared's strategy is well underway, growing cedar, birch, cherry, and a mix of red and white pine trees. Jared has put a great deal of work into the farm and believes that the timber production has immensely improved the habitat. He is following the forest management plan, looking forward to planting 3,500 more trees within the next few months.

"I am quite happy to be making some positive change," Jared states. "As a part of the Native-American community with a small farm, I appreciate all that GreenStone has done."

GreenStone looks forward to supporting young, beginning, and small farmers like Jared as they expand their knowledge and strengthen their business. Visit the GreenStone website to learn more about the specialized loan programs, grants, mentorships and resources offered to YBSF customers.