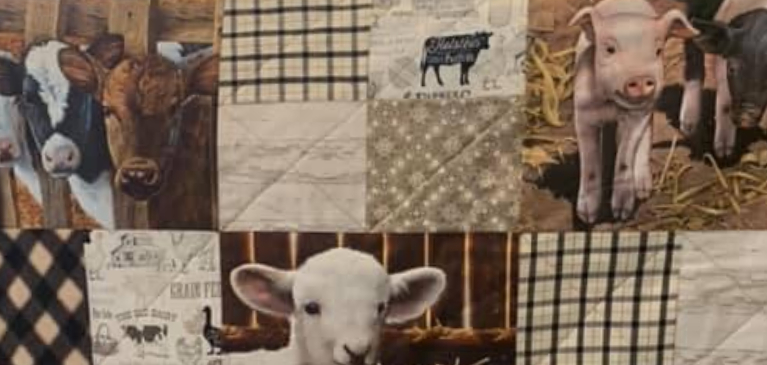 After a long day in the office, the best thing to do is find a way to relax and unwind. GreenStone customer service representative, Nancy Blaauw, found a hobby that allows her to unwind while also helping the community.
Nancy began quilting 11 years ago and continues to dedicate at least a couple of hours a week to quilting. During her 11 years, she has made over thirty quilts that have been donated to shelters or given to friends and family as gifts. Other members in her quilting group donate their quilts to women shelters or to organizations that help women in other countries by providing them with sewing machines to learn a valuable trade.
Nancy Blaauw pictured with one of her quilts

Quilting has also been a great way for Nancy to stay involved with friends. When she moved to Allegan, friends of hers from church got her involved in their quilting group. This group does multiple retreats during the year, where they rent a house around the state and spend four or five days together. While at these retreats, Nancy spends 12 to 14 hours quilting a day. "It's a way to socialize and then accomplish something while we are doing it," said Nancy.

Nancy and a few of her friends, who are retired GreenStone employees, also get together once a month for a quilting day. When describing her quilting days- "It's like the old ladies, doing quilting bees you remember your great grandmother talking about," said Nancy.

One of GreenStone's core four values is 'get involved,' which means that being a part of our communities is high on our list, and Nancy exemplifies this value. When she's not quilting, Nancy is highly involved in her church and community. Each month she decorates the Sunday School room with a new theme. She also recently taught a painting class during the 2022 Farm Women's Symposium in Holland.

To learn more about the community events and volunteer activities GreenStone members are part of visit Open Fields Blog | GreenStone FCS.