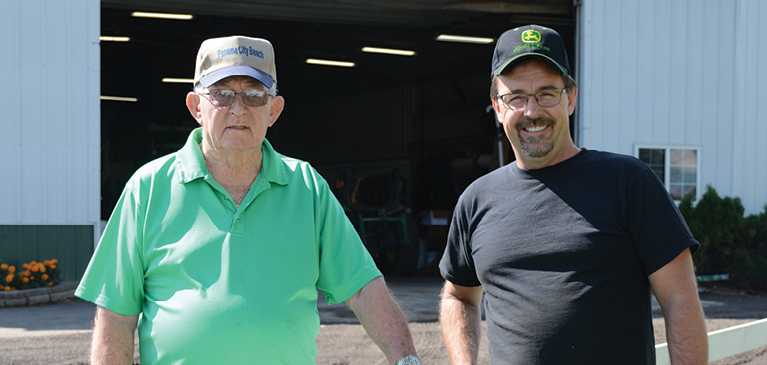 Using Whole Farm Revenue Protection to Cover High-value Crops
Diversifying crops can often help farmers balance risk by adding in a higher value crop to a traditional mix of corn, soybeans, wheat and alfalfa. However, until recently, having specialty crops often created a void in risk protection due to the limited availability of insurance coverage for higher-value crops.
"Traditional multi-peril crop insurance does not always provide adequate coverage for higher value crops, especially if you have them sold at contract prices higher than market price," says Robert Netrefa, GreenStone crop insurance specialist.
Chad Mares, owner of CLM Farms, LLC, along with his wife Laura, are avid risk managers having locked in pricing for the majority of their crops each year before they begin fieldwork. Using market programs as well as crop insurance gives them peace of mind that they will be profitable.
Using risk management tools has been a part of their operation for years, starting with Chad's uncle Gerard Mares, who owned Wandering Acre Farms, the predecessor to CLM Farms, LLC.
"We start with figuring out our cost of production, then with that in mind, we work with the elevator to write contracts that will cover our costs and give us a return," says Gerard Mares. "We don't want to see how high it gets before we start booking it. It is a good feeling when we have contracted our biggest crops, corn and beans, going into harvest.
The Mares' discipline to strategically engage in the markets has yielded them stability and success over the years. Their willingness to not always capture the highest points in the market also prevents then from capturing the lowest.
The one thing I have learned is the price falls a lot faster than it goes up," Gerard says. "We have locked in prices for several years and it has brought us success.
In addition to 3,000 acres of corn and soybeans in northeast Wisconsin, the Mareses also raise cabbage for GLK Foods, the world's largest sauerkraut plant. The locally operated plant has a long history of kraut making, but over the years, processing and farms have consolidated to the point where only eight farms supply the plant. The Mareses are fortunate to be one of those producers.
"We negotiate with GLK each winter on how much we should raise and what the price will be. We then know when the seed goes in the ground how much value we have in the crop," Chad says.
The Mareses have partnered with GLK and the Flanagan family since the 1920s when Bernard Mares sold market (fresh) cabbage throughout the Midwest and to the Flanagans in his hometown. Today, all of their 750 acres of cabbage is sold through GLK.
Protecting the value beyond market price has been difficult for the Mareses due to limitations in long-standing crop insurance programs. This year, with the help of Robert, the Mareses are using a Whole Farm Revenue Protection policy to cover all their crops in one package.
Using five years of Schedule F tax returns, Robert designed the Whole Farm policy to protect revenue, not the individual crop. So, if the Mares' overall revenue declines due to certain factors, their overall revenue is protected up to 75 percent. Using the Whole Farm allows the Mareses to better protect the added value of their cabbage production.
"Like all insurance policies, we hope we don't have to use it," Chad says. "But I do like knowing we are protected for the true value of the crop."
Evolving to Whole Farm is just another way the Mareses have worked to streamline costs and increase productivity with their cabbage production. In the past few years, they have evolved to seed planting versus transplanting. While there is a risk in lower productivity from seeds, the savings in labor costs and eliminating the management of migrant labor offsets the risk.
"We used to have 11 people on the planter at planting time," Chad says. "We now have one."
Along with adopting new seeding, they have also narrowed their crop rows to maximize productivity with the same number of acres. Utilizing new technologies and practices is critical when producing high-value crops because the input costs are also higher than traditional crops. Reducing labor costs eliminated nearly $200 per acre for the Mares operation.
Switching to Whole Farm insurance also required a new mindset for Chad, but like other changes, he saw a cost return as well as a better product.
"The whole farm program requires a new thought process," says Robert. "Under this policy we are covering the entire farm revenue, not necessarily a specific crop."
Although the Mareses adopt new innovations and tools to keep their business relevant, they have remained a constant customer and advocate for the Farm Credit System. Since Chad's grandfather borrowed the first $1,500 from PCA to buy the farm, the family has relied on Farm Credit to advance their business.
"There were many times over the years when Farm Credit worked with us to get us through some tough times. They were always good to us and always understood our business. Our goal is always to pay the bills and buy a couple of pops at the end of the season," Gerard says.
Link to full cabbage is king article: https://issuu.com/greenstonefcs/docs/partners_fall_18web/36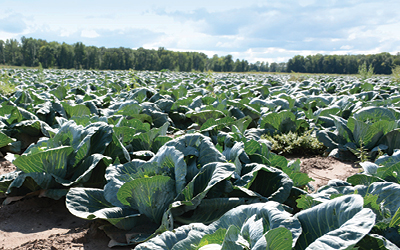 World's Largest Sauerkraut Company

More than 100 years ago, in the town of Bear Creek, Wis., two Irish brothers began a pickling company called Flanagan Brothers. Since then, Dave and Henry Flanagan's enterprise has become the world's largest producer of kraut, processing nearly 150,000 tons of raw cabbage into kraut each year.

Ryan Downs currently leads the business founded by his great-grandfather and great-uncle. Now called GLK Foods, LLC the company operates a second manufacturing facility in Shortsville, N.Y., but maintains its original manufacturing plant and headquarters in Wisconsin.

• GLK Foods, LLC, is the world's largest producer of sauerkraut, accounting for approximately 85 percent of the North American market and more than all of Western Europe combined.
• Every year, GLK Foods processes 140,000 tons of raw cabbage into 105,000 tons of sauerkraut. This volume requires 4,700 acres of cabbage fields and more than 50 million cabbage plants.
• The Bear Creek plant can process 1,200 tons of raw cabbage in one day.

Link to full world's largest sauerkraut company article: https://issuu.com/greenstonefcs/docs/partners_fall_18web/37