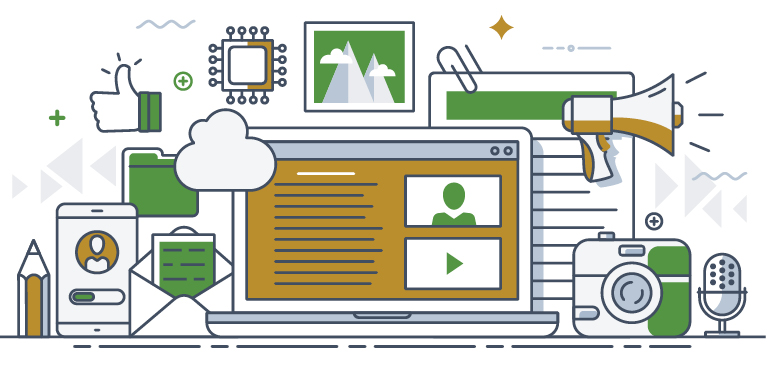 As you'll read on the next page, membership with your GreenStone cooperative provides different value to each customer. Introduced at Patronage Day, we have been providing members the opportunity to share that personal perspective by selecting a word bubble most relevant to them. Here four of your Board of Directors share their view on what GreenStone means to them.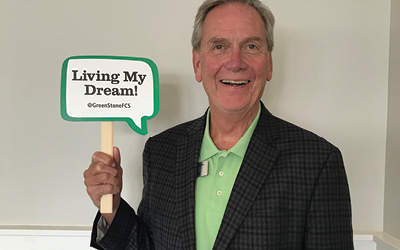 Dennis Muchmore: Living My Dream
I grew up in Central Illinois and although I lived in town, my mother's family farmed north of my hometown. I spent my teen years bailing hay, cutting weeds out of beans, debeaking chickens, running with my buddies, driving my car too fast, and shared a locker in school with a farmer named Don Nees. Donny's talent for making money farming wasn't all that evident at the time (though he later became a very, very prosperous businessman), but I always admired his optimism – and I also admired the good looking girls who hung around those FFA guys with the blue corduroy jackets.
As they say, you can take the boy out of the small town, but you can't take the small town out of the boy, and I never lost my appreciation of the work ethic and the honesty of my friends. I joined the GreenStone board 16 years ago as an outside director, and have always felt that I'm giving back just a little bit of what my family and my friends gave to me.
"Living the Dream" with the incredible people of Farm Credit and their members continues to be a daily lesson for me in honesty, fair play, hard work and doing right by people.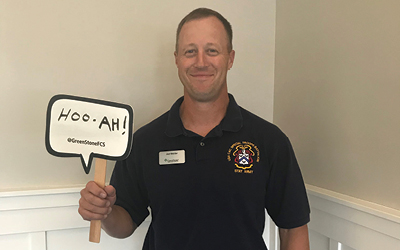 Jed Welder: HOO-AH!
Oorah! It's an Army and Marine Corp response, meaning agreement, motivation or enthusiasm! It comes from deep in the diaphragm and comes out almost like a guttural bark.
I recently finished my first official GreenStone board meeting, and I couldn't be more enthusiastic about the great people that I'm working with at Greenstone – both in the branch and in the board room. They are a terrific group that is motivated to do the very best job for our members. As we enter this beautiful harvest season, we can be confident the entire team at Farm Credit is behind us.
All I can say is, "Oorah!"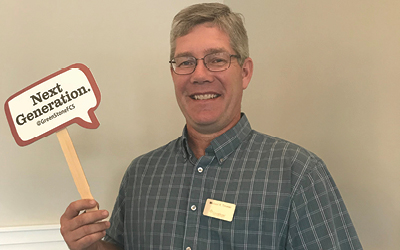 Mike Timmer: Next Generation
Some of my fondest memories were on our family farm growing up. It was where I learned how to drive a tractor, plant corn, feed cows, and so many other things that I did for the first time. I often learned these skills not because I was ready for the next challenge, but was available to help keep things moving.
As I have grown to take over many of the day to day decisions on the farm, I have to remind myself to take time to let the next generation have their turn to learn new skills and take on new challenges. Many of the challenges and opportunities the next generation will face will require a partner to help them succeed. GreenStone has been there for our families as we faced challenges and pursued new opportunities. Over the years, GreenStone has worked hard to provide tools and financial products that not only help my generation, but will work well for the next generation.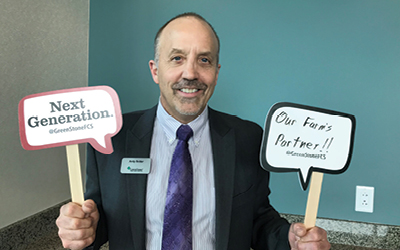 Andy Snider: Next Generation and Our Farm's Partner!

When I had the opportunity to select a word bubble and then share my related comments, I didn't quite feel any of them were quite perfect to cover all my feelings. As in the name of this wonderful quarterly publication, I have always felt that GreenStone has been my dedicated "Partner" in the business of farming. As I look back over the last couple of decades and ponder the path our farm has taken through the ups and downs and the phases of growth, I really don't think it would have been possible without a top notch dedicated partner for our financial needs. And getting to work with GreenStone at the board level has really been an honor for me; it is something I take very seriously.

Growing, building, and completing projects that make our farm better and more efficient is a privilege. Having GreenStone as our partner into the "Next Generation" is exciting, and frankly has made my career choice very rewarding. Having the next generation come alongside to share responsibility and provide fresh new energy has been a blessing. I can remember when I was in my son Zack's shoes, being the "Next Generation" farming with my dad, Larry. When I go to farm meetings and meet those who don't have this option and are seeking to figure out their exit plan or retirement, I'm again reminded there is much to be thankful for. GreenStone's dedication to being "Our Farm's Partner" that we needed through the generations has been evident.

Link to full Director's Perspective article: https://issuu.com/greenstonefcs/docs/partners_fall_18web/28