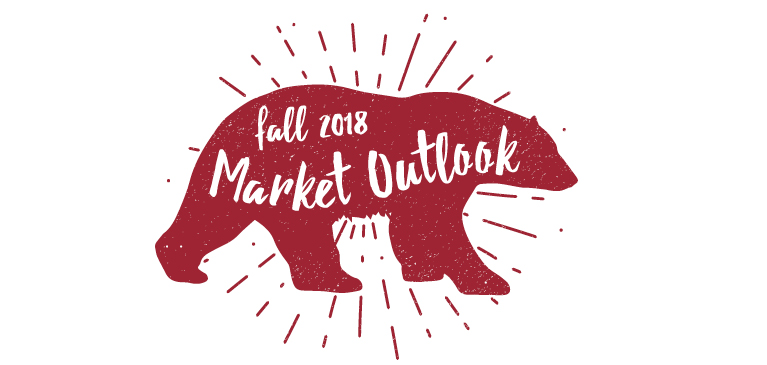 In many farm and banker circles, my reputation as a bear is causing many to want to tar and feather me. My only response is I'm not reviewing the market to make them feel good. Instead it's my mission to help producers sell the maximum amount of bushels at the best price possible with the least risk possible. The problem is maximum price is in direct conflict with risk. It's been my experience that producers have extreme difficulty selling strength when it is associated with a weather scare event. The 2018 marketing year was no exception. I believe that great opportunities will develop this fall on harvest low prices, allowing one to start to implement an effective marketing plan for expected 2019 production. Before we get into the details, let's review where we are.
The August supply demand report suggested record corn and soybean crops are coming this fall. The immediate response by producers was it is not out there and they are doing everything they can to fight the bear. Many corn producers have moved last year's inventory on basis contracts and still had to have inventory priced by October 1. The question is already starting to surface that many processors of corn and soybeans are not going to put corn in the ground. So where will it be stored?
Net Impact: Cash basis dropping this fall. This will force producers to find alternatives to dumping inventory at harvest.
End Result: An unhealthy amount of old and new crop corn will be held in the bin unpriced in the hope that some type of event will occur to bail out that storage decision.
As we all know, there is some degree of uncertainty in regard to the NAFTA program and Chinese imports due to the trade war. While I don't have any inside information, it appears NAFTA will be resolved by the end of the year. This should help corn, hogs and cattle. Unfortunately, I believe China actually wants to reduce their dependence on U.S. soybeans and is using this trade war as a way to stimulate more involvement in South American production areas. In fact, I would not be surprised to hear about a major expansion of infrastructure spending by the Chinese in Brazil in order to open up a significant amount of land simply waiting for introduction into soybean production. As we all know, once acres come into production, it is very difficult to take them out.
Looking forward, I believe the U.S. will still be the dominant corn producer in the world, but we will become the residual supplier of soybeans. This implies soybeans prices could be very violent at times. As long as there is enough inventory to meet demand, prices will be under pressure. However, if and when a supply reduction event occurs, prices could explode which will put hedgers into extreme cash flow exposure. This situation of feast or famine makes for a very uncomfortable outlook when producers have to cash flow all input costs with no assurance that all production costs will be covered.
I am helping clients throughout the Corn Belt develop marketing plans for 2019. Prior to the August supply demand report, most producers [regardless of their production area] were able to lock in prices slightly above breakeven, but soybean prices were well below cost of production. Since then, August report prices have slipped significantly for soybeans and to some degree for corn. I believe corn is slightly below breakeven with average yields, but soybeans are well below cost of production. In a nutshell, most producers need $4.00 December 2019 futures to breakeven; but they also need $10 November 2019 soybeans. As I write this outlook, soybeans prices will need to mimic a $1.00 seasonal bounce from the fall lows to summer highs just to get back to breakeven!
What will producers plant next year? Budgets say increase corn acres, but bankers may say there is a limit on available funds. I believe this will be the big debate as we move into the spring of 2019.
Let's assume the following:
From August to October basis should have widened under the pressure of old crop corn and soybeans being moved to make room for the new crop
Fall lows will come earlier than normal, but not before mid-October as a significant amount of corn basis contracts must be priced.
Once the corn and soybean crops are harvested, the board should bounce back in November and December due to extremely aggressive farmer holding of inventory because of low prices and wide basis.
Since China has taken the entire free stocks inventory out of South America, two things should happen: (a) South American producers will be encouraged to significantly increase acres. I would not be surprised to see at least a 3 percent increase and don't be surprised to sell 5 percent or more acreage growth. (b) Due to tight holding, soybean futures could experience a significant price response from December to March if any types of dry weather concerns develop in Brazil or Argentina.
A large amount of 2018 corn inventory will be stored in the bin unpriced into the spring of 2019. This implies inventory must come out of the bin during the spring and/or summer of next year. The other impact is it has been my experience that, when producers have unpriced inventory in the bins, they cannot sell next year's production with any degree of aggressiveness.
This sets the stage for a very interesting December 2018 to March 2019 for corn producers. Budgets say produce corn, but the bins are full of old crop inventory. Everyone is hoping for a weather event to merge with strong demand to drive prices higher in June and/or July of 2019. The problem is what happens if the best the December 2010 contract can do is a $4.13 double-top between December and March? What happens to corn carryover if all of a sudden we see 7 million or more acres come back into corn production because soybean prices are so low? Do you have a marketing plan that is robust enough to offset the risk of corn carryover going back above 2 billion and cash prices moving below the cost of production?
The problem I see for producers this year is both corn and soybeans have painted themselves into a corner. The only solution is it will take time to consume the extra supply and lower prices to reduce production. The only concern is we have no way of knowing if it is one year or more like the 1980 to 1987 correction or the mid-1990's correction; both lasted longer than anyone really wanted to see.

Solution: Resolve that marketing takes money to do it effectively. Spending money on marketing is as essential as putting nitrogen on a corn crop or herbicides on a soybean crop. Yes, that money can be saved instead, but yields would be drastically reduced. This same concept must be applied to marketing. Producers must learn to sell strength and buy weakness. Have an exit strategy if a bullish price event occurs. Be satisfied with a modest profit when it is offered, but be prepared to be a multiple-year seller when a weather event occurs like the one in 2012. The brass ring we are all going for is to sell aggressively when exceptional profits are offered due to an extreme supply reduction fear event!

How to do this. Give up on looking for someone to help guess when the high will be made. Granted, technical and seasonal analysis can help refine the selling decision, but it can only get you in the ball park. The big problem is controlling your emotions–greed, fear and hope. My solution is to have a very structured plan of attack if the market moves higher or lower than expected. The key, however, is being practical when setting selling targets; design flexibility in the marketing tools used to sell expected production in order to benefit from a bullish price event if and when it should occur. If you are interested in this approach, call me (800-832-1488).

Step 1 Decide now if you want to use a cash-call strategy or put roll-up strategy next spring.
Step 2 Decide on the downside price target where no action can be allowed, as well as the upside price where you will accept sales.
Step 3 Determine time deadlines when pricing decisions must be made and cannot be ignored due to low price.
Step 4 Decide what tool [cash, futures, options, etc.] to use and how to manage basis and spreads to improve the net selling price.
Step 5 When will the plan have to be re-evaluated based on changes in the fundamentals and not fear low returns.

ABOUT THE AUTHOR
Bob Utterback is the President of Utterback Marketing in New Richmond, IN. Call Bob for strategy updates at 877-898-4324. Email comments on
Outlook to utterback@utterbackmarketing.com.


This material has been prepared by a sales or trading employee or agent of Utterback Marketing Services, Inc. and is, or is in the nature of a solicitation. This material is not a research report prepared by Utterback Marketing Services, Inc. By accepting this communication, you agree that you are an experienced user of the futures markets, capable of making independent trading decisions, and agree that you are not, and will not, rely solely on this communication in making trading decisions. Distribution in some jurisdictions may be prohibited or restricted by law. Persons in possession of this communication indirectly should inform themselves about and observe any such prohibition or restrictions. To the extent that you have received this communication indirectly and solicitations are prohibited in your jurisdiction without registration, the market commentary in this communication should not be considered a solicitation.

The risk of loss in trading futures and/or options is substantial and each investor and/or trader must consider whether this is a suitable investment. Past performance, whether actual or indicated by simulated historical tests of strategies, is not indicative of future results. Trading advice is based on information taken from trades and statistical services and other sources that Utterback Marketing Services, Inc. believes are reliable. We do not guarantee that such information is accurate or complete and it should not be relied upon as such. Trading advice reflects our good faith judgment at a specific time and is subject to change without notice. There is no guarantee that the advice we give will result in profitable trades

Link to full market outlook article: https://issuu.com/greenstonefcs/docs/partners_fall_18web/10