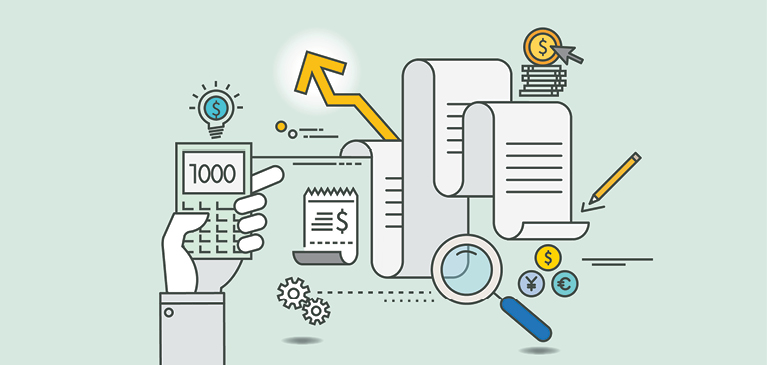 The spring 2018 issue of partners included an article on the tax acts and jobs act (TCJA). IT detailed a number of significant tax law changes expected to impact our farming customers.
Since then, a topic that continues to come up in conversations with our customers is how the New Section 199A Deduction works, specifically for farmers that are part of a cooperative and have resulting sales to the cooperative. The TCJA enacted the New Section 199A Deduction at 20 percent of qualified business income (QBI) as a means to lower the effective tax rate on business income. Congress was aware of the high tax rate on individual business income relative to the new 21 percent tax rate on C corporation income. The overall goal of the 20 percent QBI deduction is to lower the difference between the business income tax rates on individuals. If maximized, the New Section 199A Deduction reduces business tax rates for individuals from 37 percent to 29.6 percent (i.e. 80 percent x 37 percent).
This New Section 199A Deduction completely replaces the Domestic Production Activities Deduction (DPAD) that many received in the past, both from your own activities and those passed through to you potentially as a member of a co-op. Prior to the TCJA, the maximum DPAD deduction allowed was 9 percent of the income earned from your business – which is very close to the 7.4 percent maximum rate decrease shown above (i.e. taxable rate decrease from 37 percent to 29.6 percent).
All of this sounds simple right? Not so much, the devil is always in the details. There are many more complexities that enter into the determination of the New Section 199A Deduction and limitations that apply. The TCJA allows for significant tax planning opportunities – including this New Section 199A Deduction.
The limitations included in the TCJA definitely require discussion and analysis. However, here is a high level explanation. Taxpayers that have taxable income less than the income threshold limit have a simpler computation than those that do not – these taxpayers multiply their QBI by 20 percent. As long as that amount does not exceed 20 percent of their ordinary income on their tax return, that is their deduction. The New Section 199A Deduction is claimed above taxable income.
The taxable income threshold begins at $157,500 for individuals ($315,000 for married filing jointly taxpayers) with the deduction vanishing at $207,500 for individuals ($415,000 for married filing jointly taxpayers).
When taxpayers exceed the income thresholds or their ordinary income amount, and have potentially other complicated activities, additional limitations apply relating to wages, co-op sales, qualified property, and co-op pass through Section 199A. Later in this article we include an example computation with varying inputs and the resulting New Section 199A Deduction to show the complexity of this new deduction.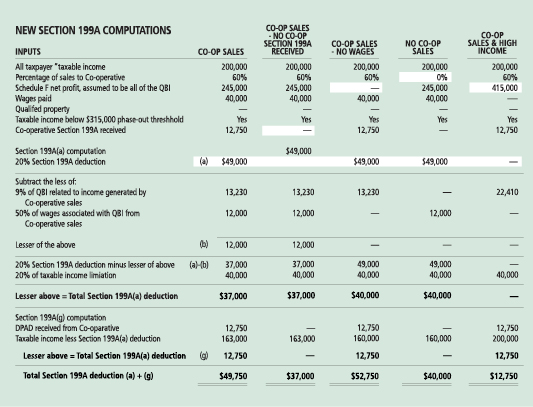 Qualified Business Income
As the computation is based off a percentage of QBI, it's important to understand what is and is not included in QBI. Again, there are changes in store for farmers as to what is included in QBI. QBI is the net amount of items of income, gain, deduction and loss with respect to any qualified trade or business. QBI does not include:
Wage income
Guaranteed payments from partnerships
Dividend income
Interest income other than that which is properly allocable to a trade or business (generally, interest on accounts receivable for most farms)
Speculative commodity transactions (qualified hedging on farm inputs and revenue is QBI)
Any capital gain or loss
Any Section 1231 gain (generally, gains on raised cull cows, heifers and sows and farm real estate) taxed as capital gain
This item received preferential treatment in the past as capital gains realized by farmers on raised cull cows, heifers and sows were eligible to receive up to 9 percent on DPAD. These items were already excluded from farming income on the Schedule F and were taxed at the lower capital gains tax rates (which will continue under the TCJA). However, the ability to have it included in QBI as well is no longer available as a result of the changes. This could have a significant impact on the amount of deduction recognized this year compared to previous years.
QBI does include Section 1245 gain (i.e., gain from depreciation recapture). There are other items on tax returns that have a business flavor that may or may not be considered in the QBI computation at this time. Examples of these items include:
Self-employed health insurance deduction
Deduction for 50 percent of self-employment tax
State income tax on trade or business income
Retirement plan contributions for a sole proprietor or partner, considered non-business for net operating loss determinations
Conclusion

At one point it was referenced that tax returns would be so simple, they would be completed on postcards. As you can see, if the New Section 199A is applicable to you, that will definitely not be the case. This area along with many other areas of the TCJA, provide for tax planning opportunities different than previous years, We recommend you seek the expertise of qualified tax professionals. Please contact your GreenStone tax accountant or branch to set up an appointment to see how we can help you minimize your tax liabilities.

Link to full section 199A article: https://issuu.com/greenstonefcs/docs/partners_fall_18web/40