Living in West Bloomfield, Michigan, Karen Weaver and her daughter, Dawn Bien, long dreamed of having a place of their own for their prized horses. Their vision was for a peaceful, healthy setting for their horses with additional space for a few more. After years of dreaming and searching, their vision became a reality when they found 10 acres of over-grown trees and weeds on a quiet cul-de-sac in Highland Township.
"We had looked for years for the right spot," Karen says. "When we saw this place we knew it needed work, but we could see what it could become."
In November 2015, Karen purchased the property and set out on building the horse setting of their dreams.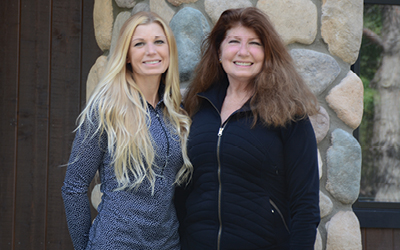 Planning the Setting
Prior to purchasing the property, Karen and Dawn relied on other facilities to care for their horses, and even though they would visit the horses several times a day, they wanted to have a place where they would be the primary care takers.
"We were always nervous when our horses were at other places," Dawn says. "We would check on them two or three times a day. I sleep better now that they are here."
Having experienced several boarding facilities over the years, they knew some features they were wanting to add and others they would avoid. Most importantly, the facility would be exclusive to those owners boarding with them and it would not be open for other people to drop in with their horse for lessons or a show.
"We wanted to build a sanctuary-type setting, not a show barn," Dawn says. "We wanted to build a place where people could come and enjoy being with their horse, to ride or just sit in a quiet place."
The first hurdle for them came in finding the financing for the barn. Karen tried working with local banks but quickly found they would not finance a barn. Working with GreenStone, she was able to find the financing she needed for the barn construction and the roll-over mortgage.
"James (Cole, senior financial services officer) was great and the loan was easy to facilitate," Karen says. "We used a construction loan for the building and then rolled it over into a mortgage when we were done."
It took nine months to clear the land and prepare it for building. The first construction was for Dawn's log home so she could be at the facility full-time. Once the home was finished, they began work on the horse barn in July 2017. In November 2017 they opened the doors to ARI'EL Equestrian Center and started taking boarders in December.
The Personal Details
"Dawn and I worked together to provide the design details to the architect," Karen says. "There is no other barn like this one."
The special touches and details of the custom barn and arena reflect Karen and Dawn's deep compassion for all horses. The barn includes 18 individual stalls equipped with industrial fans, stainless steel waters, black molded head gates and tall ceilings with windows. The stalls are situated around a 70' x 150' indoor arena filled with GGT footing material. The interior of the barn features knotty pine giving it an "up-north" feel.
The barn also has four get-ready stalls, heated handicapped bathroom with a washer and dryer and two wash racks with hot water along with a seating area for guests. The barn is kept comfortable with radiant heat in the winter. "We know everything that is here and how it was built," Karen adds. "We were here everyday and worked as the general contractor for the building."
The land surrounding the barn boasts seven pastures wrapping around the barn and seven dry sand lots, a 100' x 150' outdoor arena and a fenced two-track riding nature path.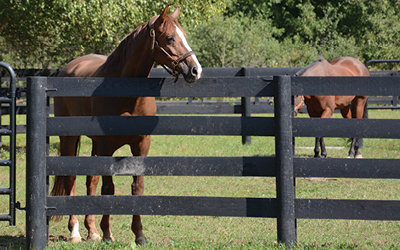 "We want this to be a peaceful setting for the horses and their owners. We added in all the things we wanted when we were boarding our horses," Dawn says.

The building details are just a part of the uniqueness of their facility. The horse manure is removed from the stalls and pasture each day and stored in a large dumpster to be hauled each week to a composting facility. Keeping the manure managed and removed controls odor and flies. Eventually they hope to compost the manure on site in a composter.

Animal care is another top priority for Karen and Dawn. They have three veterinarians working with the horses from neighboring vet clinics. The horses are also fed a special hay brought in from Idaho.

"We won't cut corners," Dawn says. "We want to provide the best for the horses."

Karen and Dawn started taking boarders in December and by May it was full with a waiting list for additional horses. Dawn devotes all of her time to the facility starting the day at 5 a.m. with morning chores and ending with a nighttime cleaning.

"There is no other place we would rather be then here with the horses," Dawn says. "I love it here. My son, Brayden, and I spend all our time out with the horses either working around the barns or just enjoying the animals."

Link to the full The Making of a Horse Sanctuary article: https://issuu.com/greenstonefcs/docs/partners_fall_18web/30