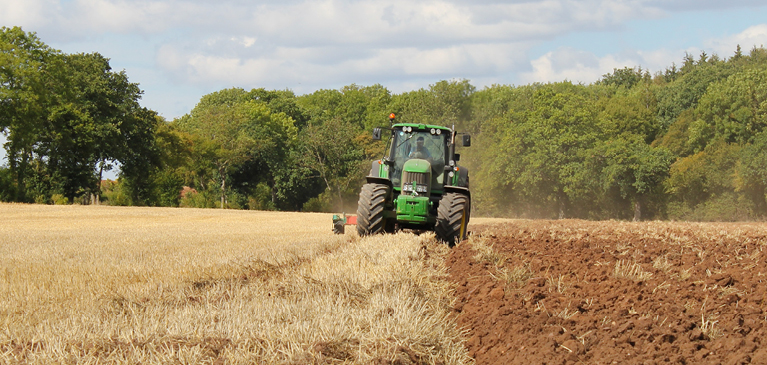 By: Becky McKendry and Mindy Tape, Michigan State University Extension Communications

The demands of farming are plentiful—unpredictable growing seasons, equipment breakdowns, animal health issues and more. Unfortunately, these demands take a toll on the dedicated people who drive our agriculture industry, which can lead to stress, mental health issues and even suicide.

This season has been particularly challenging—as of August 2019, the USDA estimated more than 880,000 acres of cropland in Michigan alone were not planted in time to meet insurance final plant dates, or were not planted at all. Thousands of acres were planted so late that farmers are concerned corn may not mature enough to yield minimal returns before a killing frost.

To help farmers deal with conditions such as harsh weather, Michigan State University (MSU) Extension spearheaded educational efforts dedicated to assisting farmers under stressful conditions. For the past three years, MSU Extension has been developing a suite of resources to help farming professionals and their families take care of their physical and mental health. MSU Extension has also collaborated with GreenStone and other agricultural institutions to develop materials, deliver information, and host events for the farming community.

In 2016, MSU Extension developed "Communicating with Farmers Under Stress," a workshop for agribusiness professionals who work with farmers and farm families. In 2018, MSU Extension began offering an additional curriculum for farmers called "Weathering the Storm in Agriculture: How to Cultivate a Productive Mindset."

Other available resources include online factsheets, a pilot text messaging program, and a recent, free webinar series called "Bury Seeds, Not Stress," which addresses everything from signs of stress in farm youth to the mental health stigma facing men.

"It's essential that we are attentive to the mental health impact of a variety of stressors to farmers, including weather," said Cheryl Eschbach, director of health and nutrition programming for MSU Extension. "We need to support them to make decisions and to seek help when distressed. We also want to teach others how to support farmers under stress."

In addition to farm stress resources, MSU Extension's statewide network of agricultural educators have addressed the delayed planting season by tracking growing conditions, working individually with farmers, hosting crop update sessions and writing educational articles. These articles have covered topics such as how farmers can adjust to inhospitable conditions, make difficult choices and apply for crop damage assistance.

"The 2019 growing season has been difficult," Marilyn Thelen, associate director of MSU Extension agriculture and agribusiness programming said. "Our Extension staff, working with researchers and campus-based specialists, are able to develop and distribute research-based information to support farmers who are making decisions about crop maturity, using alternative feeds and managing finances."

The impacts of MSU Extension's programming to date have been great: 91 percent of participants in the farm stress management curriculum have learned to better recognize signs of depression, suicide and mental illness, and 94 percent reported improved understanding of current agricultural financial situations.

"We know we can't control the weather," MSU Extension Director Jeff Dwyer said in his August testimony in front of the Michigan House and Senate Ag Committees. "But we can help farmers take control of how they deal with the weather by continuing to offer research-based education in production and financial management."

For more information about MSU Extension's farm stress resources, click here. For more information about MSU Extension's delayed planting resources, visit extension.msu.edu/delayedplanting.

To view the article in the online 2019 Fall Partners Magazine, click here.