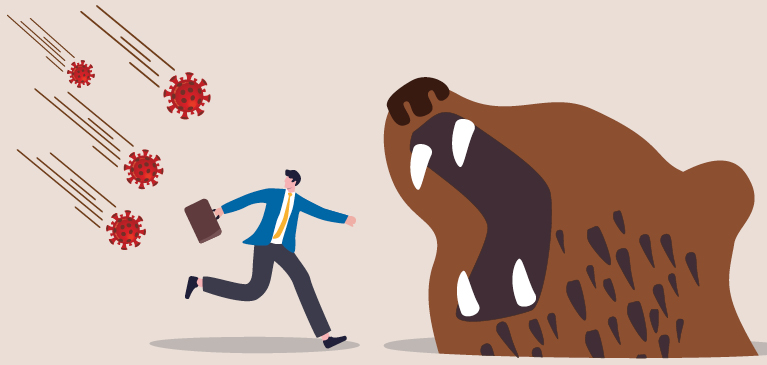 As one might expect, we begin this market outlook with a discussion on the global outbreak of the "COVID-19" coronavirus and the resulting effect on financial markets. The COVID-19 viral outbreak was first detected in China's Wuhan province in December 2019 and has quickly spread around the globe, with confirmed cases now being reported in over 100 countries .Given the virus's rapid spread, many regions have implemented strict quarantines and travel bans in order to slow the pace of the outbreak. These quarantines and prevention measures have had a major effect on the global economy, with a steep decline in economic activity and trade seen in virtually every region.

With the sudden decline in global economic activity, as well as continued uncertainty around the future pace of the outbreak, equity markets fell over 30% from their mid-February highs. In light of the level of volatility seen in the stock market, many investors have turned to the perceived safety of U.S. treasury bonds and the U.S. dollar. As a result, treasury yields have fallen to historic lows and the U.S. dollar has strengthened considerably.

Debt Markets

While tumbling equity markets have understandably received the bulk of the headlines, the volatility seen in debt markets has been perhaps even more dramatic. While demand for U.S. treasury bonds has increased given their perceived safety, demand for corporate debt has dropped off dramatically as investors have begun to reassess the ability of corporate borrowers to make their loan payments in what is a new and uncertain operating environment.

This fear that many corporations may be too highly levered and unable to meet their obligations has caused a dramatic sell-off in institutional debt markets. For example, as of March 27 the average yield necessary to issue corporate bonds in the marketplace has increased nearly 400% over its pre-outbreak level, a sign that debt investors are demanding a significantly higher return in order to offset increased risk. High quality borrowers have not been spared from this debt market sell-off, with investment grade bonds actually under-performing relative to high-yield bonds (i.e. Junk bonds).

Stimulus Measures

In an attempt to support the global economy, governments and central banks around the world have begun to take dramatic stimulus measures. The U.S. Federal Reserve quickly cut its benchmark Fed Funds Rate to 0.00% in an effort to add liquidity to financial markets and ensure that banks continue to lend. The Fed has also announced extensive new measures that will be implemented in order to support financial markets. The relief measures proposed by the Fed include, among other things, large-scale purchases of treasury and mortgage-backed securities and the establishment of new emergency credit facilities to support employers, consumers and businesses.

The U.S. Senate and House of Representative also recently passed a stimulus package that provides support for both businesses and individuals. Specifically, this legislation authorizes one-time direct cash payments to all eligible U.S. residents earnings less than $75,000 per year ($150,000 for married couples) in an attempt to provide temporary relief for those whose jobs or businesses have been most affected by this outbreak. Individuals and couples would also receive an additional $500 for each dependent child claimed on their tax return. It is too early to tell exactly what impact these stimulus measures will have on the economy and the federal budget deficit in the long run, however they are unprecedented in their size and scale and should provide at least some short-term support for both businesses and individuals .

While uncertainty around COVID-19 remains and recent market turmoil has shaken investors, it is important to note that from a historical perspective the macro-economy has been exceedingly stable over the last 10 years. In fact, with real GDP growth of 2.3% reported in 2019 the U.S. closed out the first full decade in its history (2010-2019) where the economy did not experience a recession. Likewise, the unemployment rate stood at just 3.5% as of February.

Key Metric Trends


Although these figures suggest that the broader economy is entering this downturn from a position of relative strength, it is still too early to tell how the fallout from the Coronavirus outbreak will ultimately affect key metrics such as consumer spending, housing and construction prices, or the labor market.

While the full impact of the outbreak related economic slowdown will likely not be known for some time, global GDP estimates for 2020 have begun to be revised down sharply. In its latest forecast the Bureau of Economic Analysis indicated that it is anticipating that Q2 2020 U.S. GDP growth will fall by as much as 10% compared to the prior year. Full year 2020 GDP growth is now expected to be -2.3%, with the steep pullback in Q1 and Q2 GDP being offset by a relatively quick rebound in economic activity during Q3 and Q4. 3.3% GDP growth is projected for 2021, which would be above the 10-year average U.S. GDP growth rate.

The Bureau of Labor Statistics is anticipating a similar pattern in the unemployment rate. In fact, a record 3.3 million Americans applied for unemployment benefits during the week of March 16 according to the U.S. Department of Labor. This increase represents by far the biggest weekly jump in new jobless claims in U.S. history, with the previous record being 695,000 which was set in 1982. As indicated by these figures, that means that the current increase in jobless claims is nearly 5 times larger than the previous record. What's more, many economists believe that this is the beginning of a massive spike in unemployment that could result in over 40 million Americans losing their jobs by April. Initial estimates suggest that the unemployment rate has already spiked to 5.5% (from 3.5%) as a result of this initial round of new jobless claims. The nation hasn't seen that level of unemployment since 2015.

Trade Agreement


On the trade front, the U.S.-China Economic and Trade Agreement was signed on January 15, 2020 and entered into force on February 14, 2020. The agricultural provisions of the Phase One Agreement include commitments by China to enact specific and regulatory reforms to facilitate agricultural trade, as well as commitments for China to purchase $40 billion, annually, of U.S. agricultural, food, and seafood products in calendar years 2020 and 2021. The Agreement also provides that China will "strive to import" an additional $5 billion per year over the next two years. However, the current outlook for exports to China is tempered by significant uncertainties surrounding the COVID-19 outbreak, which may impact the timing of China's purchases under the Phase One Agreement. Total U.S. agricultural exports are projected at $139.5 billion in 2020, a 2.58% increase from 2019, as higher soybean, wheat, and poultry exports forecasts more than offset reduction in corn and soybean meal.

Agriculture


Turning to agriculture, the dairy industry has not been spared from the Covid-19 related chaos, as Class III futures have fallen from the mid-$17/cwt. range in February and stand below $15/cwt. as of March 27. This decline has been largely related to the implementation of travel bans and border closings and the expected effect on dairy exports, as well as the potential for major supply chain disruptions. The March 18 closing of the U.S./Canada border for non-essential travel has been particularly concerning to dairy markets. Despite assurances from both the Trump administration and Canadian Prime Minister Justin Trudeau that "food, fuel and medicines" would not be affected by the border closing, some disruptions are likely to occur.

Cheese and butter prices have also fallen substantially. Based on recent price weakness and lower expectations for cheese and butter demand, the USDA 2020 price forecasts for block cheese and butter have been lowered to $1.755 per pound and $1.845 per pound, respectively. Based on recent weakening of dairy product prices, higher expected milk production, and lower expectations for global demand, the all-milk price forecast for 2020 has been lowered to $18.25 per cwt.

Summary


In summary, the U.S. agricultural industries will continue to face challenges in 2020, however overall market conditions have broadly improved over the last 12-18 months, with price increases compared to just a few years ago seen across many commodity markets. The potential de-escalation of global trade disputes and the signing of the Phase One Trade Agreement with China are also a positive development for the U.S. agricultural industry.

While the global outbreak of COVID-19 represents a dark and uncertain cloud over the U.S. and economies around the world at this time, the food and agriculture sector may be as well positioned as any to weather these uncertain times. That being said, the negative impact on economic activity will almost certainly have significant implications for both agriculture and the general economy in 2020 and beyond.

To view the article in the online 2020 Spring Partners Magazine, click here.