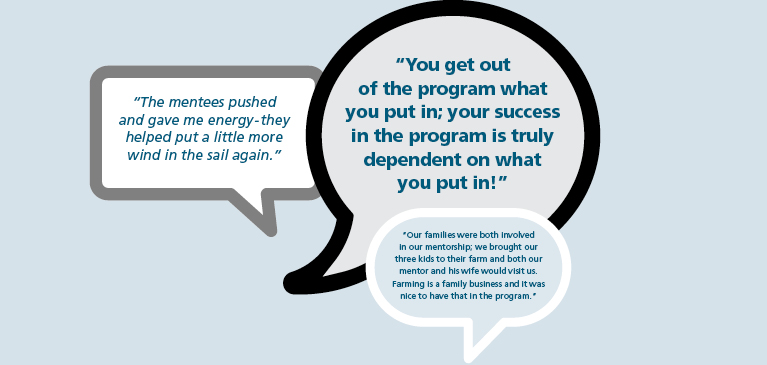 GreenStone's focus on providing the next generation of agriculture with the resources necessary to succeed in today's economy extend past our financial products and services. We believe that providing young, beginning, and small farmers with the right knowledge and learning opportunities will empower them, helping their farms succeed.

Often, the best way to gain this crucial knowledge is from someone who has years of learning and wisdom. With this in mind, GreenStone created the Farm Forward Mentorship program to connect young, beginning, and small farmers with individuals who have industry knowledge and farming experience to share.

Through this 18-month mentorship program, participants are paired with a mentor or mentee with similar farming goals and are guided by a professional business coach. The program begins with a day of training and includes several coordinated conversations to strengthen the relationship between the participants paired. Mentors and mentees have site visits to each other's farms and are encouraged to meet one-on-one several times throughout the year.

Value to Mentee

• Gaining broad knowledge of industry dynamics and practices

• Networking with key industry contacts

• Understanding today's agriculture business model

Value to Mentor

• Satisfaction of helping and teaching the next generation

• Learning new ideas

• Gaining experience in the art of mentorship

Some key areas the program focuses on are creating an effective business plan, managing risk, utilizing resources and overseeing day-to-day operations. Additional networking and educational events are available for participants and in the past, both mentors and mentees have benefited from the program by gaining a new perspective. Though these relationships will last long after, the official program will conclude with a group celebration event at the end of the 18 months.

Ready to join?

GreenStone is now seeking participants for the 2020-2022 Farm Forward Mentorship program that is scheduled to begin this winter. If you are interested in learning alongside an experienced mentor or would like to use your wisdom to positively impact a young, beginning or small farmer, let us know!

To find out more about the program, visit www.greenstonefcs.com/mentorship or email us at marketing@greenstonefcs.com.

To view the article in the online 2020 Summer Partners Magazine, click here.