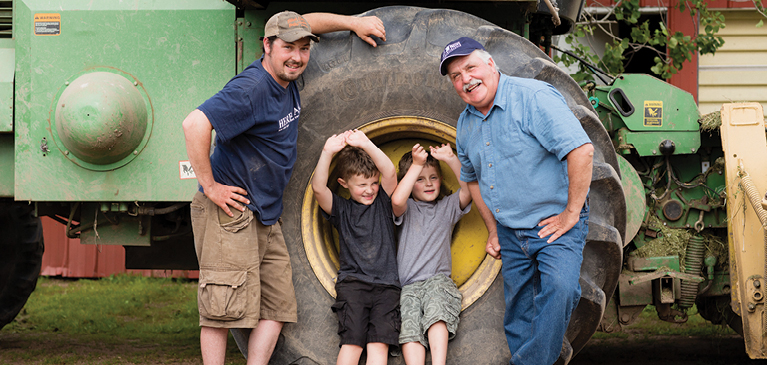 Young, beginning and small farmers (YBSF) are a focus for GreenStone Farm Credit Services, and enhancing programs to assist new producers grow, literally and figuratively, is one of GreenStone's top priorities for 2020.


Initiated by the Farm Credit Act and embraced by GreenStone, our YBSF program offers loans, grants, mentorships and educational resources to eligible farmers in one or more of these groups:

• A young farmer is one who is 35 years of age or younger
• A beginning farmer is one who has 10 or fewer years of experience
• A small farmer is one who generates less than $250,000 in annual gross sales from production agriculture

GreenStone's YBSF framework of support has been in place for decades, and is being amplified with the help of a team of sales, credit and marketing staff from across the cooperative's territory, referred to as the YBSF Champions Committee. With goals focused on improved resources, greater awareness, and stronger support for our YBSF in Michigan and northeast Wisconsin, the committee is eagerly researching solutions and implementing enhancements.

"The young, beginning and small farmers are so important to us," says Ann Allen, GreenStone regional VP of sales and customer relations. "We value all of our customers, but ensuring that this next generation of farmers is successful is also important for the future of farming."

Ann, one of three co-chairs of the Champions Committee, emphasizes that GreenStone develops strong partnerships with both existing farmers and those with diverse interests. Nurturing the growth of new farmers is strongly supported by the cooperative's leadership and board of directors, as representation of the company's mission to "create long-term relationships with our members that have a lasting, positive impact in their business and personal lives."

The current YBSF program not only includes financing options, but programs such as the Farm Forward Mentorship and Grow Forward Grants, and is geared toward educational opportunities through workshops and manual field experiences.


Financing the Future

For over 100 years, we have been committed to helping farmers of all backgrounds and production practices establish a successful and sustainable operation by offering specialized loan programs with unique lending standards.

In addition, with flexible underwriting standards and in conjunction with the Farm Service Agency (FSA) programs, GreenStone can often provide financing for property, farm equipment, and operating needs for young, beginning or small farmers in unique circumstances, who may need individualized assistance with their business.

Recognizing these farmers have just as much passion as the experienced producer, just not necessarily time or scale to their benefit, GreenStone serves the unique needs of these customers focusing on their abilities, planning, knowledge, and business management aptitude.

The mentorship program helps young, beginning and small farmers gain broad knowledge of industry dynamics and practices by matching a YBSF with an experienced farmer in an 18-month cohort program facilitated by professional business coaches.

Cindy Birchmeier, Champions Committee co-chair and GreenStone vice president of credit, feels experienced farmers are key resources for the agricultural industry and acknowledges that a generation of knowledge could be lost without a structured network – like the mentorship program – to transition information from farmers with years of hands-on experience, to new farmers starting a business.

"In agriculture, farmers must be well versed in a number of different trades — it's not only planting or harvesting or milking cows. There's so much more to farming, from both a financial and production management standpoint, and that transfer of inclusive experience is an invaluable piece of what the Champions Committee is trying to help GreenStone's YBSF program accomplish," says Cindy.

"At its heart, a mentorship is really about partnership, and sharing wisdom."

GreenStone's Grow Forward Grants provides $40,000 annually to YBSFs to help pay for educational resources and services to expand their knowledge in areas important to the success of their farm business (up to $1,000 per customer, non-customers are eligible for up to $500). Grants are awarded for use within one of the following categories:

• Agricultural programs or events
• Educational course, program or conference
• First time use of GreenStone's accounting and tax services
• Non-GreenStone farm business services and consultants

"Continued education and hands-on experiences are crucial in both personal and professional growth," says Amber Echlin, GreenStone public relations specialist. "To support farmers' participation in these learning experiences, our grant program reduces financial barriers so growers can focus on strengthening their skills and ultimately their farm's success."

Amber, the third co-chair of the committee, assists with the grant application process. Of the $40,000 committed annually to farmers through the Grow Forward Grant program, there remains several thousand dollars available to new applicants this year.

"We would love to see more young, beginning and small farmers take advantage of this incredible opportunity as they identify new learning opportunities and events that would benefit their farm management. We want to continue helping the next generation of agriculture succeed!"

GreenStone's outreach extends beyond grants, and benefits YBSF through partnerships and financial sponsorships of young farmer conferences with other organizations. GreenStone hosted YBSF seminars, and provided youth program support, higher education scholarships, and many more partnerships.


Future Forward

GreenStone's YBSF program may be getting a refresh from a dedicated team, but the focus continues to be led by each and every employee who all care deeply about helping this next generation of agriculturalists thrive in today's economic environment.

"YBSF is part of Farm Credit's mission," says Cindy. "We have a lot of 'boots on the ground' employees who have actually come up through the program themselves. They have their own operations, and they have been true young, beginning and small farmers, which adds a lot of value to the evolution of the program."

While the YBSF focus has been a part of GreenStone's foundation for over a century, the committee is working to build an even better structure to support members into the future with emphasis on providing vital programing, opening networks with aligned organizations, and utilizing staff expertise to embrace alternative lending solutions.

"We know our YBSF customers are hungry for information," Ann affirms. "Our time spent with customers and feedback from mentees confirms they are looking for support in both business and financial planning. We want to make sure they have all the educational pieces to launch their agribusiness – from knowing how to supply a lender with a balance sheet, to tax returns and even completing a business plan."

"We're going to continue to strengthen, capitalize and expand the program to benefit more participants," Ann comments. "We work with young, beginning and small farmers every day who put their blood, sweat and tears into their farms. Our support matches that passion."

To view the article in the online 2020 Summer Partners Magazine, click here.