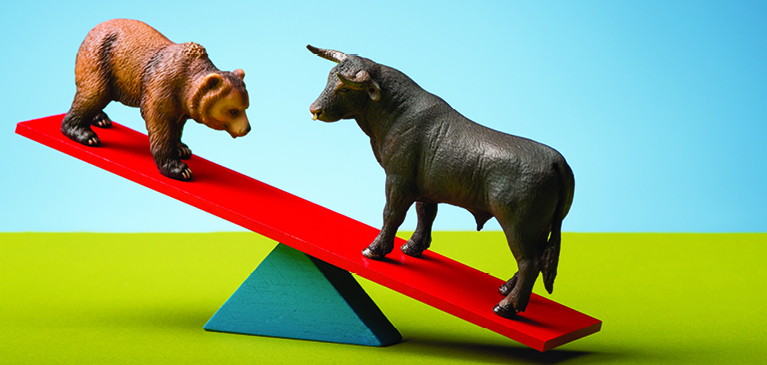 After experiencing a grueling, roller-coaster year of weather, tariff and market demand issues, you can use this market outlook to add balance to what occurred, what is happening now, and what is forecasted for the immediate future. By providing the current national market outlook to our farmers in Michigan and Wisconsin, we offer insight and countrywide perspective to a view of the overall economy.



GDP exceeds expectations

The U.S. economy has continued to grow at a modest pace in 2019, despite headwinds from trade uncertainty. In its latest publication, the U.S. Department of Commerce reported real Gross Domestic Product (GDP) at an annual rate of 2.1 percent in the third quarter of 2019, which exceeded the original expectation of 1.9 percent for the quarter. Compared to 2018's third quarter GDP growth of 3.4 percent, the 2019 GDP figure indicates the rate of economic expansion is slowing in the U.S. The increase in real GDP reflected positive contributions from personal consumption expenditures, federal government spending, residential investment, private inventory investment, exports, and state and local government spending that were partly offset by a negative contribution from nonresidential fixed investment. Imports, which are a subtraction to GDP, increased.

Labor market shows job growth
The labor market continued its streak of consecutive months with job growth in 2019. The November report showed nonfarm payroll rose by 266,000 and the unemployment rate was little changed at 3.5 percent. The 266,000 jobs far outpaced economists' estimate of 185,000, which eased recession fears. Notable job gains occurred in health care and in professional and technical services.
In addition to top-line job growth, average hourly earnings also showed strength, with wages in November 2019 increasing by 3.1 percent compared to 2018. The combination of strong job and wage growth bodes well for the U.S. economy, particularly consumer spending, moving into 2020.


Housing market trending up
The housing market is also maintaining strong figures in 2019 and looks to carry that momentum into 2020. Sales of new homes have risen in two of the past three months and are on the strongest pace since August 2007. Sales of existing homes have improved as well, with single-family homes accounting for practically all of the increase. These trends have provided a boost to homebuilder confidence, with single-family 'starts' rising for five months in a row and growing at the strongest pace since October 2007. The current low interest rate environment is credited as the main driving force behind the improvement in the housing market. With the Federal Reserve indicating any future rate increases are on hold, these positive housing trends are anticipated to continue in 2020.


Interest rates reduced as economy grows at moderate rate
At the October 2019 meeting, the Federal Reserve lowered the federal funds target rate by 0.25 percent, bringing the target range to 1.5 percent-1.75 percent. This was the third 0.25 percent cut in three months, following four rate increases in 2018. In it most recent meeting minutes the Federal Reserve stated that the economy was growing at a moderate rate, and that the job market and consumer confidence remain strong. However, weaknesses in global growth and trade developments have weighed on the economy and pose ongoing risks, which necessitated the cut in rates to sustain the economic expansion. Chairman Jerome Powell also stated that monetary policy is stable, and signaled rates would likely remain at this level until there is material change to the economic outlook.

U.S./China Reach Agreement on "Phase I" Trade Deal
On December 13th, representatives from the U.S. and China announced agreement on a "Phase I" trade deal between the two nations. As part of this preliminary deal, the Trump Administration suspended its plan to impose a new round of tariffs on Chinese goods and reduced some existing taxes on Chinese imports. In return, China has reportedly agreed to buy $40 billion a year in U.S. farm exports over the next two years. To put that $40 billion figure in perspective, U.S. farm exports to China have never topped $26 billion in any one year. The impact from China's retaliatory tariffs has been substantial for U.S. agriculture over the last several years, with U.S. farm exports to China, which hit a record $25.9 billion in 2012, falling to $9.1 billion last year. If China does indeed follow through with its commitment to increase purchases of U.S. agricultural products to $40 billion, it could lead to increased demand for U.S. agricultural products. That being said, it should be noted that China has yet to confirm the $40 billion figure, and many experts have expressed trepidation that increasing agricultural exports to China to that extent may not be feasible in the short-term. Many farmers say they are hopeful but restrained in their expectations for the Phase I trade deal. One positive sign is Chinese imports of U.S. soybeans more than doubled in November, after the Phase 1 agreement was initially announced in mid-October.


USMCA ratification
The United States-Mexico-Canada (USMCA) trade agreement, which was signed in November 2018 by all three presidents, is still awaiting final ratification in Canada and the United States. That being said, in a bipartisan vote the U.S. House of Representative's passed the USMCA on December 18th by a 385 to 41 margin, with 193 Democrats and 192 Republicans backing the pact. The Senate is expected to pass the USMCA legislation early next year, after which the president would sign it into law. Mexico's Senate has already approved the deal, however it still needs final ratification in Canada in order to become effective and replace the North American Free Trade Agreement (NAFTA). Once fully ratified and effective, the USMCA is expected to further increase trade and economic cooperation between the U.S., Canada, and Mexico, which will hopefully drive economic growth and development for all parties.


Dairy industry points toward recovery
The dairy industry experienced a bit of recovery in terms of market prices and profitability in 2019. The average Class III price in 2019 through November equals $16.74 per hundredweight (/cwt), driven by higher prices for cheese and whey, and is on pace to be the highest Class III price since 2014. The all-milk price for 2019 is now forecast at $18.60/cwt, which is a significant improvement from the 2018 all-milk price of $16.15-16.25/cwt. In 2019, the U.S. dairy herd has decreased to its smallest size since early 2016 (9.318 million cows). However, because of productivity improvements, total milk produced is up roughly 2 percent from 2018 milk production. In addition to the stronger milk prices received, dairy farmers are also receiving higher cull cow prices, with an average 2019 price of $55.77/cwt compared to 2018 price of $50.01/cwt.


Farm earnings increase
Farm earnings appear to be on the road to recovery after several very difficult years for most U.S. farmers. Net farm income is forecasted to equal $92.5 billion in 2019, an $8.5 billion (10.2 percent) increase from 2018. If realized, this level of net income would be above the historical average across 2000-2018. Crop receipts are forecasted to increase by 1 percent, with sector leaders including vegetables/melons and corn, and offset by lower receipts for soybeans and wheat.Total animal/animal product receipts are expected to rise just 0.1 percent, with milk and hogs leading this sector, and lower receipts for poultry/eggs. Overall, lower expected quantities of agricultural products will be marketed in 2019 -- but this is more than offset by the positive effect of higher prices, which is leading to the overall increase in cash receipts. Another positive for U.S. farmers is the level of direct government farm program payments are projected to increase in 2019. Direct payments are forecasted to increase by $8 billion (64 percent) from 2018 to 2019, with nearly all this increase coming from large payments in the Market Facilitation Program. This program was developed to assist farmers in response to trade disruptions and will pay out a total of $14.5 billion in 2019.


Farm real estate 'incredibly stable'
Farm equity/wealth is forecasted to rise 2.2 percent in 2019 to $2.68 trillion. The increase is driven primarily by a 2.1 percent increase in real estate valuations as farm real estate assets account for 82.7 percent of 2019 farm sector assets. Increases in financial assets, 3.6 percent, and machinery and vehicles, 3.0 percent, more than offset declines in inventories. Farm real estate debt is forecast to reach $256.9 billion, a 4.6 percent increase, and represents 61.8 percent of total farm debt. Non-real estate debt is expected to only increase 1.4 percent.
Farm real estate values per acre have remained incredibly stable during this period of low commodity prices, which is a stark difference from the farm crisis of the 1980's and significant benefit to farm balance sheets. Michigan's farm real estate average value per acre was $4,900 in 2019, a 0.2 percent increase year-over-year. While Wisconsin's average value per acre totaled $4,950 in 2019, which is a 1.0 percent increase from 2018. Understanding what is occurring (and what is projected to occur) in the broader economy provides a helpful backdrop for farm decision-making on the local level. Importantly, in looking at the national market outlook, farmers can see that seasonal setbacks are not the entire picture and that their hard work and resilience will have the opportunity to move current assets upward in the season to come.

To view the article in the online 2020 Winter Partners Magazine, click here.