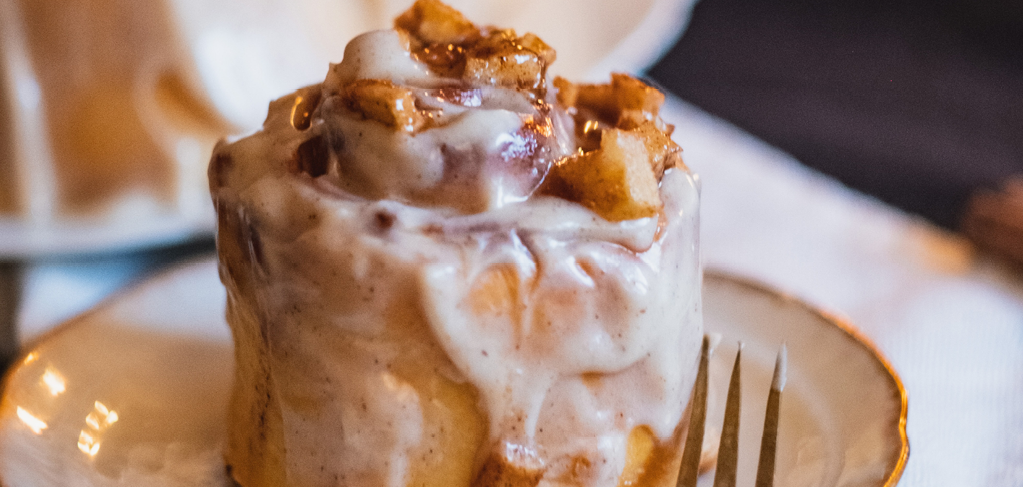 Makes 9 rolls

Prep Time: 15 minutes

Cook Time: 27 minutes

Ingredients

2 tablespoons unsalted butter, melted, divided
2 tablespoons light brown sugar
1 teaspoon ground cinnamon
Pinch of kosher salt
1 tube (8 ounces) crescent dinner rolls
1 Michigan Braeburn apple, finely chopped

For the Maple Cream Cheese Glaze:

1/4 cup cream cheese
2 tablespoons pure maple syrup
2 tablespoons powdered sugar

Instructions

1. Preheat oven to 375 degrees F. Brush 9-inch cake pan with 1 tablespoon butter.

2. In small bowl, stir together brown sugar, cinnamon and salt.

3. Unroll crescent roll dough on work surface. Press and pinch all perforations to seal.

4. Evenly brush dough with remaining 1 tablespoon butter. Sprinkle sugar mixture over butter. Evenly spread chopped apple over dough, leaving 1/2-inch border at long edges of dough.

5. Starting from one long edge of dough, roll dough up into long tube; pinching edges to seal. If any perforations in dough have opened, pinch to seal before cutting rolls. Using sharp knife, cut dough into 9 pieces. Arrange pieces, cut side up, in prepared pan. Flatten each roll slightly.

6. Transfer to oven and bake 20 to 22 minutes or until rolls are golden brown and dough is cooked through. Transfer to wire rack to cool 5 minutes before transferring rolls to serving platter.

7. Meanwhile, make the Maple Cream Cheese Glaze: In microwave safe bowl, heat cream cheese on high 20 seconds. Add maple syrup and powdered sugar; whisk until smooth. Drizzle glaze over warm rolls and serve immediately.

To view the article in the online 2021 Fall Partners Magazine, click here.