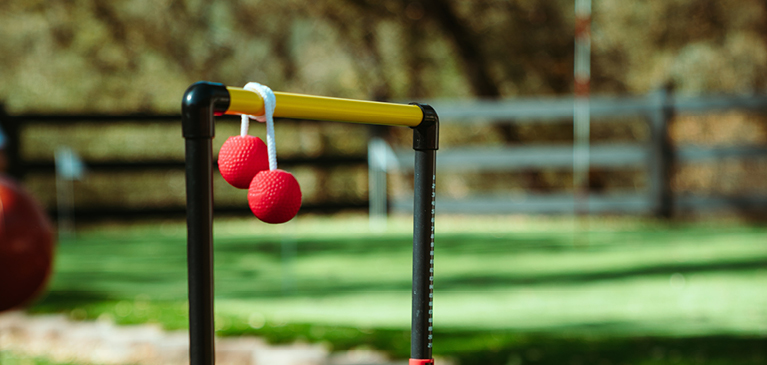 Have you missed the 60+ degree weather and being outside? Don't worry – we have too! Being cooped up all winter makes us want to be outdoors. Luckily, warmer weather is coming, and we have a great project idea for you and your family to do this spring.

Yard games! Yard games get families and friends together all throughout the warmer months, and what better way to bring your "A game" than creating and constructing your own yard game!

There are so many yard games you can create with your family; some can be more complex, and others are easy to make! Below are some ideas we found.



Jenga

Materials you need:

• ¾" plywood 18"x18"

• 6 – 2"x4" x 8" pine boards to make 54, 10 ½" pieces

• 1 – 2"x4" x 6" pine board to make the sides for 18"x18" plywood base

• Sandpaper

• Threaded feet for base

• Kreg Screws

• Saw (table or circular)

Step 1: Build the Platform

• Cut the ¾" plywood to 18"x18". Then make a frame out of 2"x4" boards. Cut two boards to 15" and two boards to 18". Then, using kreg screws, attach the 2"x4" cut boards to the plywood and to each other to form the base for the platform.

Step 2: Cut out Jenga Pieces

• Cut 54 Jenga pieces with the 2"x4" boards. You can choose how big or how small you want them. The materials listed above are for 10 ½" pieces

Step 3: Sand the Pieces Down

Step 4: Stack the Pieces Up

Step 5: Play Jenga!



Yahtzee

Materials you need:

• 4"x4" wood post

• Marker

• Sandpaper

• Chop Saw

• Tape Measure

Step 1: Cut the 4"x4" wood post into five equal cubes using a chop saw

Step 2: Sand them down

Step 3: Use the marker to make the dice dots

Step 4: Play Yahtzee!



Ladder Golf

Materials you need:

• 24 PVC pipes

• 12 PVC connectors (6 elbows, 6 t's)

• 6 bolas

Step 1: Cut the pipes in half

Step 2: Lay out horizontal bars, then add the t's and elbows

Step 3: Add vertical bars and attach to the horizontal bar with the connectors

Step 4: Build the base with leftover PVC pipes

Step 5: Attach this base to the ladder

Step 6: Play ladder golf!



While these are a few on the list of yard games to get you started, there are a plethora of more games to choose from: cornhole, washers, ring toss, etc. Get your family together in your shed and break out some tools to construct these. This is a great opportunity to get your children outside and help them learn new skills! Constructing their own yard game can teach them so much about hands on work, and what better way to do it than with the family.

May the best DIY yard game win!

Sources:
How to Make a DIY Giant Jenga Game - DIY Pete
How to Build a Life-size Yard Yahtzee Game (dunnlumber.com)
Ladder Golf DIY - How to make your own lawn game - Sand Dollar Lane

To view the article in the online 2021 Spring Partners Magazine, click here.