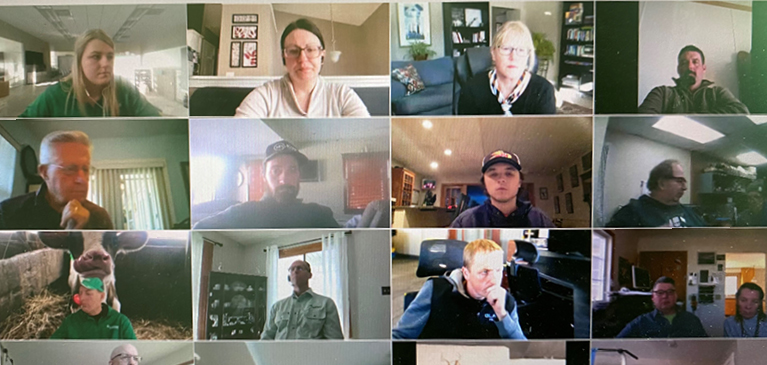 The most impactful life lessons are often learned through experience, and what better way to gain experience-based knowledge quickly than through a mentorship with someone who has decades of life lessons already under their belt?
Through GreenStone's Farm Forward Mentorship program, nine new mentees are doing just that- all while laying the groundwork for a life-long friendship and long-term networking opportunities.
GreenStone's 18-month mentorship program pairs a young, small or beginning farmer with an experienced farmer of a similar commodity to learn from and use as a resource. Facilitated by professional business coaches and mentoring consultants, the program's goal is to create a long-term learning opportunity for participants with a focus on creating an effective business plan, managing risk, utilizing resources and overseeing day-to-day operations.
GreenStone's 2020-2022 Farm Forward Mentorship program, the fourth and largest group of participants since its inception in 2015, launched in February with a virtual program Kick-Off event. During the Kick-Off, program facilitators advised participants on creating an effective mentorship and genuine relationship. Following the virtual event, each mentor and mentee connected safely to visit and tour their partners farm and experience the different ways their farms operate.
Horticultural and row crop farmer Mike Fuisiler joined the program as a mentor to share his years of knowledge. Paired with two separate mentees for the program, Mike's years of hands-on experience will be a valuable resource to his mentees, Alex Ball and Bryce Calder. After meeting individually with both Alex and Bryce, Mike is optimistic about the program and looks forward to providing each of them guidance as they network and make connections in the industry.
"Anytime you can do networking between farmers - it's a good thing! The reason we got going in our operation is because we networked when we first started and that really helped us along," Mike explains. "I'm hoping I can give back to these young farmers like that so they can move forward with their farm operation."
Throughout the program, mentors and mentees are encouraged to connect frequently for conversations to answer questions, discuss challenges, share ideas, and provide guidance. These conversations lead to both the mentor and mentee learning from one another and often resulting in friendships lasting long after the program concludes.
For more information on GreenStone's Farm Forward Mentorship, visit www.GreenStoneFCS.com/YBSF.
Resources
Having accurate information and beneficial resources is critical when managing a farm – especially as a young, beginning or small farmer. In addition to the grants and mentorship opportunities offered through GreenStone's Young, Beginning and Small Farmer program, the resources below will become a valuable asset to your ongoing learning:
Varnum Agricultural Employment Compliance Guide.
Created by Varnum Law in partnership with Adams Immigration Law, Great Lakes Ag Labor Services, Indiana Farm Bureau and Michigan Farm Bureau, this easy-to-use employee guide assists farm employers trying to keep up with federal and state employment laws. The guide provides practical information and answers commonly asked questions about employment law issues and can be found here: www.varnumlaw.com.
USDA New Farmers website.
Packed with information exclusively for individuals planning to start their own operation, the website and unique Discovery Tool is a valuable resource to turn to again and again. Visit www.newfarmers.usda.gov to learn more.
Beginning Farmer Online Resources.
Providing updated and relevant information to beginning and small farmers, Michigan State University Extension's vast resources on starting a farm are organized by commodity, helping new farmers quickly digest valuable information. Find their articles, podcasts, publications, videos and updated events on their website: www.canr.msu.edu/beginning_farmer_webinar_series.
To view the article in the online 2021 Spring Partners Magazine, click here.