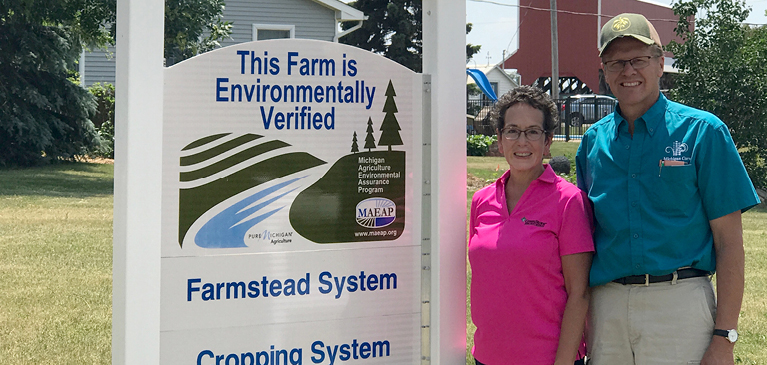 With over two decades of helping farmers and nearly 6,000 verifications, the Michigan Agriculture Environmental Assurance Program (MAEAP) continues to be an impactful and voluntary environmental program for Michigan farmers. This innovative program was established in 1998 to assist farms in preventing or minimizing agricultural pollution while simultaneously recognizing the operations that take an environmental initiative to be good stewards of their land.
"I want to do everything I can, and so does my team, to help protect farmers and allow them to continue farming economically and profitably, all while following the necessary guidelines and regulations," says Joe Kelpinski, Program Manager for the Michigan Department of Agriculture and Rural Development (MDARD), Environmental Stewardship Division.
As an industry under constant scrutiny, taking additional steps to showcase how your farm's operation is environmentally conscious through a MAEAP verification can help relieve some of the increased pressure placed on farmers by consumers and the public. Becoming verified also gives you peace of mind knowing you are protecting the environment and reducing your impact on the land. As leaders in the agriculture industry, it is crucial farmers take the initiative today by implementing cleaner, environmentally-friendly practices on their operation to ensure a cleaner, safer tomorrow.
Divided into four systems, Farmstead, Cropping, Livestock, and Forest, Wetlands and Habitat, each verification process focuses on protecting natural resources by using environmentally sound practices and assessing potential risks. While each system looks at different practices depending on site-specific management, the steps to become verified for each of the systems can be done through the same three-phase process.
Becoming MAEAP Verified
Phase I: Environmental Education.
To begin the verification process, farmers need to obtain two hours of environmental education by attending a meeting or workshop that qualifies as a MAEAP phase one meeting. A list of upcoming education sessions can be found on www.MAEAP.org.
Phase II: Risk Assessment.
Schedule a meeting with a local conservation district technician to evaluate the current practices in place and assess your farm. During this initial visit, the technician will complete a risk assessment and identify which practices are a high, medium or low risk. After the visit, technicians develop a plan of action tailored to the farm, clearly laying out the steps necessary to reduce any possible risk. Farmers can work on their own time to complete the proactive changes.
Phase III: Farm Verification Visit.
After working with a technician to ensure all changes and recommendations have been made to reduce risk, another farm walk-through is scheduled to verify environmental assurance.
"We want to help farmers do a better job. We have incredible and experienced field staff who are able to provide really good solutions and help farmers work through issues on their farm," Joe explains.

"Farmers are free to implement their plan's recommended steps on their own time and are encouraged to use our technicians as a resource."

The cost to become MAEAP verified varies from operation to operation depending on a wide variety of factors. The size of a farm, the current practices in place and the different type of verifications the operation is trying to complete all impact the cost to becoming verified. Although there is no cost to have a conservation district technician visit your farm and the recommendations from the technicians are complimentary, there may be costs associated with the changes made to the operation.

"We can't farm with zero impact on the Earth, but we can certainly make changes and take steps to minimize the impact we are making," explains Joe. "That's where MAEAP comes in."
For more information on getting MAEAP verified, visit www.MAEAP.org.

To view the article in the online 2021 Spring Partners Magazine, click here.