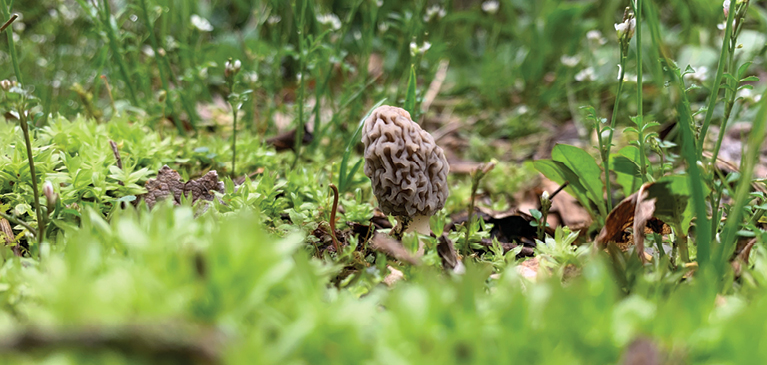 The snowbanks have melted and the turkeys are starting to gobble, which means the spring woods are beginning to erupt with new life. The matted down forest floor quickly gives way to the new spring flora and before long one of the most coveted fungi in the entire country starts to show itself, the elusive morel mushroom.

Morel mushrooms are found not only here in Michigan and in Wisconsin, but in most of the northern states across the country. They are excellent table fare and are only available for a couple of weeks each year. These mushrooms usually sell for at least $30 a pound and are often sold for double that. Thankfully here in the midwest, you can usually find them on your own without too much trouble.
Morel mushrooms can be found just about anywhere but tend to be more prevalent around elm, poplar, ash, and apple trees. In the southern half of Michigan, elm trees are the ticket. Elm trees that have recently died are usually the best, meaning they produce the most mushrooms. The mushrooms will generally be within 30 feet of the base of the tree, condensing the area you need to scan considerably. I will spend more time with my head up looking for the perfect tree in this part of the state than I will staring at the ground. The other tree species are still worth checking, but rarely produce the number of mushrooms that a good elm tree will.

In the northern half of Michigan, mature poplar trees usually yield the highest number of mushrooms. In this area, you're looking for big stands of poplar trees instead of one particular tree. Morels tend to be much less condensed in these areas and can be spread out over several acres. This will require a lot more time looking down, canvassing the area very thoroughly. Small changes in the topography are important to search in these areas as well. Whether it's a small knob or hill side, these subtle changes in the land-scape tend yield a few more mushrooms.
Finding morels can be somewhat of a competitive endeavor as it's a very popular activity. If you're limited to looking on public land, you may need to put on a few miles to get around the other mushroom hunters. If you're not able to do that, just remember that mushrooms can grow just about anywhere! If you see a good tree along the road or along the edge of your yard, make sure to check it out.

When it comes to preparing these morels for the dinner table, you really can't go wrong. You can add them to about anything or just pan fry them in with a little salt and butter, which is probably the preferred method around the state. If you get a chance to spend some time in the timber this spring, make sure to enjoy all of the sights and sounds that spring has to offer and don't forget to keep an eye out for morel mushrooms!

To view the article in the online 2021 Spring Partners Magazine, click here.