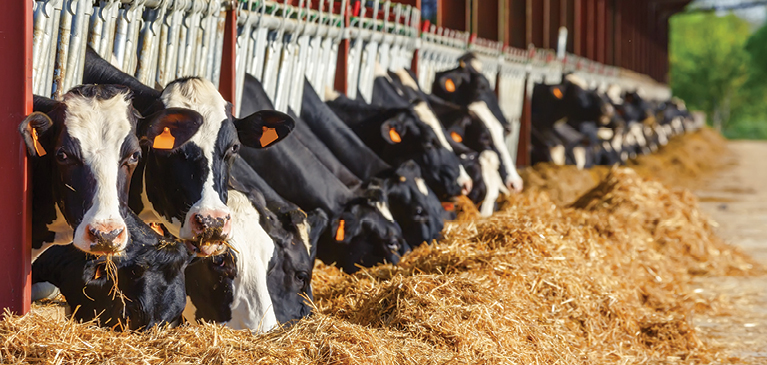 With so many things affecting the milk price, producers must challenge themselves to learn more about risk management. When it comes to protecting revenue on a dairy farm there are many options. Some of those are forward contracts, options on Chicago Mercantile Exchange, Dairy Revenue Protection, Livestock Gross Margin, Dairy Margin Coverage, or to do nothing at all. Even though doing nothing is an option, history shows it is rarely the best choice.

The question, "Is that a good price?" cannot be answered without sufficient information. No matter the risk-management option used, knowing the dairy's numbers will always help make sound decisions around risk management. Most producers have no problem answering questions on herd performance or production. However, when asked what their basis is compared to Class III or what their breakeven is, many producers don't know.

When Dairy Revenue Protection first started, many producers were looking for any information they could find to help them with those decisions. Over 30 percent of the milk in Wisconsin is now protected with Dairy Revenue Protection, driving a need for solid information. GreenStone teams with Farm Credit associations across the country to work with Marin Bozic, PhD, assistant professor in the department of applied economics at University of Minnesota, to develop a tool that helps producers answer questions they had so they could make sound risk-management decisions.

Producers need to understand their milk check. They must be able to track their basis by quarters to understand how protecting a $16 Class III or a $17.50 component price correlates to their pay price. Additionally, revenue-floor numbers should be compared to breakeven numbers. It's much easier to justify spending $0.30 per hundredweight on Dairy Revenue Protection when data shows that a profit of $1.50 per hundredweight is being protected. Knowing the dairy's basis will help producers understand what they are protecting and what will show up on the milk check.

The Farm Credit Dairy Revenue Protection Analyzer tool – available to GreenStone DRP customers – includes a historical breakdown for producers to see the benefit net after premium. Keep in mind those numbers can only be seen by working in distant months, they are not relevant in the near term. It is wise for producers to work at least 6 months ahead.

According to Marin's math, at the 95% coverage level – which is 44% subsidized – for every $100 paid in premium, over time the producer will collect $1.00/56%, or $178. That is an excellent return on investment. For example, if a producer spends $0.35 per hundredweight, over time the indemnities will average $0.62 per hundredweight and the net farm income will be higher by $0.27 per hundredweight. And that's after the premium. That will only work if Dairy Revenue Protection is always being used, which could sometimes mean buying below the breakeven will be better than not buying at all. Yes, that's correct. Even working with numbers that yield a loss, positive numbers can be generated. Think of it this way: the plan protects the maximum amount one can lose, too.

Every producer should challenge himself or herself to learn more about their federal order, Producer Price Differentials, and what it all means to their pay price. Learn what depooled milk is and how it affects the Producer Price Differential on the milk check.

Consider using multiple options in developing a risk-management plan. Dairy Margin Coverage is a risk-management tool available through United States Department of Agriculture that protects the margin. It protects the difference between the all-milk price and average feed costs and can deliver effective risk management for dairies up to 250 head and partial risk protection for larger dairies.

The historical tool on Dairy Margin Coverage, which can be found on dairymarkets.org, shows how effective Dairy Margin Coverage can be for a dairy. In the last ten years, a dairy farmer would only have been out the premium in 2014. The average class III price for that year was $22.34. Using protection tools such as Dairy Margin Coverage, with Dairy Revenue Protection, or Livestock Gross Margin, producers can stack up their coverage. For producers who want to protect their income there is no reason not to use Dairy Margin Coverage.

Of course, it is ultimately the producer's decision. Gain knowledge from all trusted advisors to help make sound risk-management choices. Design a risk-management plan and be flexible to change but not greedy with numbers. Try not to fall into the trap of speculating. No one can predict what markets are going to do. Certainly no one predicted what COVID-19 would do to milk markets when it hit the U.S.

Though there may be an idea of where prices are going, there are too many variables impacting milk prices to ever know for sure. That's why price risk needs to be managed.

To view the article in the online 2021 Spring Partners Magazine, click here.