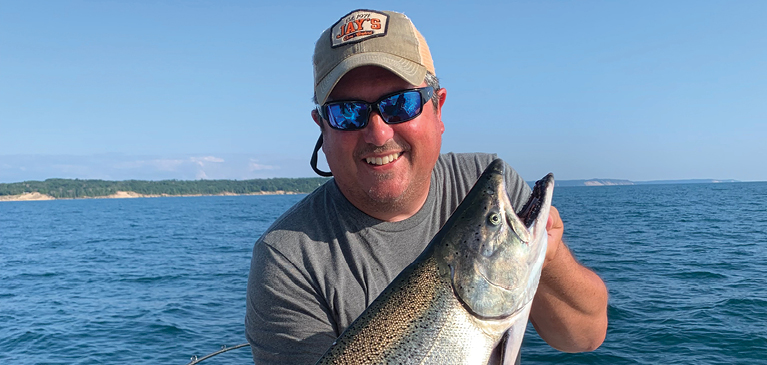 One of the questions I get most often is, "What are your favorite spots in Michigan?" In my 20 plus years of traveling the state, and producing a weekly TV show, I've been to just about every corner of the mitten. So, here are my top 5 places you need to check out this summer that, just maybe, you haven't ever been to. And while you're exploring, consider getting out on the water or a fishing charter; I've identified a few options to start with, but there's plenty to consider wherever your adventures take you!

Number 5 – Alpena.

The thing about Alpena that makes it great, but also a spot that most folks overlook, is that it's just not easy to get to. There are no major highways going to it and it's not really on the way to anywhere else. One of the benefits of being off the beaten path is there's less people. This coupled with an abundance of natural resources makes this area home to some incredible fishing opportunities. If you can plan a trip there this summer, you may want to check out Steve Hubert's charter service (www.chumbucketcharters.com). He's almost always on a good bite and knows the local fisheries very well. Alpena has a lot to offer and is worth the hours of backroad driving to get there!

Number 4 – Frankfort.

Frankfort has grown to be one of my favorite places for a weekend getaway. The downtown area is small but has all that you want and plenty of stuff to buy that you never knew you needed. There are plenty of open beaches and things for everyone in your family to do. For fishing, head to the East End Marina and find Steve Martin, the captain of the Mi Hi Charters (www.mihicharters.com). If Steve is full, he can direct you to several great captains to take you out fishing this summer. Frankfort has everything that some of the bigger tourists' towns have but not as many people – it's a must for your summer plans!

Number 3 – Indian River.

Indian River is right on I-75 at exit 310 and holds a special place in my heart. I grew up hunting and fishing not far from town at our little cabin. The one thing that you need to do here is check out the Inland Waterway. The Inland Waterway is a stretch of connected waterways starting in Pickeral Lake, flowing into Crooked Lake, the Crooked River, Burt Lake, Indian River, Mullet Lake, the Cheboygan River, and finally dumps you into Lake Huron. This is a must for anyone who loves northern Michigan. All the info on the trip can be found at www.irchamber.com.

Number 2 – Drummond Island.

It's hard to beat a day on the island. If you have never been to Drummond, all you need to do is head to the east end of the Upper Peninsula. From there, drive your vehicle on the ferry and a few minutes later you will be on the island. There's so much for you to see, and if you're interested in fishing, talk to Ivan at www.sturgeonbaycharters.com. Ivan can tell you all the places you need to check out as you catch some local lake trout. And don't forget to hit the Northwoods Bar for a great bite to eat before you leave. Let me tell you, if you go to Drummond Island once, you will want to go back year after year!

Number 1 – Beaver Island.

I cannot say enough about this emerald jewel in the middle of Lake Michigan. It has all of my favorite things about our state in one spot. Tons of water, lots of hiking trails, restaurants, and some awesome fishing. Contact the boys at Indigo Guide Service (www.indigoguideservice.com) and they will show you some of the best bass and carp fishing you have ever seen. Beaver Island is one of the prettiest places anywhere in Michigan and well worth the trip! The 2-3 hour ferry ride, or the 10-minute flight, is all that stands between you and a vacation you won't soon forget.

We as Michiganders are very lucky to have so many great corners of our state. Go explore new areas in the mitten this summer – you may just find your new favorite spot!

To view the article in the online 2021 Summer Partners Magazine,

click here.