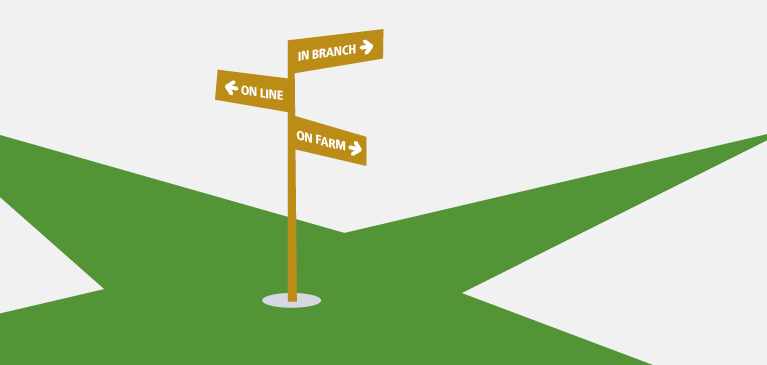 For years we have been serving customers easily and spontaneously when they walk into our local branches, or by appointment at their farm, home or office.
As the preferences and lifestyles of our customers have changed, so has our daily workflow and service options. That face-to-face opportunity stands strong, and we have also shaped technology to meet our customers evolving needs.
The goal of GreenStone is to meet your needs anywhere and everywhere. While these advances in technology and service options have been growing over the last decade, the necessities of the last year have helped to refine and advance them further to provide an even greater benefit to members. We want to make this part of your life and business simple. We've been expanding our resources in order to make working with us as convenient and as custom to your preferences as possible.
You don't have to be an expert in technology to take advantage of these options. We've designed things to be user friendly and intuitive, and if you ever have any challenges, we have a full team of support staff ready to assist along the way. We're happy to help guide you.
Even as your personal circumstances change, the availability of these technologically-advanced options are here to stay. We want to meet you where you are, when you want, and how you want to do it.
And whether you choose to do business in person or online, we want to make sure you know about all the tools available to make the entire process convenient:
My Access
My Access is a single, secure portal you can use to access your GreenStone account and make working with your GreenStone team a seamless experience. Consider using:
File Exchange: Busy time on the farm or at home? No in-person trip needed if you don't have time to meet – you can send documents securely between you and your GreenStone staff. This cuts down on the back-and-forth between you and your lender, as documents can be immediately transferred securely. This also serves to speed up the entire process, which is always a welcome benefit.
My Documents: Not only can you securely access and download your account documents, but you can also view and print bills and statements. This allows you to easily and quickly check your documents, and if you need a paper copy for your records or your accountant, this offers convenient access.
My Alerts: Want to know what's going on? Take control! Set up custom account alerts to be sent to your email or phone. This way, you have information you want coming to you 24-hours a day, right in your hand. You won't miss a thing.
Online Banking: Manage your loan accounts seven days a week. View account history, details and drafts, transfer funds, and schedule payments. Plus, you can access your information and remotely deposit checks through our convenient app - available in the Apple and Google Play stores. This bank is always open and always easy to access!
Online Loan Request: Yes, online! Apply online for your country living and farm real estate financing needs with our simple and convenient online loan request. This feature gives you the flexibility to work on it anytime, with anyone. You can take advantage of this feature at home on the couch with your spouse – no pressure.
My Profile: Easily manage your contact information, email address, password, security questions, authentication image and phrase, and sign up for paperless bills and statements from your profile in My Access. It's all here – set your preferences to make it as easy as possible to work with us.
New Communication

"I was about four months into refinancing a sizable account from another lender when the full effects of the pandemic hit, necessitating all new communication techniques. Everything was done electronically. Loan papers and documents were sent securely online. With multiple parties involved, and in different states early in the pandemic, the technology actually helped get them to closing even faster than if I had been in the branch and sitting down with the customers. They were thankful for the tools we had." - Shaun Gainforth, GreenStone Financial Services Officer, Caro.

In order to make the online experience easier, please consider taking the following steps:

Share your email
We want to work with you! If we can reach you online, we can quickly give you the information you need. Let's keep the lines of communication open – both ways! We send relevant, important notifications about issues that matter to you. Just update your email address in your My Access account or contact your local office, and they will be happy to take your information.

Sign up for eConsent
People working together aren't always in the same town, and even if you are, signing a form doesn't have to require a trip to the branch. To make it simple and quick to work together, sign up for eConsent which will enable you to sign and receive regulatory mandated forms electronically in a simple, quick online process. Please rest assured your information will remain safe and confidential.

Get paperless bills and statements
All of your information is available at your fingertips. If you don't want another piece of mail filling your mailbox, let us keep the records for you online. You'll be notified as soon as the bill and statement are available online, giving you earlier access and online convenience. And, it will always be stored online where you can easily find it for the year!

Video conferencing
Want to talk face to face, but you can't get away to meet in person? Let's make it happen online. We have convenient options to connect with you by video.

In-person meeting by appointment
One of the benefits of working with GreenStone is you know your team. Call or text, talk it through, and set up a time and location to meet that is most comfortable for you.

While many of our customers are embracing the new technology, we're not taking away any of the old. Personal relationships remain core to our culture, and providing options for all the ways that we can communicate with you, work with you, and serve you, is our goal.

"My motto has always been: simplicity and speed. I like to impress my customers with how efficiently we can meet their needs and how quickly we can get the money in their hands. With the technology we're now using, it is just that much easier and faster." – Shaun Gainforth, FSO.




To view the article in the online 2021 Summer Partners Magazine, click here.