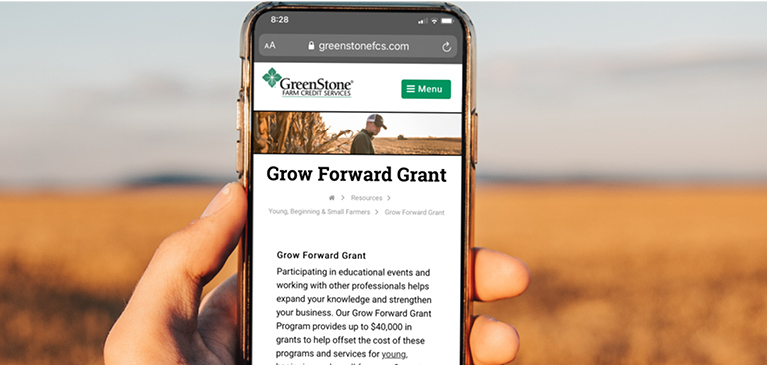 Through GreenStone's mission of supporting the rural communities and agriculture industry, today and tomorrow, we are also committed to providing resources and guidance for young, beginning and small farmers.
Whether you are starting a business from the ground up or taking over your family's generational farm, you need the right resources and knowledge to overcome the challenges of today's highly competitive market.
At GreenStone, we understand the financial barriers the next generation of farmers face and believe education with relevant resources can prepare these producers to successfully compete in a rapidly changing marketplace. To help offset the cost of educational programs and business services, our Grow Forward Grants provide financial support to young, beginning, and small farmers.
Each year, up to $40,000 in grants are available for young, beginning and small farmers through GreenStone's Grow Forward Grants. Each grant can be up to $1,000 to current customers and up to $500 to non-GreenStone customers.
Eligibility:
Young, beginning or small farmer
Farming for less than 10 years, or
Sustain annual gross sales from agricultural production of less than $250,000
Must be eligible to be a member of GreenStone, residing in Michigan or northeast Wisconsin
Intended grant use must fall within one of the following categories:
Agricultural programs/events: educational course/program (on-site or online), conference fees, etc.
GreenStone resources: first time use of accounting or tax services
Non-GreenStone services: business and farm consultations, farm succession planning, etc.
Interested in applying? Grants up to $1,000 are available with more specific details on the application at www.greenstonefcs.com/ybsf.

To view the article in the online 2021 Winter Partners Magazine, click here.