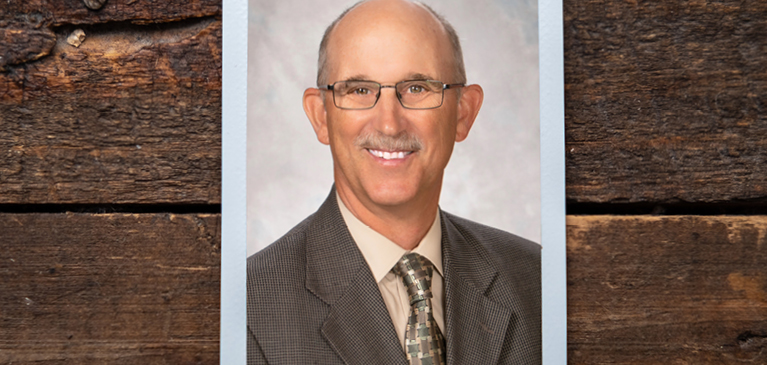 David McConnachie was elected back to the GreenStone board of directors in 2020. While new to the director's seat in 2020, David comes with experience, having previously served 13 years on the Farm Credit board before an eight-year break. David takes a few minutes to share more about his farm and perspective as a returning board member.

Tell us about your farm...
I grew up on a dairy/crop farm, and my parents, John and Edna, offered my wife, Sally, and I the opportunity to continue the generational succession. Now we feel blessed that our daughter, Shelley and her husband, Tim, were interested in the same type of succession to become the sixth generation of our family farm. As on most farms, as in most businesses, our farm has evolved and grown, and we're proud to currently be growing sugar beets, wheat and dry beans on some of the same acres for decades. Times change and our sixth generation will be the first surname change on this branch of succession.

Why do you serve...
I am proud to be part of something that helps rural communities as much as GreenStone does. GreenStone continually looks for opportunities to help our members, along with the usual loans. With GreenStone's success and growth, there is now even more opportunity to assist and promote the full rural community, and not only the farmers.

What has surprised you the most returning to the board eight years later...
I previously served 13 years as a director on the GreenStone board prior to 2012. Not surprisingly, GreenStone remains in good to excellent condition today. Two things that are telling is its growth and patronage returns. Although there is always room for improvement in any organization, GreenStone's board, management team and all the staff I've met really do an excellent job. Faces have changed, but the quality of the people have not. New people often come with new ideas and new energy, and that has also remained consistent.

What do you see as priorities for GreenStone...
I am kind of old school, and my number one priority is that GreenStone continue to offer competitive long-term rates. GreenStone must continue to adjust and prioritize as future unknowns, such as the Coronavirus implications and other 2020 surprises, arise.

Why is serving your cooperative important to the success...
Going back in time a little, I was one of about 40+ directors on four Farm Credit associations in Michigan that made the decision to merge into one to create GreenStone Farm Credit Services...which was not an easy task. A few years later, we merged again with northeast Wisconsin and the upper peninsula of Michigan. Merging gave GreenStone size and opportunity.

GreenStone was able to expand into capital markets, which now makes up a pretty hefty percentage of GreenStone's business. This, along with many other business decisions, has gotten the organization to where it stands today, allowing GreenStone adequate capital for patronage, and continues to be a first choice in providing loans. Whether someone is looking to borrow money or not, GreenStone tries hard to offer many other necessary services. Working together to offer my experience on the direction of such an overall top-notch organization is what makes being part of this board such a pleasant part of my life.

To view the article in the online 2021 Winter Partners Magazine, click here.