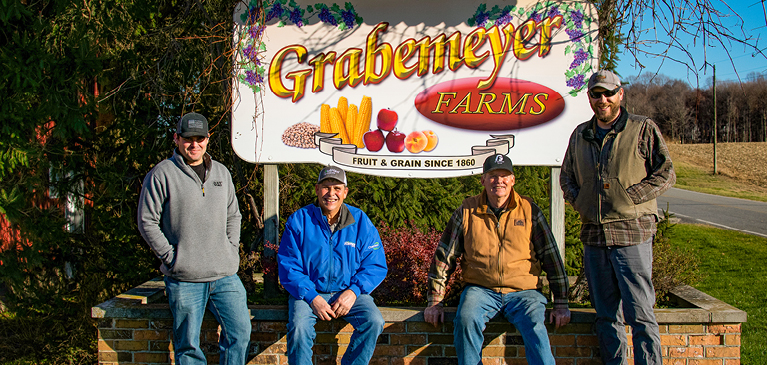 Each morning on Grabemeyer Farms in Dowagiac, Mich., brothers Don and Dave Grabemeyer gather with their sons at the farm's office to discuss their daily plans and goals. Embracing the history of the sixth-generation farm, the back wall of the office is lined with several large aerial photographs of the property.

When established in 1860, the original Grabemeyer Farms was just 122 acres and consisted of few acres of grapes, row crops and a variety of livestock. Fast forward to today, over a century and a half later, the family's operation now harvests over 2,200 acres of corn, soybeans, wheat, grapes, apples and hopefully next year, peaches.

Without ever having tasted their grapes before, one bite and you'll quickly recognize the sweet flavor as all 225 acres of grapes are sold to Welch's grape juice. The 70 acres of apples are sold to Michigan fresh packagers and processors to be distributed to places like McDonald's for their kid's meal apple slice packages, among others. While it's possible you've had one of their apples in past years without realizing it, it's not likely you will this year due to an early freeze taking out nearly two-thirds of their apple trees.

As for their peaches, 2020 was their first expected year to harvest the 11 acres of peaches and like many of their apples, mother nature had a different idea in mind. Fortunately for the Grabemeyer's, 160 years of farming in Michigan doesn't come without generations of knowledge, a deep understanding of the importance of risk management and having a strong team to turn to.

On that team, in addition to Don and Dave, is Don's son, Michael, Dave's son, Brian, and their longtime team of experts and friendly faces at GreenStone Farm Credit Services, like Crop Insurance Specialist Earl Zelmer from the Berrien Springs branch.

"We enjoy GreenStone and like doing business with Earl," Dave says. "When Brian and I visit with Earl, we pretty much have an idea of what we're thinking and our plans, but in all honesty, we turn to Earl to help make our farm's final decisions and plan."

Earl, who has enjoyed working with the Grabemeyers for nearly a decade, has quickly became a trusted voice on their farm and a resource they use often when planning future changes to the farm. In addition to the farm's diversity of crops, Earl helps them manage risk by offering unique crop insurance solutions to fit their farm's need, preparing them for unexpected weather or crop loss.

"The apples froze bad this year after the cold temperatures in early May. It was our worst apple crop in 41 years," Dave explains. "When you have a crop, you don't mind paying the premium. This next year, because we didn't have a crop, is when it will be nice to have that money available from our crop insurance."

"Earl knows what to do and what our farm needs," Brian adds, who works closely with his father and Earl on crop insurance planning for the farm. "He probably knows our farm just as well, if not better than we do!"

While there have not been a shortage of new ideas or changes on the farm over the last century and a half, one thing has remained constant: Grabemeyer Farms turning to Farm Credit to help make it all happen.

Don and Dave's father began working with Farm Credit, formerly known as PCA, in the late 1960's to secure reliable credit for their farm. When managing a 2,200-acre family farm, convenience is key and time is money, and the Grabemeyers credit GreenStone's variety of farm services, financing, crop insurance and tax and accounting, to helping them save time and have confidence their farm is in good hands.

"It's really convenient that our lender can do our crop insurance and our (accounting) books," Michael explains, who is now the sixth-generation to manage the farm. "And they're all good people and easy to work with!"

They are thankful their Berrien Springs branch has a trusted team they can turn to and is a one-stop shop for all their farm needs.

"That is a big plus," Don adds. "Elizabeth Waldschmidt does our taxes, Earl does our crop insurance and Jeffrey Ginter does our loans, all through the Berrien Springs branch. It's very nice to have all three services in one place so they can help us with our day-to-day and year-to-year decision making."

Having a local, trusted team of experts at GreenStone assist with multiple services allows them to put more focus on their daily operations and activities so they can continue passing a successful farm to the next generation of Grabemeyers.


To view the article in the online 2021 Winter Partners Magazine, click here.