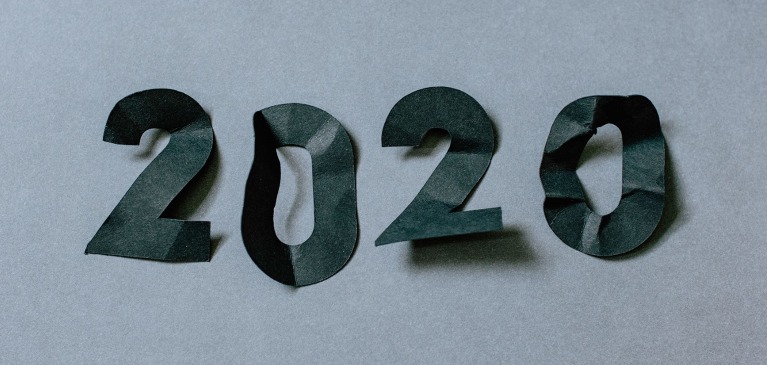 Well, 2020 sure was one for the record books, huh? A lot has happened this year, so much that it can be easy to lose track of it all as the ever-shorter news cycle buzzes around us. With that in mind, we have opted to use this quarter's credit update as a final look back on the material economic events of year, and also to set the stage for what is sure to be an interesting 2021.

The story starts of course with Covid, and the initial spring shutdowns. Its hard to exaggerate how severe the swings in the financial and labor markets were during March and April. We saw 22 million jobs lost in the span of 2 months, with the unemployment rate spiking to nearly 15%. The stock market fell by over 30% in a matter of weeks, triggering panic-selling circuit breakers on the way down. Bond markets moved volatilely at the same time, leaving the "safe" portion of many people's portfolios suffering as well. Prices for virtually every commodity dropped off markedly due to the uncertainty around future demand. All in all, second quarter GDP declined by 31% on an annualized basis, the steepest quarterly decline on record.

As spring turned to summer and we flattened the curve of the initial Covid surge things began to rebound in at least some areas of the economy. The $2.2 trillion CARES act relief package that was passed in a bipartisan way beefed up unemployment benefits and provided direct cash relief to every American, helping to stem the tide of income loss (and the foreclosures that inevitably come with it). After the staggering job losses reported in March and April, we saw six consecutive months of jobs growth. The stock market rallied back to new highs almost as fast as it had gone down, and third quarter GDP jumped by 33% compared to Q2, its largest quarterly increase in history.

Single family home prices have also appreciated rapidly during the second half of the year, largely due to record low mortgage rates, relatively low levels of housing inventory, and an accelerating shift in consumer preference away from city-dwelling and towards suburb-dwelling. We also experienced a surge in new single-family housing starts and home improvement projects, which led to strong demand for dimensional lumber and other wood products. While developers of single-family homes are optimistic that this trend will continue, there is some concern over the future affordability of building such homes given challenges related to sourcing labor, lot availability, or sourcing lumber and other key building materials. The multi-family housing segment did not fare as well as the single-family segment given the shift from cities to suburbs, with multi-family starts falling by a total of 3.7% year-to-date.

Various commodity segments saw steep rebounds after the initial March/April sell-off as well. Dairy markets were particularly volatile, with the class III futures price briefly falling below $12/cwt. in April due to supply chain disruptions and school closures, only to surge above $20/cwt. in October. Grain prices followed a similar trajectory, with both corn and soybean futures selling-off through the summer before staging a fall rally that was driven primarily by increased exports volumes (particularly to China). Livestock and poultry producers faced a mixed bag as well, with profitability largely dependent on which market niche they primarily serve. It is important to note the profitability gap between "retail" and "foodservice" in these market segments as well, as that was one of the defining themes of 2020 from a credit perspective. Many producers and processors with a retail/grocery focus saw demand spike dramatically in some cases as consumers shifted towards doing more cooking at home. That being said, those with a more foodservice or restaurant focus saw significant demand destruction due to sluggish sales and closures.

We would be remiss if we didn't also mention the developments seen on the trade front given its outsized impact on agricultural markets. It is easy to find both positives and negatives when looking at how international trade has played out this year. On the one hand, overall exports to the ever-important Chinese market were roughly half of what was agreed to in the Phase I trade deal between the two nations, a sign that the optimistic targets laid out in that accord may go unmet. On the other hand, exports of soybeans, corn and pork products to China all grew tremendously during the second half of the year, thereby helping the overall demand pull for these products and supporting higher prices. This recent increase in exports to China appears to be largely driven by internal domestic factors within the country, as the fallout from the 2018 African Swine Fever outbreak cut the country's hog herd in half, leading to a protein shortage. The rebuilding of the massive Chinese hog herd has led to strong demand for feed grains as well, which drove the increased export demand seen for those products. Domestic corn prices within the Chinese market have spiked to nearly $9/bushel, which has also increased demand for U.S. grains. It remains to be seen if the recent uptick in agricultural export volumes to China can be maintained going forward, or if they will recede once the internal factors noted above abate. For its part, the USDA is forecasting an improved outlook for U.S. agricultural exports in 2021. Total agricultural exports are projected at $152.0 billion, which would represent a roughly 12% increase over 2020. Two of the main commodities contributing to this expected export growth are corn and soybeans. Corn exports are forecast at $13.2 billion, up over 60% from 2020 due to record production forecasts and higher unit values. The projected volume of corn exports has been lifted due to higher demand expectations from China and reduced competition from Ukraine as their supplies have been severely diminished. The volume of soybean exports is also projected to increase due to the increased demand expectations from China as well as lower short-term competition from Brazil producers.

Government support also played a major role in 2020, with the Payroll Protection Program and other relief programs helping to support struggling businesses across the economy, including in agriculture. Per the USDA, overall net farm income, the broadest measure of agricultural profits, is forecast to increase to $102.7 billion in 2020, a 22.7% increase compared to 2019. This expected increase is largely related to increased government payments related to COVID-19 relief. Direct government farm payments are forecast at $37.2 billion in 2020, an increase of $14.7 billion or 65.7% compared to 2019. If realized, the $102.7 billion of projected net farm income in 2020 would be ~25% below the 2013 peak for the same figure, but 13% above its 20-year average. Farm sector equity is forecast to total $2.68 trillion in 2020, a 0.7% year over year increase. Farm assets are expected to increase by $33.7 billion (1.1%), reflecting a commensurate rise in farm sector real estate values. Farm debt is forecast to increase by $15.2 billion (3.6%), to $433.8 billion, led by an expected 5.5% rise in real estate debt. The farm sector debt-to-asset ratio is expected to rise from 13.61% in 2019 to 13.95% in 2020. Working capital, which measures the amount of cash available to fund operating expenses after paying off debt due within 12 months, is forecast to decline 12.8% from 2019.

If 2020 has taught us anything it might be to expect the unexpected. Nobody can predict what 2021 will bring us, and there is reason for optimism, but many risks remain present as well. Will the vaccine be effective? Will we be able to successfully administer it? How will the economy respond and what further policy measures might we face? Will continued labor market weakness result in increased bankruptcies and foreclosures? Given the unprecedented growth seen in the money supply in 2020 will inflation rear its head as re-openings gather steam and people begin to travel again? Those all remain unknowns. But, with some luck maybe 2021 will see a return to normalcy, or at least something close to it. Here's hoping.



To view the article in the online 2021 Winter Partners Magazine,

click here

.