Patronage Week 2021
Together we celebrate our partnership with you! Our Patronage program is a special opportunity for you to share in the success of your cooperative. This year, we celebrated for a full week online in March while our members safely receive their portion of the $105 million in the mail.
When it comes to finding ways to benefit our members, we've been moving full steam ahead for 105 years. So, it's quite fitting that our members received $105 million in Patronage dividends this year. Our 27,000 members of the cooperative celebrated this milestone as a result of their partnership with GreenStone. Together, we have shared $605 million in Patronage returns over the 16 years of the program.
Connect with us!
Thank you for connecting with us for our virtual Patronage celebration. Take a minute to enjoy hearing from local, familiar faces and experience all the ways partnering with our cooperative pays. The results are in for our 2021 Member Grown Outreach program! Our members voted and together we are giving back $20,000 to three worthy organizations. Learn more about the three organizations below.
$105 Million Back to Members
GreenStone is a cooperative established more than a 100 years ago for a specific purpose – to provide a dependable, competitive and responsible source of credit. Shared success is the foundation of the member cooperative, and while GreenStone has paid Patronage for 16 consecutive years, this $105 million is especially significant given the turmoil of 2020. CEO Dave Armstrong says it well..."it is a great example of how partnership pays at GreenStone."
Our staff identified three organizations to receive a total of $20,000 and our members got to direct the dollars! Those three GreenStone employees share their passion for the organizations they nominated for our Member Grown Outreach program. Hear about the mission and community impact of the Macomb Charitable Foundation, The Father Fred Foundation, and The FRESH Project. Below are the results!
Patronage is a unique member benefit at GreenStone, but the real value comes from our partnership with our customers. Your local teammates share how they work together with members to achieve success.
Together we...persevere, cultivate, adapt, and are thankful.
To our GreenStone members, we say "Thank you!"
Catch some familiar GreenStone faces as we share our appreciation for our members, their support, and the partnership that helped us all get through 2020.
See you next Patronage Day!
Have you ever wondered how Patronage is calculated for GreenStone members?
Watch the savings add up in this example of the Patronaged impact on an average loan.
Together we Give Back!
Our member's voted and the results are in! In addition to the Patronage payment to members, GreenStone is also paying appreciation forward through our Member Grown Outreach program. Following the votes from our customers, we will be contributing a total of $20,000 in financial support to strengthen partnerships with these local organizations.

"Regardless of the donation size, I just want to say thank you for what GreenStone is doing for the community. Groups such as ours relies on these donations to keep us going every year," states Shelly Penzien, founder of the Macomb Charitable Foundation. "I am going to speak for all three of the organizations when I say thank you so much for all you do!"

With the participation of both employees and members, GreenStone is honored to help these causes as they continue to make a difference in the surrounding community. Thank you to all members who participated in voting this year and got involved in GreenStone giving back through this program.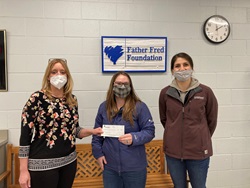 The Father Fred Foundation awarded $10,000
The Father Fred Foundation, headquartered in Traverse City and serving five local Michigan counties, Antrim, Benzie, Grand Traverse, Leelanau, Kalkaska, is a foundation focused on caring for people in need and sharing their services to provide the best care possible. They offer food, clothing, financial services, and support to assist struggling families. The dollars received through GreenStone's Member Grown Outreach program will support their continued mission of caring for the community. Learn more
GreenStone's Emily Dreves, Credit Analyst, and Autumn Rector, Senior Credit Analyst, presented Candace Hamel from the Father Fred Foundation a check for 10,000.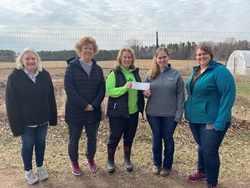 F.R.E.S.H Project awarded $6,000
Located in the Shawano and Menomonee Counties in Wisconsin, The F.R.E.S.H. Project brings nutritional and fresh produce to their local communities while increasing consumer awareness of local farmers. F.R.E.S.H. stands for food, resources, education, sustainability, and health. Their team of volunteers are dedicated to educating families and individuals on the benefits of healthy eating, in addition to teaching about the importance of where that food comes from and the farmers who produce it. Dollars donated support the organization's goal of feeding more families and providing knowledge on healthy eating and the importance of buying fresh, produce from local farmers. Learn more

Heidi Pettis, Senior Appraiser with GreenStone, presented Sun Hennigan, Becky Dillenburg, Barb Mendoza, and Kellie Zahn, from the F.R.E.S.H Project, with their winnings.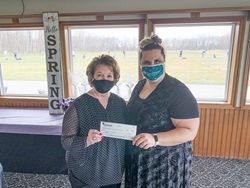 Macomb Charitable Foundation awarded $4,000
Serving Macomb, Mich., the Macomb Charitable Foundation is a non-profit organization focused on assisting children who live at or below the poverty level. They provide financial services to assist with transportation and unpaid bills, temporary housing, supplies, food, clothing, education and essentials. GreenStone's donation will allow them to focus on their mission of not just providing each child a better life, but a life filled with genuine kindness and humility. Learn more
Amanda Kutchey, Learning and Development Specialist with GreenStone, met with Shelly Penzien, from Macomb Charitable Foundation, to present her with the check.