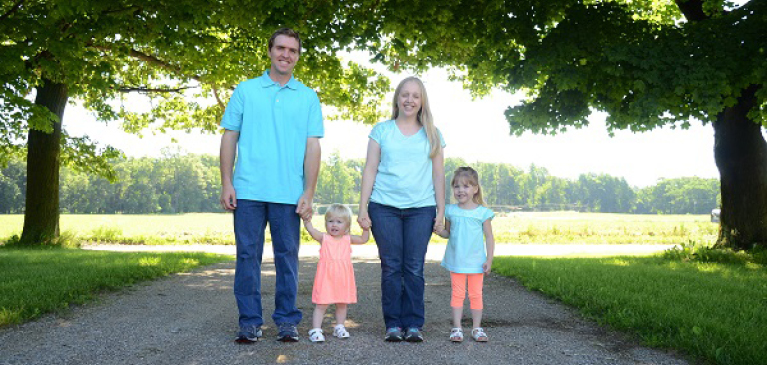 As GreenStone commemorates its centennial anniversary this July, we would like to thank our borrower-owners who have helped us achieve this significant milestone. Earlier this year, GreenStone interviewed Sam Chapin of Chapin Family Farms to learn about his family's history and congratulate them on their own 100th anniversary.

Sam Chapin is the fourth generation of his family to farm in Mecosta County, Michigan. After attending Central Michigan University, he and his wife, Micah, returned home to farm full-time in 2008. He has been officially managing Chapin Family Farms, a 640 acre dairy farm in Remus, since 2013.

This July, the family will host a centennial celebration to mark the farm's 100th anniversary. The farm's rich history began with William Jehiel Chapin, who first purchased the land in 1911. In 1916 his son, William H. Chapin and his wife, Mabel, started farming the land. A recent graduate of Michigan Agricultural College, now known as Michigan State University, William H. and Mabel lived in a three bedroom logging cabin on the property, raising 12 children—nine boys and three girls. "This was all through the depression era. It is just amazing to me, thinking about where they came from, what little they had and what they were able to make of it," said Sam.

Sam recalls doing what most all farm kids do —helping with chores. "We were up at 5 a.m. to feed calves, and back to the house by 6:30 a.m. to get ready for school. Growing up on the farm taught me responsibility and how to balance school work with farm chores. My parents always stressed the importance of our school work, but our responsibilities on the farm were just as important. When you are a kid, you don't realize the big picture things that are happening on the farm. You just want to get your chores done and go play. Looking back now, I can't believe my dad put us in charge of feeding calves. It is such an important task on the farm, and dad trusted me and my brother Ben to do it."



Sam Chapin, his wife, Micah and their daughters Melanie and Marian.

The farm became Chapin Family Farms in 2007. Since then, Sam and his father have been very progressive in their pursuit of expansion. "My dad has always been able to see opportunity, and he knew that by growing the farm, it would bring more opportunity for the next generation." After working with a community bank for several years, Sam's family transferred their business to GreenStone. "Once we were officially Chapin Family Farms, the first order of business was to build a new barn. We added a 12x12 parallel parlor with a new hospital barn and small fresh cow pen." Financial services officer Dave McKenny has worked with the family to build the business and plan for the future. "Sam is an incredibly hard working young man," said Dave. He is also very thoughtful in his planning for the future of Chapin Family Farms."

Over the last several years, Sam admits he has grown as a leader, and has learned patience from his dad. As he looks to the future, he relies on the lessons learned from his family to guide his decisions going forward. "I put my dad on a pedestal; he is exactly what I want to be as a farmer. He has tried to teach me and put me in a position to make this farm successful so we can continue our family legacy for future generations."

This blog post is an abridged version of a full article that appeared in our most recent annual report. Read the full story and learn more about the history of the Chapin family in the online version of the report.