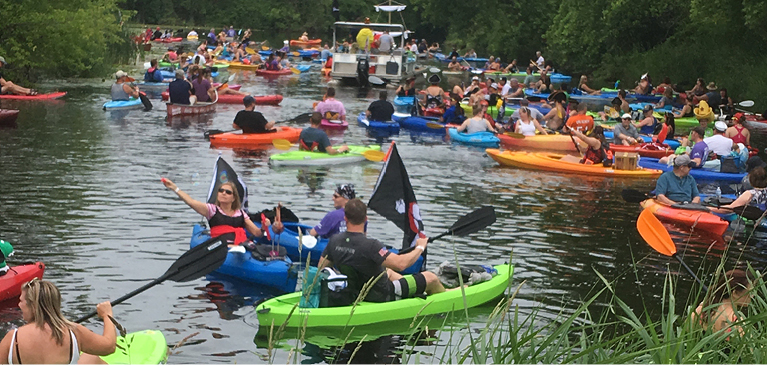 Engaging in local activities is one way GreenStone gives back to places where we work and live. Our employees carry out our passion for community engagement through a variety of activities both as GreenStone representatives and as volunteers – we are pleased to tell their stories here. Watch for upcoming stories of how our employees give back in our Open Fields blog!

Upkeep and maintenance of our local waterways does not just happen miraculously, there are people in the community who dedicate their time to beautifying the areas and keeping them safe. Fun events drawing people to the natural gems in their area are great for increasing appreciation for the local environment as well as building community bonds.

The Kawkawlin River Watershed Association works to protect and restore the water, natural environment and enjoyment of the Kawkawlin River. The river runs through Michigan's Bay, Midland, Gladwin and Saginaw counties. The Association promotes and advocates for watershed issues in the Kawkawlin River basin such as recreation, safety, education about issues and conservation and protection of water quality. The Association has also teamed up with Saginaw Valley State University in the past, testing the water and providing updates on its quality.

Tracy Koch is a customer service representative in GreenStone's Mount Pleasant branch, and has served for the past two years as the Kawkawlin River Watershed Association vice president. Tracy serves on the networking, safety and fun committees within the association, as well as heads up the annual fundraiser, the Pirate Paddle.

Pirate Paddle is the Kawkawlin River Watershed Association's largest fundraiser. Participants paddle along the river, stopping at resident's homes where they receive pirate coins which are traded in for raffle tickets later on to win prizes. Homeowners along the river enjoy watching the paddlers go by, and some hand out hot dogs, beverages and other treats.

"The Pirate Paddle we hosted earlier this summer was the most successful one yet," Tracy shared. "This was our eighth year hosting the event and we had 282 participants."
On August 24, the Association's held the Light Up the Kawkawlin River, where a lit-up boat parade sails down the river. The event is free, and many watch the parade from Castaways, a restaurant right on the riverbank.

The events serve as a way to bring the community closer together through a fun and relaxing event, while also advocating for the local environment and its treasures.