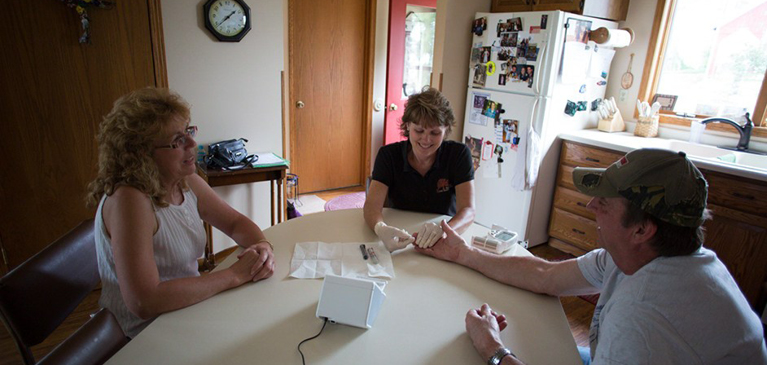 (photo provided by Rural Health Initiative)

For many farmers, taking the time to schedule a trip to the doctor's office is far from their top priority. With this in mind, in 2004 the Rural Health Initiative (RHI) of Northeast Wisconsin started the Kitchen Wellness movement to bridge the gap between a healthy harvest and a healthy lifestyle.

The RHI offers preventative screening for 1,300 farmers annually at a portion of what a doctor's visit would have cost. Serving Shawano, Outagamie and Waupaca counties, the RHI provides Kitchen Wellness for busy farmers by having trained healthcare professionals visit their farms to do the checkups, often times meeting in their kitchen.

"We call it Kitchen Wellness because a lot of times we are sitting at their kitchen table talking about their health," says Rhonda Strebel, RHI's executive director. "We try to be a resource for the farmers, to help them prevent major health problems."

GreenStone employee Dan Gitter, has proudly served as RHI's board member for 2 years and enjoys being part of the RHI.

"These preventative screenings encourage farmers to change their diet before a problem becomes serious," Dan says. "Compared to experiencing a heart attack or discovering they need cholesterol medication and then making the change."

The program is funded by donations, sponsorships and fundraising events like the upcoming 15th annual Wine & Cheese Tasting. The fundraiser will take place on February 15, 2019 and all of the proceeds help keep local farmers healthier.

The Wine & Cheese Tasting fundraiser has raised over $200,000, bringing in an average of $15,000 per year. Each year there are bucket raffles, a money tree and silent auctions. This year there will be 25 flavors of Wisconsin cheese, 36 types of wine, local brews and cocktails in addition to dairy-related food.

Heidi Pettis, also a GreenStone employee, has been a member of the Shawano County Dairy Promotions since 2016 and supports the RHI's annual fundraiser by preparing food for the event each year.

"It's fun to see our customers there, how they give back to the community and all of the things they do to help our farmers," Heidi says. "This year we will be making three different types of cheesecakes, totaling 700-800 servings."

"Organizing these events take time and both Dan and Heidi go above and beyond," Rhonda says. "We wouldn't be able to do this without the help of our contributors and volunteers. It's 100 percent coming from our community and it's amazing to see how the community cares and steps up to help our farming population!"

If you are interested in attending the 15th annual Wine & Cheese Tasting fundraiser or supporting the Rural Health Initiative program, please click here.