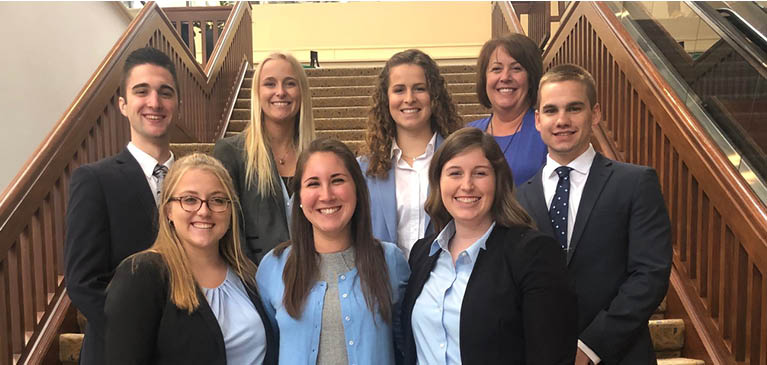 The National Agri-Marketing Association (NAMA) is a student organization at Michigan State University (MSU), provide students the opportunity to learn outside of the classroom by developing new ideas.

NAMA gives students a platform to be creative and also to learn networking skills. Having these opportunities allows the students to gain real world experience which can assist them while searching for a career in their field. In the fall semester, students also have the option to participate in the resume boot camp where industry professionals work with the students to provide personal development.

The MSU team recently competed at the NAMA national convention in Kansas City, Missouri. They competed in the marketing plan competition after many months of preparing an extensive plan and practicing presenting.

The students presented a mobile application that helps ranchers calculate cattle's weight and height by taking a photograph to score it. The application is called Handy-Herd and is developed by Beef Business Inc. The students said they believe ranchers are always looking for ways to increase efficiency in their operations so they believe an application such as Handy Herd would be very effective.

The highlight from the conference for the majority of the students who attended was networking with students and agriculture professionals from all over the world. The passion for both marketing and agriculture really shows at the conference as students, advisors and industry professionals all meet to discuss latest trends and the future of agri-marketing.

Lauren Voelker, credit intern at GreenStone and member of MSU NAMA said, "Our team this year was younger and after the experience at this year's conference I'm confident we will come back next year even stronger than we did this year."

GreenStone supports student organizations such as NAMA because they are a great way for students to have exposure to agriculture and to cultivate innovative ideas for the future marketplace. The future is bright with today's youth and as they enter the workplace, new ideas will be brought forward to change the way we act and think.

"Every experience in NAMA applies to the future, regardless of the student's career choice. We're pleased to build relationships with these members and provide support for each of them to embrace the opportunities," said Melissa Rogers, GreenStone's vice president of marketing and public relations. "Having been one of many to benefit from NAMA, it's always a thrill to not only provide the support, but to be a part of the development of our future leaders."

Leadership within the organization is very important both by advisors and student members. The students were led by professional advisor Erin Allen of Michigan Agricultural Commodities who was named the professional advisor of the year by NAMA.

For more information about NAMA please click here.