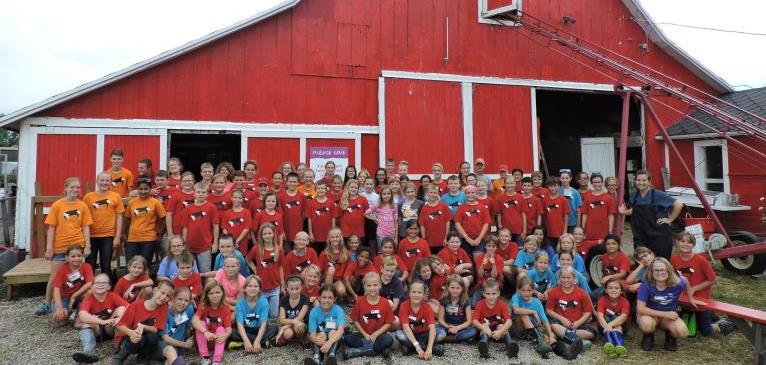 What began as a practical joke and a barn full of animals, has grown tremendously over the years and now educates hundreds of people each year on the importance of agriculture.

In 1984, Mary Rottschafer came home to a surprise party complete with a freshly painted barn and a yard full of farm animals, that weren't originally there! Unsure of how to move forward, Mary contacted local farmers and veterinarians for guidance and within six short years, Critter Barn began hosting school field trips to educate children. From learning about various farm animals and how to care for them, to understanding the remarkable role agriculture plays, the field trips quickly gained the interest of both visitors and volunteers.

"Three neighborhood kids came over to help me set up for my field trips and a few years after the field trips got rolling, people would ask what else they could to do help," Mary says. "Their desire to come back and help is what started the volunteer program, Critter Camp."

Critter Camp is a three-day course that educates volunteers on how to care for farm animals, work as a team to complete tasks and understand how Critter Barn operates. Once enrolled in Critter Camp, volunteers receive a blue shirt to distinguish their level of experience at the barn. Once graduated from Critter Camp, individuals are "official" Critter Crew members, and can earn a red shirt after volunteering 20 hours. After consistently volunteering at the farm for over three years, members may be able to advance to a leadership role on the farm helping younger volunteers.

Critter Crew members are between the ages of 8 and 15, and over 70% return to volunteer at least three times after completing the program. Studies show that children who volunteer before age 12 become active volunteers as adults. Although the program was created to educate volunteers on farming's immense impact, the program has greatly affected the lives of many volunteers, and for some, changed the course of their future. Several past volunteers now work at Critter Barn and dozens have careers in the agriculture industry.

"The majority of the students who volunteer at Critter Barn do not come from farming families," Mary says. "We are drawing students in from the greater community and introducing them to the agriculture industry."

From the first summer of just 25 volunteers to today, the program has seen enormous growth. There are now approximately 300 Critter Crew members on the active roster with 32 new volunteers completing Critter Camp each week. Due to the increasing number of volunteers as well as the community's growing interest in visiting Critter Barn, expansion of the farm is necessary. This past spring Critter Barn kicked off a campaign to raise funds for Critter Barn's New Farm on 36 acres. The new location will include traditional and modern barns, classrooms, demonstration spaces, a Welcome Center, a Critter Store and enough room for Mary and her team to fulfill their mission of inspiring and educating others on farming.

Critter Barn promotes the importance of the agriculture industry while inspiring others to get involved through hands-on education, and GreenStone is proud to support their mission. As a long-time advocate for the agriculture community, GreenStone is grateful to partner with Critter Barn in helping them reach their funding goal of the "Barn to Farm" campaign.

"GreenStone's pledge to our future farm helps to validate Critter Barn's mission in the most incredible way," Mary explains. "GreenStone represents every branch of agriculture and it is an honor to be sponsored by them because of who they represent. GreenStone's support encourages other organizations! We are most grateful!"

If you are interested in learning more about volunteering opportunities, visiting or supporting the Critter Barn's campaign, please visit www.critterbarn.org.