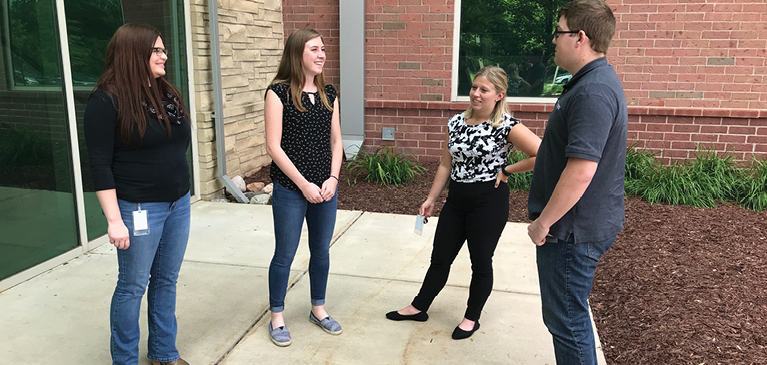 Pictured from left to right are: Jennifer Pawlowski, Alex Herold, Hannah Cameron, Devon Davidson

GreenStone has many employees working behind the scenes to keep the business running smoothly. Today, we are highlighting interns from the legal, data analytics, tax, accounting and auditing departments.

Interning at GreenStone this summer, these students are earning college credit toward their degree, gain experience working in their field and build relationships with other interns and employees. They will also attend internship events such as an etiquette lunch, volunteer day and a farm visit.



Hannah Cameron – Legal Auditor Intern

After two internships within an accounting firm completing external audits, I knew I wanted to experience something different this summer heading into my last semester at Michigan State University. As in the fall, I finish my accelerated master's degree in business analytics.

From the moment I interviewed with GreenStone, I was able to tell the passion behind what the company strives to achieve every day. I knew after interviewing that GreenStone was a company I would like to work for.

Having graduated from Churchill High School and growing up in Livonia, Mich. I was not involved with anything agriculture related but am enjoying learning different terminology and processes associated with agriculture.



Alex Herold – Legal Auditor Intern

While attending Michigan State University (MSU), I received an email from my now supervisor Becky Taylor. She mentioned how she found success within GreenStone after graduating from MSU. I connected to Becky's story so I decided to apply for the legal auditor internship at GreenStone.

I am looking forward to learning more about the agriculture industry and financial services. In the past, I have worked for an insurance and risk management company. Diversifying myself across many industries is important to me.

GreenStone allows me the opportunity to job shadow other roles within the company, meet employees from different departments and attend intern exclusive events.



Devon Davidson – Business Intelligence Intern

GreenStone has given me the opportunity to try many different roles within the company. In January 2018, I started at GreenStone as a credit assistant and in the summer of 2018, I transitioned to a legal auditor intern. This summer I am working with the data analytics department as a business intelligence intern.

While at GreenStone I enjoy learning the impact they have on the agriculture industry and community. It is important to me that my employer be committed to impacting today's youth and the community it serves which GreenStone exhibits.

I look forward to working with big data affecting the company and presenting it to the board of directors and executive team.



Jennifer Pawlowski – Tax, Accounting and Audit Intern

I have been with GreenStone since December 2018 and made it through tax season! It was a eye-opening experience showing me first-hand how busy the office and staff can get during that period. As my role expands for this summer within GreenStone I'm looking forward to assisting the audit and accounting teams with tasks and developing my skillset.

After graduating with my degree in accounting this August, I will be looking for a career within the accounting field. GreenStone has made me aware of the possibilities of a career in financial services or agriculture.

As the summer internship concludes, I am very excited to share the projects I have worked on with the leadership team and employees at GreenStone.


Check back every Wednesday for new posts about GreenStone careers where we will highlight more interns.

Are you or someone you know looking for an internship? Find out more about the GreenStone internships and careers here.