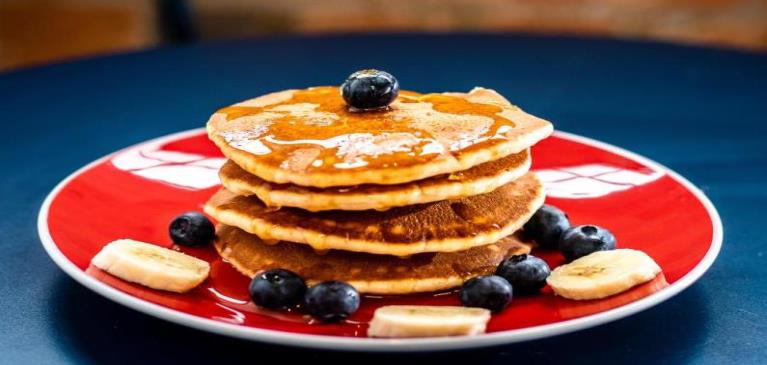 Attending community events is just one way families celebrate Wisconsin's agriculture industry. As a proud supporter of farming, GreenStone employee, Danielle Annala, has had the privilege of attending Marinette County's Breakfast on the Farm event since she was a young girl.

On June 30, guests came together at Dan and Sue Van De Walle's family farm to enjoy pancakes topped with locally made syrup, pork sausage, scrambled eggs, ice cream and even deep-fried mozzarella sticks. Two hundred and forty gallons of ice cream and 1,500 pounds of eggs were served by volunteers at the breakfast. In addition to the delicious breakfast provided, guests learned more about agriculture while on the farm. Proceeds from the event go toward agricultural education for youth and adults in northeast Wisconsin.

For over three decades, Danielle has enjoyed the hot breakfast with friends and family and this year was her first year volunteering. Working alongside other volunteers, Danielle greeted and took tickets for over 4,300 guests.

"It was so nice to see approximately 300 volunteers come together to put on this wonderful event helping promote dairy and providing a hands on, up close look at a local farm," Danielle says. "It was fun to visit with so many of our customers and their families out of the office in a more relaxed environment where we could connect on a more personal level."

Sharing values with members and farming communities it serves, GreenStone is honored to support Marinette County's Breakfast on the Farm and their initiative of supporting education in agriculture. The cooperative is grateful to have employees who have a similar passion for the agriculture industry and a fierce drive of giving back.

"One of GreenStone's Core Four values is 'Get Involved.' Volunteer opportunities are a great way to 'Get Involved' by giving back to the community we serve and supporting our customers in a different yet still important way," Danielle says. "Additionally, volunteering helps build relationships in the community, outside of the office, that are mutually beneficial, personally and professionally."

For more information on Marinette County's Breakfast on the Farm events, click here or for the full list of Wisconsin breakfast events, click here.