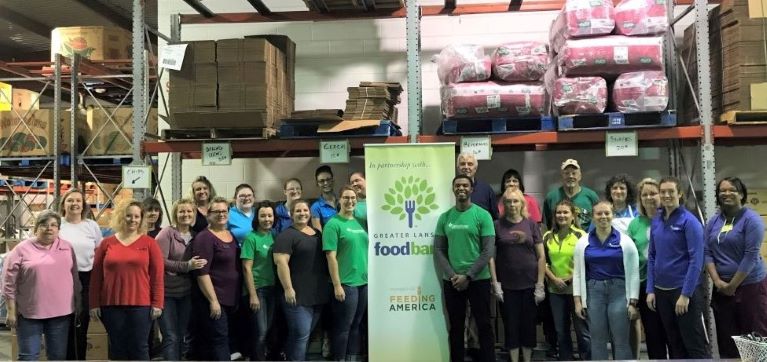 After bouncing around a few team building ideas for GreenStone's legal services department, employees and event organizers, Elana Fata, Cheryl Carlton and Amanda Arnold, finally came to a consensus: Find a way to give back to the community that is relative to what GreenStone does while working as a team.

With this goal in mind, 22 staff members from GreenStone's legal department signed up for a morning volunteer session on October 2, at the Greater Lansing Food Bank. They began their day with a tour of the facility, a rundown of the packing process and insight on just how critical their support was for the success of food banks.

"We all know someone who is hungry," Elana explains. "And that's not something we realized until volunteering. It was a great way for us to come together as a team for a positive outcome."

Working in teams to get the job done, employees had a friendly competition and in just two hours they packed nearly 2,000 bags of apples. In total, they were able to provide 5,372 meals for families throughout Clinton, Eaton, Ingham, Clare, Isabella, Gratiot and Shiawassee Counties.

The food bank helped provide almost seven million meals last year; the first step in supplying those meals is getting food donations from local farms, corporations or grocery stores. The apples GreenStone employees packed were donated directly from Michigan State University's student farm after being picked by volunteers. Donations like these allow the non-profit food bank to continue serving over 2.5 million pounds of fresh produce annually to those in need. For Amanda, the biggest reward was seeing how many people and companies give back through the food bank.

"Seeing the amount of food that was there and hearing about different organizations, like MSU, that donate was amazing," Amanda says. "It's awesome to see behind the scenes and just how many people are helping others they don't know, and will most likely never meet."

Although the team arrived with the goal of helping the food bank, many left with a deeper understanding of those who are less fortunate and a greater appreciation of their ability to give back.

"I would encourage anybody to volunteer at the food bank," Cheryl says. "It was the first time for all of us to help out there and I can't wait to go back with my family!"

Volunteers and donations are always appreciated at the Greater Lansing Food Bank and are necessary for the non-profit to continue serving members in the community. If you are interested in donating, volunteering or learning more about the tremendous impact the food bank has on the community, click here.