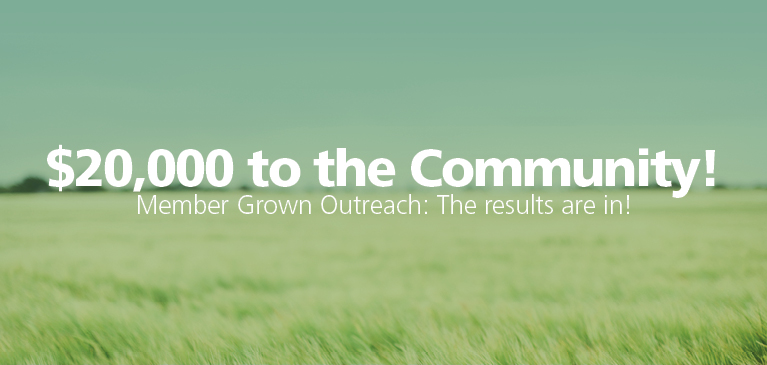 Dedicated to both the members and the communities we serve, GreenStone is honored to announce the 2020 Member Grown Outreach program and its impact on local organizations that touch the lives of thousands of families impacted by the COVID-19 pandemic through the contribution of $20,000.

GreenStone members voted in their local branches or online for one of three organizations: Kids' Food Basket, Foster Closet of Michigan - Livingston County Kid's Closet (formerly STEPS Community Action) and Rural Health Initiative between March 11, Patronage Day, and March 31. These organizations were previously nominated by GreenStone staff and the Outreach and Engagement committee based on their mission and reach. Dollars awarded to each organization are based on votes and after receiving nearly 2,000 votes from members, the dollars awarded to each organization are as follows:

$10,000 - Kids' Food Basket

$6,000 - Rural Health Initiative

$4,000 - Foster Closet of Michigan - Livingston County Kid's Closet

"Being able to support our community through our Member Grown Outreach program is an honor; and knowing that both our members and staff play a role make it even more meaningful," explains Melissa Rogers, VP of marketing and public relations. "While the dollars presented through the program go a long way in normal circumstances, this contribution couldn't have come at a better time as each organization continues to serve the communities during the COVID-19 pandemic."

Kids' Food Basket is committed to nourishing children and their families to reach their full potential - a task that is intensified during this pandemic. With schools being closed, and the need for nutritional meals on the rise, the dollars provided through the program allow Kids' Food Basket to continue nourishing the community, serving nearly 200,000 emergency meals in the past nine weeks.

"We want to reach as many kids and families as possible, says Bridget Clark Whitney, president and founding CEO of Kids' Food Basket. "Together as a community we get through this critical time and support those who need help the most."

Both Rural Health Initiative and Foster Closet of Michigan - Livingston County Kid's Closet are shifting gears slightly to continue helping their communities during the current pandemic. The dollars provided through this program help support those changes. While Rural Health Initiative is focusing on connecting farm and rural communities with the virtual resources, Foster Closet of Michigan - Livingston County Kid's Closet is organizing essential items children may need, allowing parents or guardians to safely drive by and pick-up them up.

"The pandemic is affecting everyone, and we are trying to relieve stress as much as we can," explains Danielle DeVries, executive director for Livingston County Kid's Closet. "Our focus is on the kids and making sure their basic needs are met. Once they are taken care of, it takes pressure off parents and allow them to focus on bigger issues."

GreenStone remains committed to members and our local communities. It is an honor to have played a small role in helping these local organizations serve our communities in a time unlike any other. For more information on GreenStone's continuous support of agriculture and rural communities, visit www.GreenStoneFCS.com.