She's no stranger to agriculture and the importance of sharing the stories of Michigan farms and food. As a 4-H and FFA member, past Michigan FFA State Officer, Michigan Farm Bureau young farmer member, and now Michigan GROWN Michigan GREAT ambassador, GreenStone's Digital Communications Specialist Hailey Andres is excited to continue to engage in conversations surrounding Michigan agriculture.
As an ambassador with Michigan GROWN Michigan GREAT, the 12 selected participants have the opportunity to attend Farmers' Markets, engage in "Harvest Hangouts" with Michigan farmers, and create social media content in order to help connect consumers to their food, "The goal of visiting various markets around the state as an ambassador is to share the variety, safety, and availability of Michigan food, as well as to mingle with market vendors. We want to ensure that Michigan farmers and market vendors know that as representatives of Michigan GROWN Michigan GREAT and the Michigan Agriculture Council, we are here to support them and share their message," Hailey ambitiously shared.
Through her ambassador role, Hailey had the chance to visit the Downtown Saginaw Farmers' Market. "Having the opportunity to spend the day at the Downtown Saginaw Farmers' Market allowed for great conversation with market visitors and vendors alike."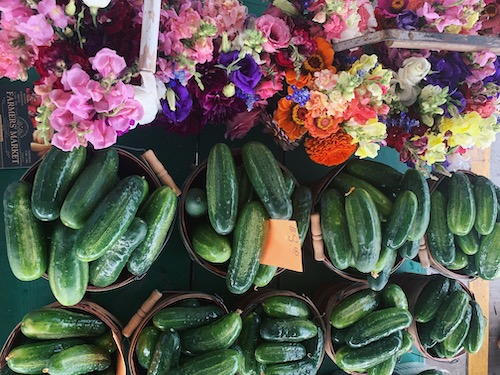 A display of wonderful produce at the Downtown Saginaw Farmers Market
Ambassadors had a greater chance to share the message of Michigan farmers as they took to Facebook Live to ride along with Michigan farmers in the segments like the popular "Harvest Hangout." During this Facebook Live segment, viewers had the opportunity to comment questions to be answered by the farmer.
Hailey had the chance to round out the "Harvest Hangout" season recently as she travelled to Peacock Road Family Farm in Laingsburg, MI. Recording a Facebook Live with farm owner Ed Carpenter, viewers had the opportunity to learn how to pick out a perfect Michigan grown Christmas tree, as well as to discover many additional activities the farm has to offer. During the live, Carpenter shared one of his favorite sayings "Real farmers supply all of our nutritional needs. Christmas tree farmers feed our soul."
Farm owner Ed Carpenter and farm manager Christian Voorhies pose
next to one of the many great, available Christmas trees at Peacock Road Family Farm

Peacock Road Family Farm is an agritourism destination that can be enjoyed during any season. Carpenter and his wonderful staff emphasize on providing educational opportunities for visitors and social media followers by highlighting the realities of farm life. To learn more about Peacock Road Family farm you can visit them on Facebook and check out their website.

Michigan GROWN Michigan GREAT is the face of the Michigan Agriculture Council and serves to represent over 20 Michigan agriculture partners and organizations. For more information, please check out their Facebook page and website.