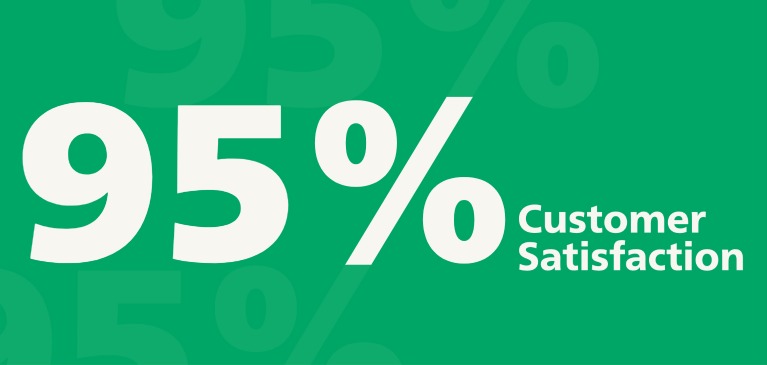 Customers appreciate commitment, trust and quality in their cooperative, with 95% satisfaction
In a year when any number of challenges could be responsible for disappointments, GreenStone Farm Credit Services' customers continued to find comfort in the strong partnership they have with their cooperative, by increasing their satisfaction rating to 95 percent.

In an annual survey, GreenStone Farm Credit Services once again scored above industry averages with a 95 percent overall customer satisfaction rating in 2020. A slight improvement over 2019's satisfaction, the 2020 rating marks more than 15 consecutive years of a 94 percent or higher grade for the member-owned cooperative. Not only did overall satisfaction tick up, so did the percent of very satisfied customers – the top of the seven-point scale.

"While this increase may not sound like a lot, it is a significant accomplishment to move the needle at this level, particularly in a year like we've all just come through," says former President and CEO Dave Armstrong.

"Our customers experienced the gamut of challenges, with processing interruptions early in the year, to changing the way they work with us and all of their business partners, to volatility in commodity markets, labor issues, and more. I'm extremely proud of our team's commitment to our core values as we worked to find new solutions to our members' needs and to support them through the additional pandemic related programs we were able to deliver."

Customers provided candid feedback on their experience with GreenStone and expectations of their financial partner. Words like trust, communication, care, knowledge, friend, available, adapt, simple, and local, permeate through the survey responses – all characteristics of GreenStone's relationship-based culture that remained at the foundation of the association's pandemic safety business decisions.

Interest rates is another topic that is routinely on customers' minds and included in their survey comments. Many acknowledged the value of GreenStone's loan interest rate conversion process, which touched over 12,000 loans in 2020 and saved members over $32 million in reduced interest payments in the first year alone. Their ability to take advantage of the low-rate environment remotely, through a quick and simple process, was repeatedly mentioned as an important member benefit, on top of the $100 million in patronage profit sharing that was returned to them in March 2020.

"Our customers continue to tell us that partnership is primary to their satisfaction. The benefits of being a member of the cooperative provide important value, but it's the personalized relationships, customized solutions, and committed support they expect – and get – from GreenStone that resonates." Dave also acknowledges, "We all know things weren't perfect in 2020, and while we celebrate the confirmation of the success of our efforts, we also acknowledge all feedback customers provide and will use it to reinforce our values and improve our processes as we move forward to an equally successful 2021."

GreenStone customers from Michigan and Wisconsin participated in the annual survey.