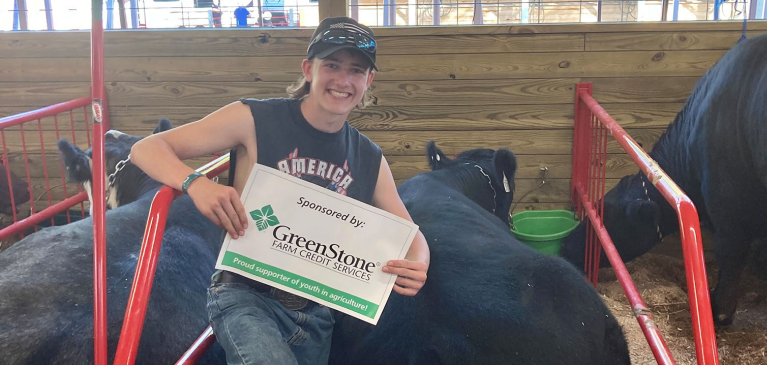 In past years, GreenStone's Traverse City branch held an essay contest for those involved in 4-H at the Northwestern Michigan Fair. This essay asked 4-H members how they became involved in the program and what being a part of 4-H meant to them. After thinking more about how GreenStone could become involved and help the community, they decided to implement a new program in 2019, which is known as "Stronger Together", where they give out ten $250 scholarships to 4-H kids who perform random acts of kindness.

"Stronger Together" allows our staff to go to the fair and truly see how the kids work, plus stay involved in the 4-H world. GreenStone staff members walk around the barns at the fair to see how they are demonstrating what 4-H really means. If they see someone helping another person, sweeping the barn for others, or something else along these kind lines, our staff offers a scholarship to those who are participating in these special acts. Writing an essay can tell our staff how a person is contributing to the community but seeing it in person really shows why they are doing it, which makes this process so much more unique.

While our staff is going through the barns to hand out scholarships, they are also looking to see if kids want them to buy their animals. If kids introduce themselves and really show how hard they have worked, it makes it that much more meaningful for GreenStone to purchase these animals. This year, the Traverse City branch purchased a hog and a steer from 4-H members that approached them and told them about their animals.

This year, Gina Weber, Emily Dreves, Annie Allen, Ryan Kratochvil, and Autumn Rector, all GreenStone employees, were able to go to the barns to see the kids in action to hand out several scholarships. They also were able to help pick out the animals that GreenStone bought from the auction. "We are really looking for those who are hard-working and dedicated to 4-H so we can reward them with a scholarship to continue doing what they're doing," stated Gina.

To receive more information about the Northwestern Michigan Fair, please visit: Home | Northwestern Michigan Fair.