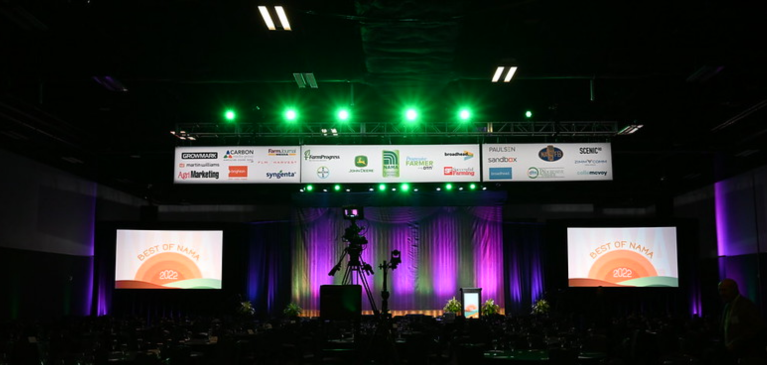 *Photo courtesy of NAMA

On April 6, 2022, GreenStone Farm Credit Services was honored with the first place award for their member publication Partners magazine at the Best of National Agri-Marketing Association (NAMA) national awards program in Kansas.


GreenStone competed in the category 'Company magazine directed to farm customers, prospects or agribusinesses.' A host of nationally renowned agricultural organizations competed for the top honors, including merit honors to CHS Inc., as well as Case IH, Corteva Agriscience, John Deere, MidAtlantic Farm Credit, Minnesota Soybean Growers Association, and National Cattleman's Beef Association.


The Best of NAMA awards program honors work in agricultural marketing and communications at both the regional and national level.


"This is an outstanding job by our marketing team," said Dave Armstrong, former GreenStone President and CEO. "We are so honored to have Partners magazine recognized at the national level, as we really want to provide valuable and engaging materials to our member-owners."


This is the fourth time since 2008 that GreenStone has won a national NAMA award, in addition to 15 merit and regional awards.


"This is a team award we proudly share with our members. It not only features the unique, important stories of our customers, but strives to provide the knowledge and resources to benefit our customers lives and businesses," said Melissa Rogers, GreenStone VP of marketing and public relations. "We write, take photos, design, and produce the Partners magazine through the talent of our GreenStone in-house agency team. Beyond that, we pull in the expertise of our staff from throughout our company, as well as outside resources, to ensure our members receive the most valuable information each quarter. It's invigorating to work with these team members who endlessly strive to produce such a quality, valuable publication throughout the year."


GreenStone also received the top regional prize for Partners magazine earlier in 2022.


To read Partners, visit www.greenstonefcs.com.