For young, beginning, or small farmers, that first tax season of your new adventure can be extremely intimidating. Many people continue to use the same accountant they used previously, before the farm, but without agriculturally based knowledge these accountants may be just as intimidated.
For Shawn and Tera Baker, row crop farmers in Three Oaks, MI, this was exactly the case. Shawn and Tera moved back home to the family farm after being away for college. As part of that transition, the farm naturally went through periods of growth and changes. Now the couple farms row crops alongside Tera's parents. Their previous accountant did not have a strong agricultural understanding, so as their business changed, taxes became a headache each year.
The CultivateGrowth grant provided Shawn and Tera with the perfect opportunity to try a different accountant - risk free. They used the grant to help cover the cost of their first time use of tax and accounting services with GreenStone. The couple worked with Tax and Accounting Manager Elizabeth Waldschmidt.
"Working with Elizabeth was a 180 degree change from our previous accountant. She was very, very easy to work with, knowledgeable, and took a huge weight off of our shoulders," Tera explained.
Working with an accountant knowledgeable in the agriculture industry provided Shawn & Tera answers to their many complex questions. "Elizabeth made the process so much easier because she has clear answers to all of our questions and asked very strategic questions," said Tera.
The grant program relieved some of the financial stress of the transitional period between accountants for Shawn and Tera. This allowed the couple to put their allocated funds back into their farm. As the farming landscape in their area shifts, Shawn and Tera hope to shift with it and continue the growth of their farm for generations to come.
Shawn and Tera currently have a young daughter who one day could have the opportunity to take over the family farm, so their goal is to secure the farm financially for the future. Working with a GreenStone accountant is the first step in achieving that goal.
The Baker's advice to all young beginning farmers out there, "Don't bury your head in the sand, there are lots of programs out there dedicated to helping new farmers. There are always options for help within the local community. And don't be afraid of change, as the entire farming industry shifts we all have to be prepared to shift with it."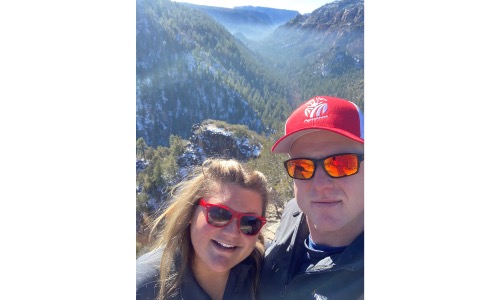 Tera & Shawn Baker

The CultiveGrowth grant provides young, beginning, and small farmers with opportunities ranging from tax and accounting services, educational services, and other supporting resources. Visit CultivateGrowth | GreenStone FCS for more information.