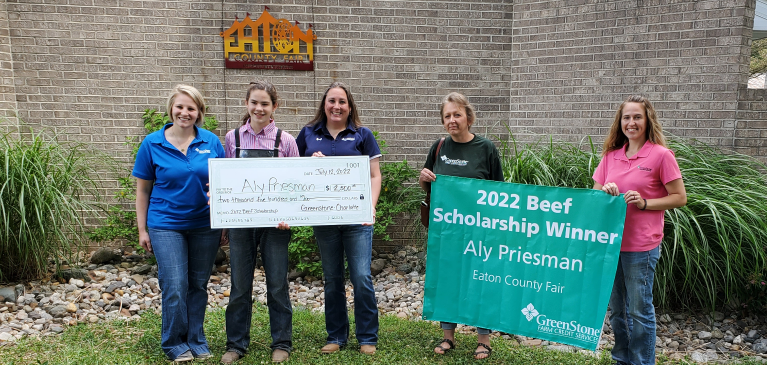 An inspiring young farmer, Aly Preisman, received an amazing surprise during the 2022 Eaton County Fair Beef show. This year, the Eaton County Fair welcomed a brand-new GreenStone scholarship to their beef program, and Aly was the overall winner!

GreenStone's Charlotte branch spearheaded this new scholarship and was overjoyed to present Aly with a check and congratulate her on her many achievements in front of the entire beef community.

Having supported the local fair through the livestock auction, the Charlotte branch looked for another way to diversify their support of youth. While brainstorming ideas, it was important to the team that the recipients still had control over their entire fair project. This scholarship allows the member to select their animal and have control from the beginning by providing funds up to $2,500 to be utilized towards next year's animal and supplies.

Monetary support is not the only benefit of the scholarship. The application process involves an in-person interview where applicants are able to practice interview skills, communication skills, and develop necessary traits for future career success. Kelly Aiken, GreenStone's Charlotte branch senior financial service officer, was highly involved in the scholarship. She explained that the in-person aspect was the most beneficial for both the branch and applicants.

"The kids come in, introduce themselves, and we love getting to meet each and every one of them," she said. "Seeing how young they are, the nerves, and passion for the animals was inspiring for us to witness."

This scholarship is special because a relationship is built between GreenStone and the recipient and there's an educational aspect that forever leaves an impact. The recipient chooses how to spend the money and it's entirely their business decision. GreenStone employees like Kelly stay in touch with the recipient throughout the entire project by collecting invoices and receipts for the money they spend. This allows the team to stay in contact and see how the recipient's business decisions are evolving.

"We are so excited to see how these kids choose to spend the money;, some will be frugal while others spend it all. However they do it, we are excited for them and can't wait to see the results at next year's fair," said Kelly.

Aly Preisman and her sister both applied for the scholarship and did amazingly well in the interview. "Both girls were awesome during the interview process, but Aly stuck out specifically to us all because of her true passion and enthusiasm for her beef project. Her excitement just lights up the room, and you can really tell she loves her cattle and loves what she does," explained Kelly.

At only 12 years old, Aly is passionate about her future. She plans to use the money to purchase a breeding stock heifer for her cattle herd. Her goal is to create a better genetic line and grow her herd for years to come.

"GreenStone has given me the opportunity to work on my herd genetics and grow my herd without having to worry about the money it costs. I plan to continue to stay in agriculture and have my own farm one day," explained Aly.

Having her own farm isn't her only future goal. When Aly isn't memorizing feed ratios or working on her cattle weights/genetics, she's practicing to become a pilot! Somehow, she has found time to show two hogs, two heifers, and multiple non-livestock projects at the 2022 Eaton County Fair all while completing a flying aviation camp.

Her dreams and goals continue to soar and next year she hopes to apply again and eventually apply to other educational scholarships GreenStone offers. When asked about competing against her sister for the scholarship, Aly displayed how humble she truly is, "I would have been extremely happy for her, she deserved this scholarship just as much as I did."

"This scholarship is not about giving away money, it's about the relationship we are building with the next generation of the farmers and the education and support we are giving them. There are less and less farmers every day and this next generation needs our help," explained Kelly.

The Charlotte team hopes to expand this scholarship to other livestock categories including hogs and sheep in the future.

The 2024 beef scholarship opens in the spring of 2023 and is open to all youth regardless of their affiliation with GreenStone. Any person enrolled in 4-H or FFA planning to show and sell a beef project at the Eaton County Fair is eligible to apply. If you are interested in applying, contact GreenStone's Charlotte office at 517-543-1360.