Home runs in the left field may lead to a baseball filled garden for Wisconsin's Timber Rattlers. The Timber Rattles baseball team has teamed up with GreenStone to combat hunger in their community through a donation garden. Located behind the left field of Fox Cities Stadium, over 100 pounds of produce is being grown for donation!
Seth Merrill, Timber Rattlers Director of Business Development, has been involved with the garden since 2018. Since then, the garden has donated over 1,000 pounds of produce to St. Joe's food pantry. With the help of Freedom High School FFA Chapter, planting begins in mid-to late May. This year they planted tomatoes, summer squash, and green peppers, and tended the garden all summer until harvest in mid-July.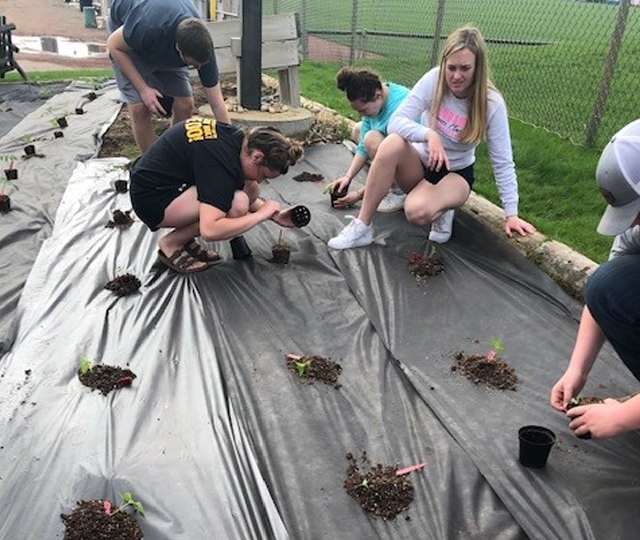 Freedom FFA Chapter members planting this spring


This is truly a community garden - everything from planning, planting, to harvesting is done by the community for the community. The garden creates an opportunity for Freedom FFA to serve, a value in their FFA Creed, and learn while doing it. They are able to learn the skills of planting and maintaining a garden for a bountiful harvest.

Ensuring a bountiful harvest is a huge relief to the food pantry. "St. Joe's food pantry is always very grateful for the vegetable we are able to provide from the garden. Being able to offer these fresh vegetables is also very rewarding for me," explained Seth Merrill.

For Seth, the garden provides a nice getaway during the busy workday, and he enjoys the joy it's brought to everyone involved. "Since its inception, the garden has been a great addition to our ballpark. I enjoy being able to step away from my desk and go down to the garden. It's a great diversion during the workday."

"For this garden to work, we truly needed a great partner. GreenStone has been the perfect partner, and this is a great partnership that directly impacts our community in a positive way," explained Seth.

As a member-owned cooperative, GreenStone values the opportunity to continuously volunteer and give back to the community. Even though the gardening season is wrapping up, GreenStone's commitment to rural and agricultural communities is not taking a strikeout. To learn more about our other commitments to the community visitwww.greenstonefcs.com/resources/open-fields-blog.