Building a new home, located an hour from your current residence, is often a stressful time for homeowners as they manage budgets, construction schedules and the endless decisions needed for your dream home. But not for Pete and Tammy Olsen. When they set out to build their new home, on land they had purchased 10 years prior, they found the process to be as smooth as it could be.
"We had always talked about building one day on the land, and when the time came it was a wonderful experience," says Tammy Olsen. "We spent years planning our dream home. It was so much fun putting it all together – especially the decorating."
"We kept some of the pieces from our old home but also incorporated new things to make it feel new. Each room has a different inspiration. The screened in porch, where we spend most of our time, is designed after a porch on a vacation cottage in Door County, Wisconsin we used to visit. The fire place mantel is constructed out of old barn beams and the dining room houses furniture from each of our parents," Tammy explains.Over the years, Tammy and Pete kept a notebook of decorating ideas and special touches they wanted to incorporate into their home. Bringing it all together, with family heirlooms and other sentimental pieces, make their new home a special place for their family to gather.
Adding to the sentimental value of their new home was the opportunity for Pete's parents Ted and Bea Olsen to be a part of the building process.
"Pete's dad was here every day watching the process and supervising the work. He was our biggest cheerleader through this process. Both he and Pete's mom died within months of us moving into our home. We were so fortunate to have the time with them during the building process," Tammy says.One reason the Olsens believe their experience was so positive, was the decade-long relationship they have established with the team at the GreenStone Schoolcraft branch.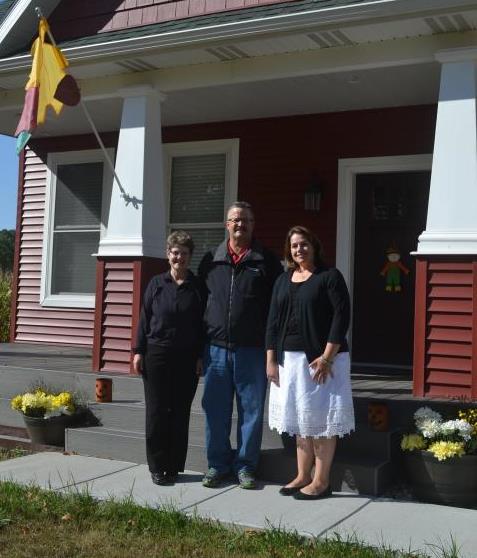 "When we first bought the land in 2006, I did a lot of research on who we should work with to finance the land. We considered a land contract with the current owner, but after learning more about GreenStone and their expertise, we decided to use them for the first loan. We had no idea that land financing would lead to a long-term friendship."

The Olsens purchased the 43 acres in Lawton initially as a place for Pete and his two sons to hunt and enjoy the out. They found themselves spending most of their time on the property, and two years later built a pole barn to establish more of a "deer camp" environment. Again, they turned to GreenStone for the financing.

"The counsel we get from GreenStone in managing the financing of the property and the barn, and eventually the house, was exceptional. They have worked with us every step of the way, and have been very instrumental in making this a wonderful experience for us."

Beyond the expertise, it is the relationship and genuine sense of caring that developed over the years that they truly appreciate.

"Living in a rural area is all about community," Tammy says. "Working with GreenStone and the friendships we have developed all adds to the sense of belonging to this community."

That sense of belonging reaches to the friendship developed between the Olsens and Emelee Rajzer, Senior Financial Services Officer at the Schoolcraft branch.

"Where else but at GreenStone will you find a lender that stops to give you a scouting report on deer and turkey she sees, or shares pictures with you of a bald eagle on your property? Or sends sympathy cards when you experience a loss? We would have never developed this sense of community or relationship with a big bank or other lender," Pete says.

Link to full From Financing to Friendships: Building a Dream Home article can be found here.