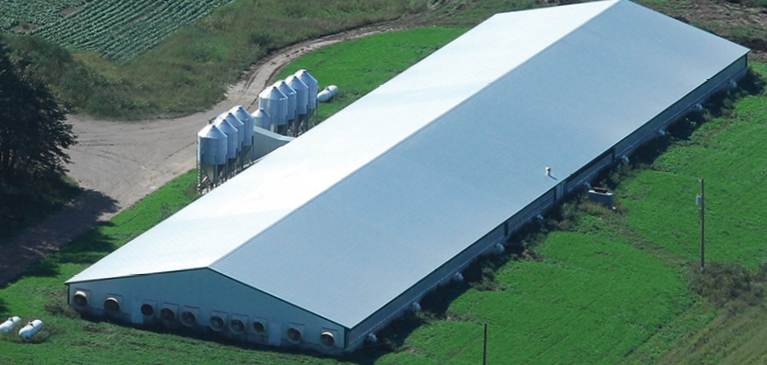 Stewart Farms of Bannister, Mich. is now a sole proprietorship fully owned by Caleb and Teresa Stewart. By being sound managers and forward thinking in their planning, these GreenStone Farm Credit Services customers have successfully completed the acquisition of their farm from Caleb's parents.

In 1987 Caleb's parents, Jim and Carol, sold their small dairy herd and Jim went to work off-farm as a truck driver. Jim, and his three sons Jake, Caleb and Zack, continued farming part-time the 150 acres he had previously used to raise feed for his cows. When the boys graduated from high school, Jim and Carol decided to move on, too, and rented out the farm, much to Caleb's dismay.

In 2004, Caleb graduated from Michigan State University with a degree in agribusiness. He moved back home and convinced Jim they should form a partnership and start farming together. During these initial years, Caleb worked as a consultant for Dennings and Associates of Elsie, Mich. and Jim continued with his off-farm job.

By 2007, the farm had grown to over 650 acres. With this growth came the continuing quest for other farm-related opportunities. As a college class project, Caleb and two of his friends studied the economic feasibilities of contract swine finishing. When a local farm was expanding sows, and adding contract growers, Caleb and Jim seized the opportunity and built their 4,800 head contract finishing barn. Brent Skinner, one of the other students who worked on that class project, had already built his own contract barn. While planning and starting up their barn, the Stewarts were now able to draw on Brent's experiences, in addition to those modeled by the class project.

The contract barn proved to be a wise investment. Initially, the barn provided consistent income for the growing farm. As the construction loan was paid down, the Stewarts were able to use equity to secure financing for additional opportunities. The barn and pigs require about 1½ to 2 hours of labor a day, which at the time, meant Caleb could easily continue with his off-farm employment.

Caleb and Jim also realized the benefits of swine manure in their crop fertility program. According to Caleb, "5,000 gallons of swine manure and 10 gallons of liquid 28 percent nitrogen at planting was all we needed to produce a crop of corn with enough residual phosphorus and potassium remaining in the soil to raise a crop of soybeans the next year."

They believe the 10 gallons of 28 percent at planting provided just enough nitrogen to get the crop started and keep it growing until the small corn plants established a root system capable of utilizing all the manure nutrients in the soil. By 2010, the farm had grown to about 950 acres with the pig barn providing almost all of the farm's fertility needs. After commodity prices peaked in 2012, grain prices drifted lower, and the Stewarts began looking for additional ways of adding value and maintaining income, while staying within their current acreage base. As in many areas, Caleb reports intense local competition made "adding more acres a difficult option."

Knowing that organic crop prices are typically 2½ to 3 times the prices of conventionally raised crops, and if 5,000 gallons of manure and 10 gallons of 28 percent nitrogen were adequate to raise a crop of corn, the Stewarts determined they could learn to raise corn without the added nitrogen and be ideally suited for organic production. Because swine manure is an acceptable crop amendment in organic certification programs, removing the 28 percent nitrogen was the only adjustment to their fertility program the Stewarts needed to meet organic standards. Giving up herbicides and switching to mechanical means of weed control was a more difficult transition.

"Timing is everything, even more so with organic crops," Caleb says. "Even in a normal year, planting doesn't actually start until at least mid-May. We don't want weeds to get a head start."

Ideally, the soil needs to be warm enough so corn comes up in 7 days or less. Once the crop is in the ground, the intensive weed control practices begin. During a typical growing season, corn may need up to five weed control passes: 1 to 2 times with a tine weeder prior to emergence, then a rotary hoe once the corn emerges and finally, 1 to 2 passes with a cultivator. Depending on conditions, soybeans may get up to six passes with a weed control tool. The Stewarts plant and cultivate using 24 row, 20 inch spacing on all their equipment. Having everything on 40 feet passes, combined with RTK auto steer technology, makes all the weed control operations possible. The 20 inch row spacing also provides a quicker crop canopy which helps reduce weed pressure.

Like many other Michigan farms, 2019 has been a particularly challenging year for Stewart Farms. In addition to being late May before any corn was planted, the weather continued to be cool and fields remained wet. Corn emerged slow and uneven. Continual rain prevented early passes with any type of weed control tool. Compaction, weeds and nitrogen losses, due to the spring rains, have plagued this year's crop. Many of the farm's soybean acres were unable to be planted.

Stewart Farms continues to be committed to organic production.

"If a farmer's goal is to have the cleanest fields and highest yields, then they probably don't want to be organic farmers," Caleb says. "An organic farmer will probably average at least a 20 percent lower yield and have more weeds in their fields. The increased value of the harvested crop more than makes up for those inconveniences."

Having a ready source of swine manure from their contract finishing barn allows Stewart Farms to garner the increase value of organic farming, without increasing the cost of the farm's fertility program.

GreenStone has been an important partner in the growth and transition of Stewart Farms. Caleb credits the cooperative for being available to help them from the very beginning and continuing to provide financial services today. GreenStone was there to help secure financing to build the contract finishing barn. As the farm transitioned to organic production and Caleb quit his off-farm job to concentrate on the farm and his growing equipment sales business, GreenStone continued to be a trusted partner. Then again in 2018 as Jim and Caleb dissolved their partnership, allowing Jim to spend more time enjoying grandchildren, GreenStone provided financing to allow Caleb and Teresa to form their sole proprietorship. Caleb feels these are all services no other local lending institution would have been able to provide.

ABOUT THE AUTHOR

Jerry and his wife, Kathy, live on their small farm in St. Louis, Mich where Jerry raises cash crops and has a contract swine finishing barn. Jerry is also the sole proprietor of Pleasant Valley Farm Consulting LLC, providing services to farmers interested in becoming contract swine finishers.

The opinions stated herein are not necessarily those of GreenStone Farm Credit Services.

To view the article in the online 2019 Fall Partners Magazine, click here.