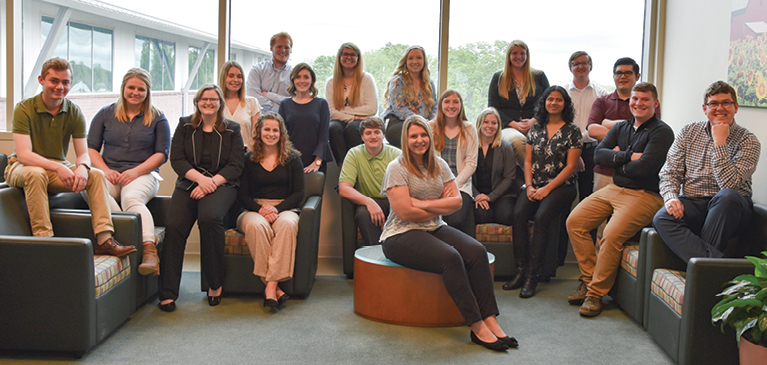 As GreenStone's 2019 class of interns head back to school this fall, they are taking with them more than a beefed-up resume, they are carrying with them new skills to last a lifetime. All summer, interns were challenged with collaborating on group projects, strategic problem-solving and putting skills gained in the classroom to the test.

From May to August, GreenStone's largest and most diverse group of interns had the chance to work alongside industry professionals and learn what it's like to work with leaders in their field. Ranging from incoming college sophomores to graduate students, for some, this internship was the first opportunity to work in a professional setting and for others, it was a stepping stone to greater things in their career.

Intern roles varied from preparing tax and accounting financial statements, analyzing credit summaries, appraising farm equipment and properties, filming and creating videos and organizing intern events, just to name a few. The 22 interns were able to share their summer projects and responsibilities during the internship final presentations. Presentations ranged from discussing peer comparison reports, social media strategies, software development, job shadows and how each intern brought value to their team.

"The final presentation gave us an opportunity to work together one last time while highlighting our accomplishments," says marketing intern, Amber Echlin. "It was a great way to wrap up our summer and I am extremely grateful for the professional development GreenStone provided me."

Interns were also able to gain insight on the agricultural industry by touring a local dairy farm, visiting a GreenStone branch and talking with crop insurance specialists. These events, integrated with their daily responsibilities, allowed each student to gain a comprehensive understanding of the role GreenStone plays in agriculture and rural communities.

As a cooperative, GreenStone also takes pride in giving back to the communities it serves. This value is upheld through the internship program by incorporating a team volunteer opportunity, this year at Potter Park Zoo in Lansing, Michigan.

"GreenStone really encourages their interns to get involved, as it's one of our four core values," says human resources intern, Philip Sloss. "I really enjoyed volunteering at the zoo and it was nice working together toward a common goal."

While getting experience in your field is considered crucial by students for future career opportunities, GreenStone believes knowing professional etiquette is also important. With this in mind, another event offered to the interns is an etiquette lunch and presentation. The students learned about proper dining behavior and manners, followed by a chance to test their new knowledge at a lunch prepared by a Michigan State University master chef.

"Just knowing how to conduct myself during a business outing with the proper manners is very valuable to learn," says systems administrator intern, Robert Dunne. "The etiquette presentation gave me confidence to go out and have lunch with people who were higher up and know how to impress them."

As the summer came to a close and GreenStone's 2019 class of interns returned to class, it is apparent the students are better prepared for the next chapter in their lives. Although responsibilities vary, teamwork plays a pivotal and consistent role at GreenStone and the internship program is no exception. Being able to work with other interns, supervisors, different departments and the leadership team prepares interns for a successful future and helps to set them above their peers.

"Everywhere you go you'll have to work as a team, whether it's at school or at a full-time job, and GreenStone is no exception. But the teamwork here is something that is going to help you be able to talk with different people in different roles," explains Caitlyn Meyers, credit intern. "Everyone here is more than willing to help you and you won't work with nicer people."

Congratulations to the summer 2019 class of interns and best of luck on your future endeavors.

GreenStone is now recruiting for 2020 summer internship opportunities. If you or someone you know may be interested in a collaborative yet challenging experience, visit greenstonefcs.com/careers.

To view the article in the online 2019 Fall Partners Magazine, click here.