Finding a young, first generation farm family starting out on their own may seem rare, yet an encouraging prospect for the future of agriculture. For Alvin and Mary Kay Stoll, they believe it is an honor to participate in the rewards and challenges farming brings as part of God's current plan for their life.
Although Alvin grew up on a family farm in Canada, and Mary Kay in Michigan, they met as teenagers and over the course of years were engaged and eventually married. The young couple chose to settle in Michigan where they had the opportunity to run a metal roofing business. While the roofing business allowed Alvin to provide for his family, he missed working with the land and farming.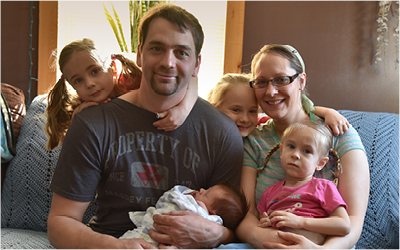 Opportunity knocked for the Stolls in the summer of 2014 when, while searching for properties for sale for some of their friends who were looking to relocate, Alvin found their farm.
"We were not looking to buy at the time (having just finished paying off our first home we bought together) but something about the farm caught my attention," Alvin says.
"I will always remember the breathless phone call from Alvin saying, "Honey, I found our Farm!", Mary Kay adds.
Their original plan was to pay for the farm with the help of the construction business while farming on a small scale. However, the stress from trying to run two businesses left Alvin reeling. The couple realized it would be better to do one or the other, but not both. They chose farming.
"We soon realized one of our biggest hurdles farming
full time was getting financing for crop inputs because we had not established a U.S. credit history," Alvin says. "We had originally financed the farm through a faith-based lender that didn't focus on credit scores. They relied on financial history and church recommendation which, unfortunately, had done nothing to build our credit history."
As their requests for a farm operating loan was met by "nos" from the banks, the difficulty of obtaining credit soon sunk in. A self-proclaimed "dreamer," Alvin was determined to find a way to obtain the financing they needed. "I kept knocking on the 'no' door until someone answered," he says.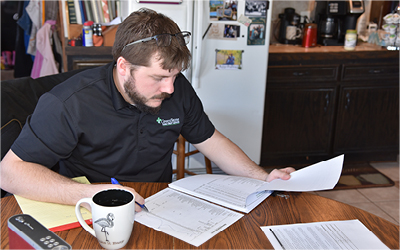 It was Mark Dingee, GreenStone financial services officer in the Cadillac branch, who was able to put a loan together for them.
"The Stolls are a great example of young farmers being resourceful and determined to follow their dreams," Mark says. "It has been rewarding to work with them and see the strides they have made – first in their construction business and now with their farm. Their willingness to place their trust in us is something we respect and want to build upon."
"Mark was good enough to give us a chance," Alvin says. "Since then he has consistently gone above and beyond. He is now like a partner. He has been here for us through some of the tough investments we've made to bring us to where we are today. Some of our biggest challenges are trying to make old, worn out equipment work, and there have been times he literally saved the day by helping get financing for replacement equipment on very short notice."
"There have been some steep learning curves for us," Alvin says. "Soil science doesn't work here – it is like farming in a sandbox. I have had to learn how to use the right nutrients and right equipment. We are now working to add an irrigation system so most of the land will be irrigated."
With additional irrigation, Alvin hopes to use more cover crops to help build up the soil.
As he sought out to increase the productivity of the land and to develop a niche market, he found opportunity in the organic market sector. Raising organic crops helps him to do both. A long-term supply contract helps him lock in profits for his crops. Adding crop insurance also gives Alvin added sense of security.
Along with designing the right cropping plan and marketing the crops, Alvin faces the same challenges as other young farmers, including working with older equipment and making do with the resources at hand.

Above all else, the Stolls give thanks to God for bringing them to their farm and surrounding them with the people and opportunities to continue to be farmers. "God has been with us through all of this and we believe what he blesses will work," Alvin says.

"While it was a big stretch leaving construction behind for the farm dream," Alvin says. "Being around my family more is a priceless blessing; especially the thought of working together as the children get older. Even though at times we are intensely busy; I still see them more frequently than I did with construction."

"Plus," he adds, "I get to be a steward of part of the amazing world God created. I marvel daily at the joys and responsibilities of sowing and reaping. God has blessed us abundantly each step of the way and that's the only reason this has worked!"

Link to full article: here